Now healthy, Griffin a rotation option for Texas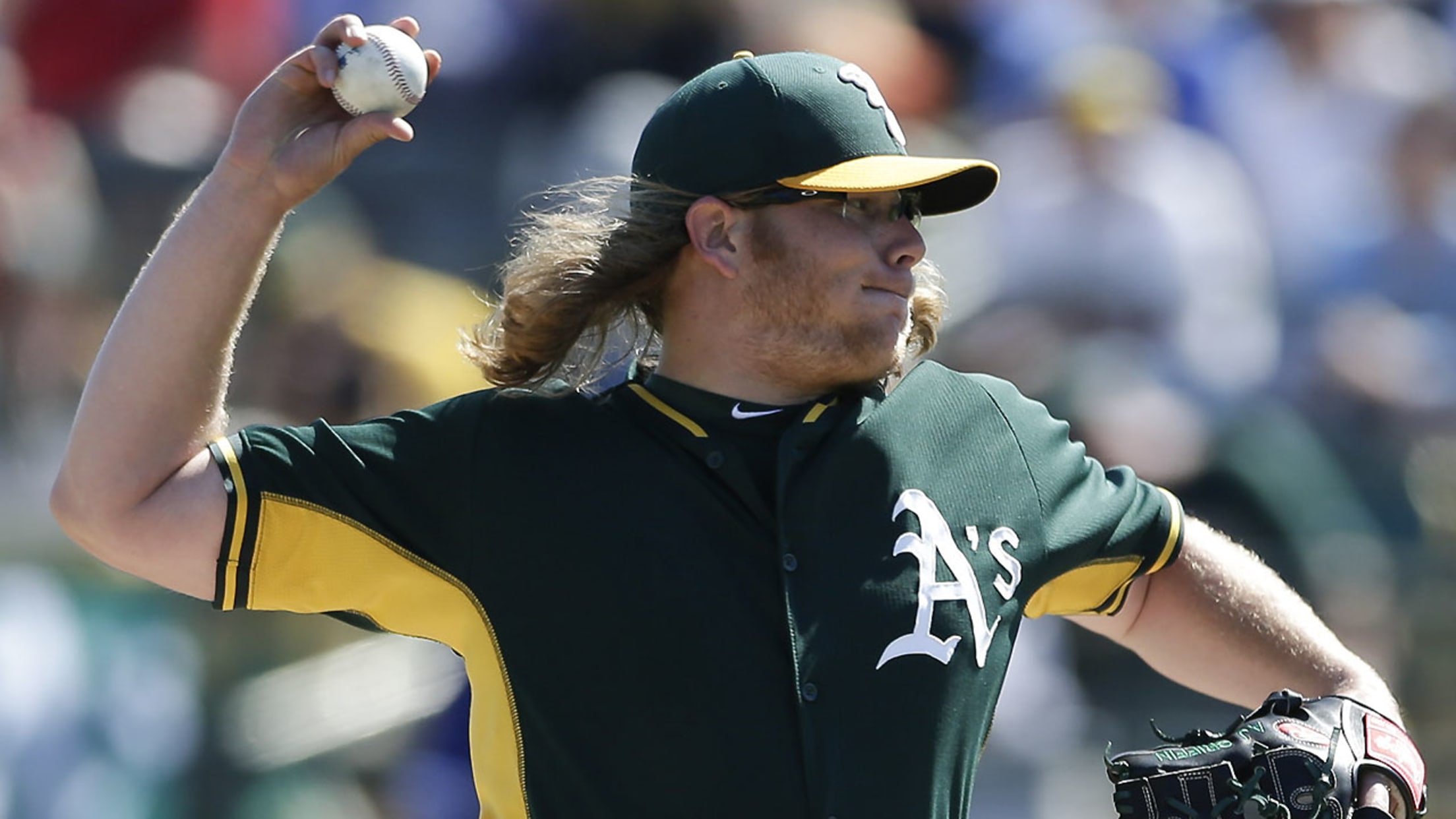 A.J. Griffin last pitched in the Majors with the division-rival A's before undergoing Tommy John surgery in 2014. (AP) (Gregory Bull/AP)
SURPRISE, Ariz. -- The Rangers had 30 pitchers report to Spring Training on Thursday. The list includes Yu Darvish, who is still doing his rehab work while coming back from Tommy John surgery and won't be ready until mid-May at the earliest.The list also includes right-hander A.J. Griffin, who may
SURPRISE, Ariz. -- The Rangers had 30 pitchers report to Spring Training on Thursday. The list includes Yu Darvish, who is still doing his rehab work while coming back from Tommy John surgery and won't be ready until mid-May at the earliest.
The list also includes right-hander A.J. Griffin, who may be the most intriguing pitcher in camp. He has completed his recovery from Tommy John surgery and is ready to compete for the fifth spot in the Rangers' rotation.
"I feel good," Griffin said Thursday morning. "As long as I feel good, the sky is the limit. I have to keep working, get my stuff ready and everything else will take care of itself."
Griffin, even though he is here on a Minor League contract, might be the favorite for the fifth spot if he can get back to the level he was at with the Athletics in 2012-13. He was among a group of highly regarded young pitchers that helped the A's overtake the Rangers and win two American League West titles.
Comeback candidates | Newcomers | Prospects | Looking ahead | Questions
Griffin was 7-1 with a 3.06 ERA in 15 starts as a rookie in 2012 and 14-10 with a 3.83 ERA over 32 starts in '13. His 1.13 WHIP over those two years was seventh lowest among AL pitchers with at least 40 starts. Griffin was also a strikethrower who averaged 2.33 walks per nine innings and 3.22 strikeouts per walk.
Then came the injuries. Griffin developed elbow problems in 2014 and had Tommy John surgery on April 30. He was sidelined until June 1 of last season, when he began a rehabilitation assignment. But it lasted just four starts before Griffin's shoulder became an issue.
"My shoulder tightened up on me," he said. "I came back too fast from Tommy John, didn't get stretched out and it tightened up on me."
Griffin's last start was on June 18. He was shut down for the rest of the season, and the A's released him at the end of November. The Rangers became interested immediately and were aggressive in their pursuit.
"It made me feel good the way they pursued me here," Griffin said. "It went back and forth for three weeks before we got to where we wanted it to be. They said there are a couple spots open here, and if I'm healthy there's a good chance I could come here and help contribute. [General manager Jon Daniels] was kind of aggressive with pursuing me, so it made me feel like I had a good opportunity here."
Griffin won't win the job by overpowering hitters. His fastball averages 89 mph, but he has four legitimate pitches and gets swings-and-misses with his secondary pitches.
In 2013, when he made 32 starts and pitched 200 innings, Griffin held opponents to a .280 on-base percentage. That was the fourth lowest in the league and his opponents' batting average of .226 was the fifth lowest. Griffin's 7.7 strikeouts per nine innings was the 15th best in the league.
Griffin is prone to giving up the home run. He gave up 36 in 2013, the most in the AL, although 25 of them were solo shots.
"My velocity doesn't need to be there," Griffin said. "I just need to locate and change speeds and be able to move the ball around."
The fifth-starter competition could be fierce against right-handers Chi Chi Gonzalez, Nick Martinez, Phil Klein and Anthony Ranaudo. Veteran left-handed reliever Cesar Ramos will also get a chance to start.
They all have their strengths and their issues. Griffin has to show he is healthy. He has already shown what he can do for a full season on a division championship team.
"I've been a warrior my whole life," Griffin said. "I really love competing and I'm driven. I'm ready to get out there and do my thing again and get some guys out."