Pitchers raise eyebrows at plate in NL park
Darvish hits lefty and Tolleson strikes out in first Major League at-bat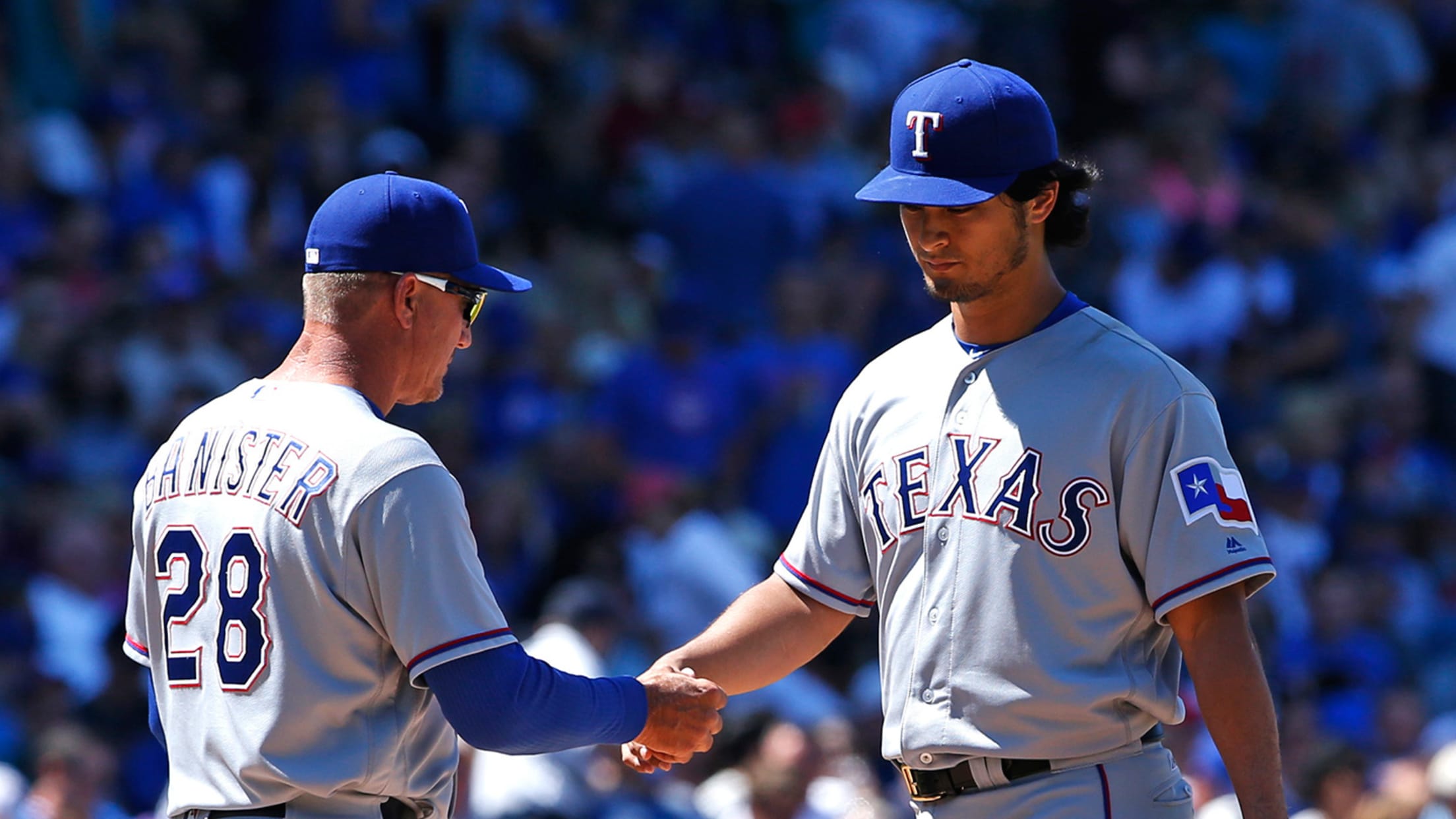 Yu Darvish exited in the fifth, which led to Shawn Tolleson getting an at-bat in the sixth. (Nam Y. Huh/AP) (Nam Y. Huh/AP)
CHICAGO -- The Rangers didn't have use of the designated hitter in the National League on Saturday at Wrigley Field. Instead, they had Yu Darvish batting left-handed for the first time in his career and Shawn Tolleson batting for the first time ever in the Major Leagues.All this with Prince
CHICAGO -- The Rangers didn't have use of the designated hitter in the National League on Saturday at Wrigley Field. Instead, they had Yu Darvish batting left-handed for the first time in his career and Shawn Tolleson batting for the first time ever in the Major Leagues.
All this with Prince Fielder, Jurickson Profar and Shin-Soo Choo watching from the bench in the Rangers' 3-1 loss to the Cubs. Darvish and Tolleson both struck out against Cubs starter Jason Hammel on a day when the Rangers had just three hits.
"Three hits and you're not going to get a lot of offense out there," Rangers manager Jeff Banister said.
Darvish batted with one out in the third. He is 2-for-11 from the right side as a Major League hitter, but he decided to bat left-handed for this one. Darvish struck out looking at three straight pitches.
Darvish said he can bat either way, but he wanted to hit left-handed because it was less stress on his surgically repaired right elbow.
"I felt it would be easier to hit left instead of right," Darvish said. "Just so you know, the first two pitches were low. I have a good eye."
That was Darvish's only at-bat. A missed double play forced the Rangers to use Tolleson at the plate in the sixth inning.
The Cubs had a runner at first and one out in the fifth when Darvish got Kris Bryant to hit a grounder right at third baseman Adrián Beltré. It should have been an inning-ending double play, but second baseman Rougned Odor dropped the throw and all runners were safe.
With Darvish at 90 pitches, Banister chose to bring in Tolleson to pitch. Tolleson got out of the inning without allowing a run, but Banister decided he wanted him to throw another inning. That meant Tolleson leading off the sixth rather than Banister using a pinch-hitter, which he would have done with Darvish still in the game.
"There was no double-switch to be had," Banister said. "It was the sixth inning, we still had 12 outs to go. Tolleson has got to go out there for another inning."
Banister said Tony Barnette was unavailable after throwing 27 pitches on Friday. So it was either have Tolleson stay in the game, use Alex Claudio for the sixth or use Keone Kela and Matt Bush earlier than normal.
Tolleson struck out swinging on six pitches.
The Cubs then tacked on an extra run in the bottom of the inning. Jayson Heyward reached on a leadoff infield single, Miguel Montero walked with two outs and Matt Szczur grounded an RBI single up the middle.
Profar finally batted in the No. 9 spot in the eighth inning. He struck out, too.