Dyson takes blame for rare blown save
Rangers closer says he feels fine, just didn't get the job done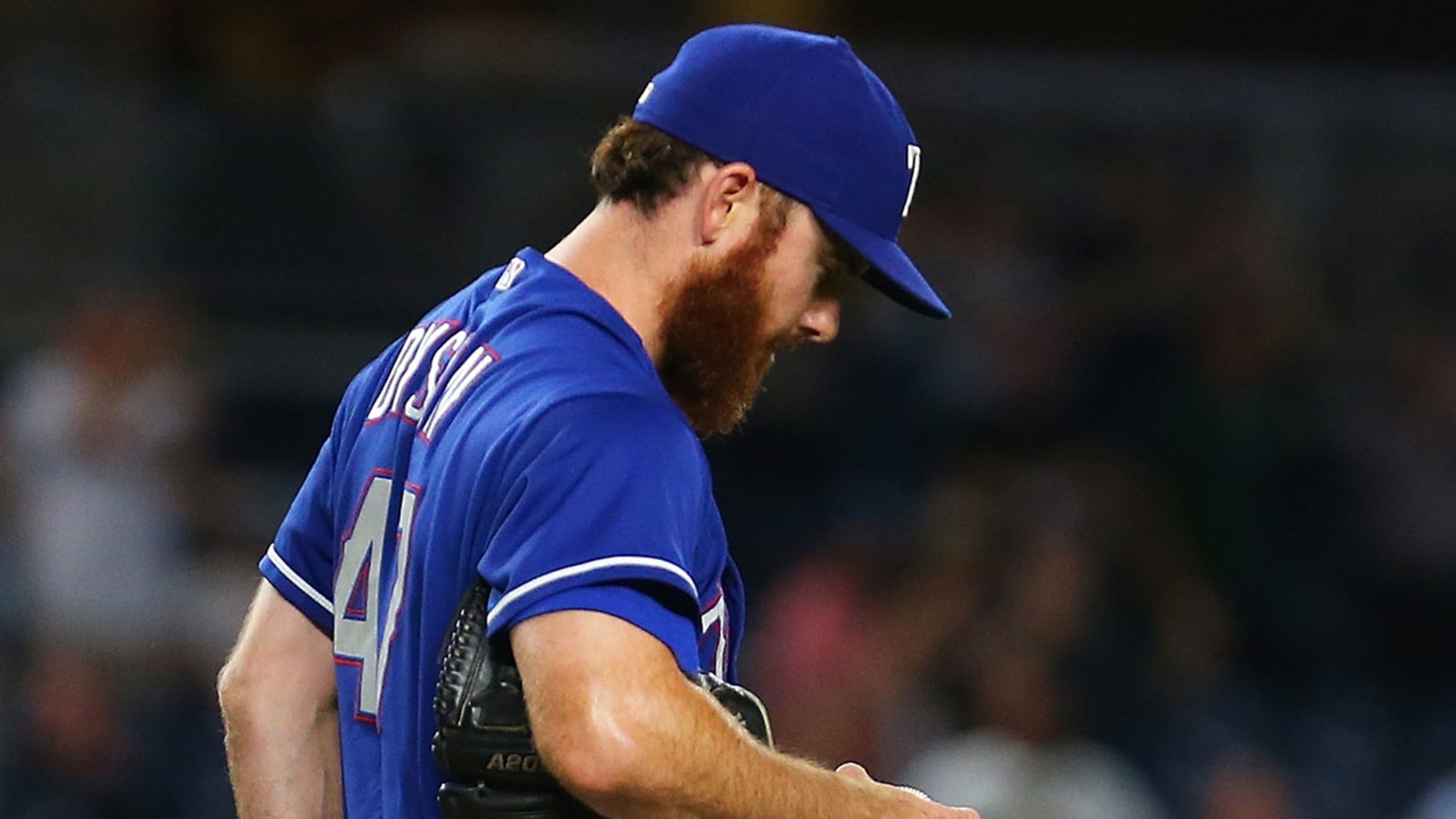 "I'm just trying to do my part. I didn't get the job done," Sam Dyson said. (Getty)
NEW YORK -- Rangers closer Sam Dyson, standing at his locker when the media entered the clubhouse after the game, refused to use his heavy workload as an excuse."I feel fine," Dyson said after the Rangers' 9-7 loss to the Yankees on Wednesday night. "I like consistent work. Those guys
NEW YORK -- Rangers closer Sam Dyson, standing at his locker when the media entered the clubhouse after the game, refused to use his heavy workload as an excuse.
"I feel fine," Dyson said after the Rangers' 9-7 loss to the Yankees on Wednesday night. "I like consistent work. Those guys go out and play every day. I'm just trying to do my part. I didn't get the job done."
Dyson also didn't blame it on coming in the game in the middle of an inning.
"There is more adrenaline if somebody is on base, but it doesn't change how I approach the inning," Dyson said.
Dyson had been successful in 16 straight save opportunities, but that streak came to an end when he gave up a game-tying three-run home run to Brian McCann and a game-winning two-run home run to Didi Gregorius in the bottom of the ninth.
"I came in and let everybody down," Dyson said. "It's part of the game. At the end of the day, you don't want it to happen … I just have to get after it tomorrow."
Dyson did not start the ninth inning. The Rangers had a 7-3 lead, so Matt Bush was on the mound.
Bush had already pitched the Rangers out of trouble in the eighth inning. He entered the game with two on and one out, getting Chase Headley on a fly to right and striking out Aaron Hicks.
Manager Jeff Banister was hoping to avoid Dyson in a non-save situation, especially with Rob Refsnyder, the Yankees' No. 9 batter and a right-handed hitter, leading off.
"A four-run lead, we were going to take Matt out for out," Banister said. "Obviously with a right-handed hitter, nine-hole hitter coming up, we felt good about the matchup. We just weren't able to close it out."
Instead, Bush gave up a single to Refsnyder and a walk to Jacoby Ellsbury. Suddenly the Rangers had a save situation on their hands and Dyson coming into the game.
"Obviously we were trying to stay away from the four-run type of situation for Sam," Banister said. "I think he made quality pitches. We just didn't get it done."
Brett Gardner singled to left-center, with Refsnyder scoring on an error by center fielder Ian Desmond, which brought the tying run to the plate. Dyson then got Alex Rodriguez on a line drive to second baseman Rougned Odor for the first out.
That brought up McCann, who had hit a home run off reliever Cesar Ramos in the eighth. This time he turned on a 1-0 sinker and hit it into the right-field seats to tie the game.
"Looked like he was trying to go inside and didn't get it there," Banister said.
Starlin Castro drew a walk, and that set it up for Gregorius. He jumped on a first-pitch changeup and hit it pretty much in the same area as McCann for the game-winner.
"I was attacking the strike zone," Dyson said. "I threw some good pitches down in the zone and they hit them."
The Rangers had a four-game winning streak snapped, but they are still 20-7 in June.
"We have played well," Banister said. "Obviously with a four-run lead, we'd like to close it out. We didn't."