Speedy Smith makes Grapefruit League debut
Kiermaier scratched with neck tightness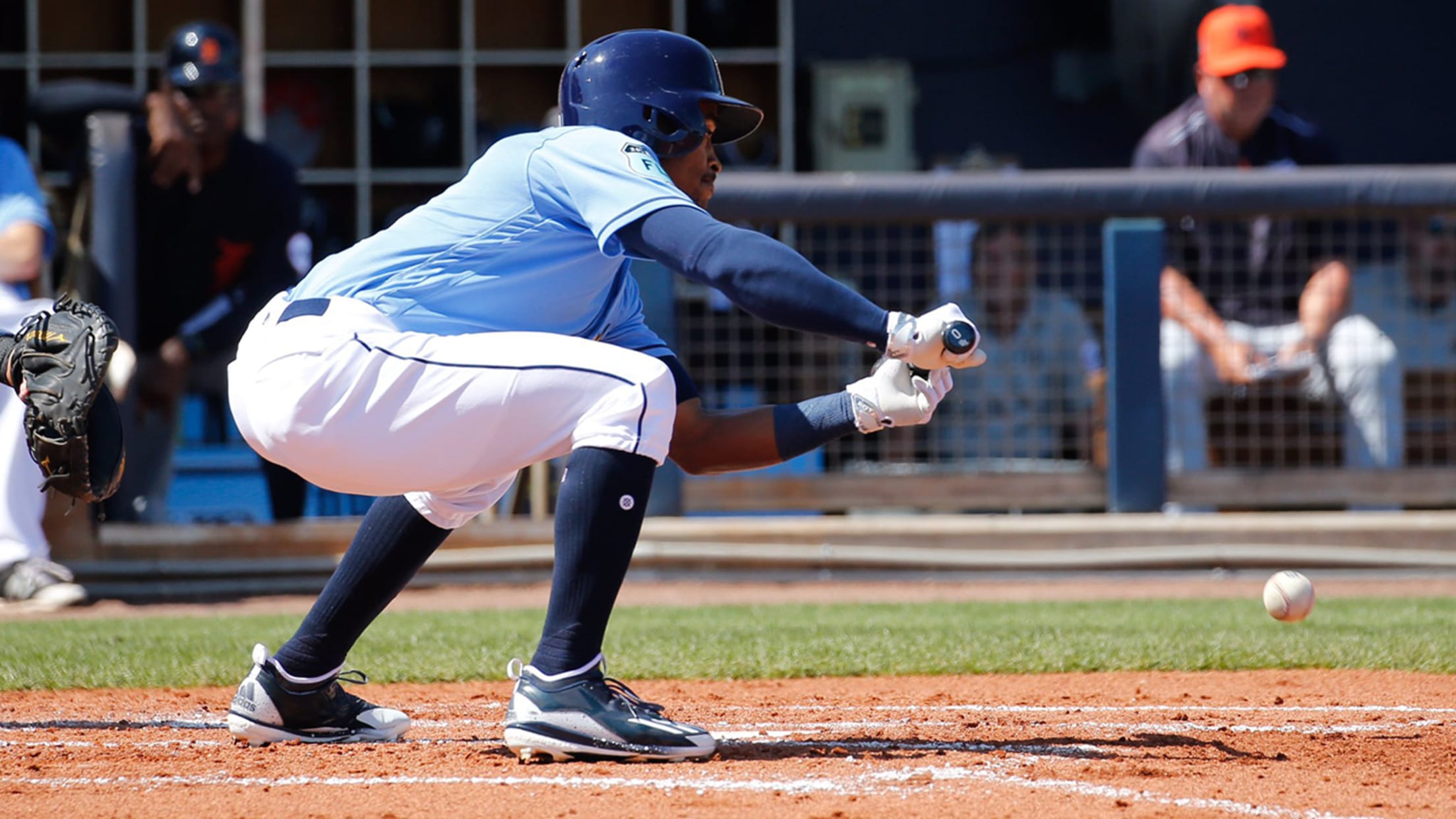 Mallex Smith went 1-for-3 with a run scored in his first Grapefruit League game. (Rays Twitter)
PORT CHARLOTTE, Fla. -- With Kevin Kiermaier scratched with tightness in his neck, Mallex Smith made his Grapefruit League debut on Friday in the Rays' 5-2 win over the Tigers. Smith was in center field and batted seventh.Smith had been sidelined with a tight left oblique, which he sustained playing
PORT CHARLOTTE, Fla. -- With Kevin Kiermaier scratched with tightness in his neck, Mallex Smith made his Grapefruit League debut on Friday in the Rays' 5-2 win over the Tigers. Smith was in center field and batted seventh.
Smith had been sidelined with a tight left oblique, which he sustained playing winter ball. He had been anxious for his first game with his new team.
"Extremely," he said. "I've been waiting on this, I've been waiting to play. So I'm excited. You just got to go out there and play my game, be smart about everything."
• Spring:Tickets | Ballpark | 40-man roster | NRIs
His debut, however, got off to an inauspicious start.
With left-hander Ryan Yarbrough -- acquired with Smith in the January trade that sent Drew Smyly to Seattle -- on the mound, Smith dropped Nicholas Castellanos' two-out fly ball. Although Charlotte Sports Park was beset with a gusty, swirling wind and full sun throughout the game, Smith didn't blame the conditions for his error.
"You know what, the wind didn't play any part of me dropping the ball," Smith said. "I dropped the ball. But, it did make it fade a little bit on me. … But I dropped the ball. I was right up under it, it hit me in the glove. That should always be caught."
Yarbrough got Steven Moya to ground out on the next pitch, and he struck out the side in the second.
"It makes you want to go ask for a lawn chair and just hang out and sit in it. Somebody throw me a cold water to cool me off while I'm in there," Smith said. "But he was awesome, he was very efficient, even after I dropped the ball. Next pitch, ground-ball out. So that just kind of puts the testimony to how he did today. He got like seven outs instead of six."
Smith made up for the error in the Rays' four-run second inning, when he laid down a bunt single on the third-base line, loading the bases.
"I love bunting," said Smith, who went 1-for-3 with a run scored. "I feel like it's a lost art. I feel like I'm going to bring it to the table a lot.
"It feels good because for the longest [time], that's all I've been able to work on since I've been in camp. So to be able to go and execute right away is wonderful. It feels like hard work paying off."
His manager agreed.
"The bunt was awesome," manager Kevin Cash said. "It was awesome to see a guy come in, do that and we got to watch him work on his craft for two weeks. He puts a lot of time and effort to it and, sure enough, he comes up and gets a first-situation opportunity. That was completely on his own. It's good to get him out there. Now, we'll start ramping him up probably on an every-other-day basis, as long as he's good to go."
Smith, 23, made his big league debut with the Braves this past season, stealing 16 bases in 24 attempts. The Rays are still in the getting-to-know-you phase with him.
"He was going to play [Saturday] but since KK's out another day with his neck, we got the all-clear to get him out there and play," said Cash.
"He hasn't done a ton, but we've watched him. The glimpses of shagging fly balls and stuff, you can tell he's got pretty elite speed. He's got a pretty defined approach during batting practice. I'm interested to see how that that works in the game, but he really focuses on looks, staying the other way, hitting the ball on the ground and utilizing his speed. So if that's him, that's interesting in the fact that we don't really have that guy. He could be something interesting."
With their speed, Smith and Kiermaier are two baserunners who will have the green light to steal.
"That's a big part of [Smith's] game, so we'll let him kind of dictate what he wants to do on base," Cash said. "We got to learn a little bit about him, if he feels good Day 1, go ahead and go. If he doesn't, I wouldn't read anything into it. But we got a couple guys in camp, basically him and KK that will just go run, and let's see how it plays out."
Neither Cash nor Kiermaier, who was also scratched from Wednesday's game, were overly concerned about the Gold Glove center fielder's neck soreness.
"[Kiermaier's] fine," Cash said. "I really haven't talked to him much, but no issues other than just continued neck soreness."
Maureen Mullen is a contributor to MLB.com.