Longoria excited for Players Weekend
New event to take place during all games from Aug. 25-27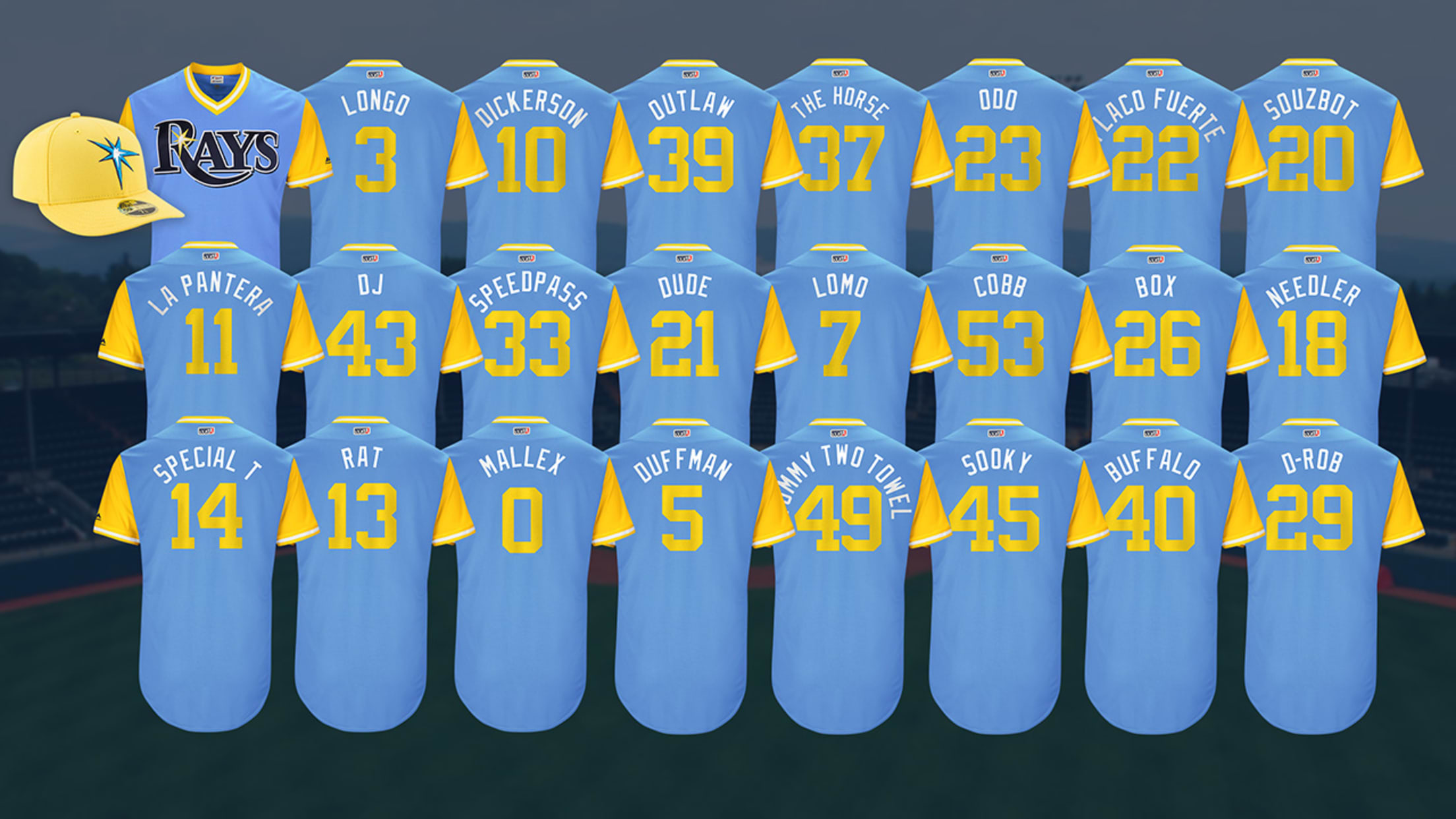 ST. PETERSBURG -- The inaugural Players Weekend takes place on Aug. 25-27, and fans can look forward to seeing players wear non-traditional uniforms featuring alternate designs.• Players Weekend gear available at MLBShop.com"I think it's a good thing," Evan Longoria said. "I expressed that to the Players Association in some of
ST. PETERSBURG -- The inaugural Players Weekend takes place on Aug. 25-27, and fans can look forward to seeing players wear non-traditional uniforms featuring alternate designs.
• Players Weekend gear available at MLBShop.com
"I think it's a good thing," Evan Longoria said. "I expressed that to the Players Association in some of the meetings we had. This game is pretty archaic the way it's played and the way it's viewed. It's America's Pastime, and it's steeped in a lot of history. I think a lot of the wear and the dress code was founded around that belief, and we were really behind [the weekend] in terms of guys expressing themselves on the field with what they wear."
Players will have the opportunity to have a nickname placed on the back of the jerseys made by Majestic Athletic, as well as to wear and use uniquely colored and designed spikes, batting gloves, wristbands, compression sleeves, catcher's masks and bats.
"I don't think that we'll see much, much different," Longoria said. "I'm sure there will be guys who go above and beyond. But I think baseball as a whole has definitely got a lot better at letting guys express themselves through the course of the year."
Players will wear specially designed caps by New Era, and unique socks from Stance. During pregame workouts and postgame interviews, they will wear T-shirts highlighting a charity or cause of their choice.
Also, each player will wear a special patch on his sleeve showing the progression of a child evolving into a Major Leaguer. Under that logo is white space, and every player will mark a name of a person who they are grateful to for helping them advance their careers, such as family or a coach.
Longoria will go by "Longo" on the back of his uniform, and the patch will feature his mother and father for all they've done to help him.

Logan Morrison allowed that he thought the weekend should "be fun" and he'll be going with "Lo-Mo" on the back of his jersey.
Rookie Jacob Faria noted that he wasn't sure what his nickname will be.
"MLB has to approve all the nicknames, so I'm sure once it comes down to it, it will be a cool nickname all the guys come up with," Faria said. "But I won't know until I look on the back of the jersey that day."
The right-hander did know that his patch would honor his grandfather with "Avo," which is Portuguese for grandfather.
"I think it's a cool thing to let the fans know some of the nicknames we go by in the [clubhouse], and who means a lot to us, the patches," Corey Dickerson said. "There's people who contribute to our lives, us getting here. I think it's cool. It lets the fans see another side of the players. Also a little freedom picking what we want on the back of our jerseys."
Dickerson wasn't sure what would be on the back of his jersey.
"So it might be Dickerson. I don't know," Dickerson said.
After the weekend, the jerseys will be auctioned off, with 100 percent of net proceeds donated to the MLB-MLBPA Youth Development Foundation, a joint effort established in July 2015 by MLB and the MLBPA with an initial commitment of $30 million focused on improving the caliber, effectiveness and availability of amateur baseball and softball programs across the U.S. and Canada.
Fans will get their first glimpse of the novel uniforms during the MLB Little League Classic between the Pirates and Cardinals on Aug. 20, which will be played in Williamsport, Pa., during the Little League World Series. That game will take place at Bowman Field, home of the Williamsport Crosscutters, a Phillies affiliate in the short-season Class A New York-Penn League.
Here's a list of nicknames that some Rays are expected to sport on the back of their jerseys on Players Weekend:
• Chris Archer: "FLACO FUERTE"
• Evan Longoria: "LONGO"
• Logan Morrison: "LOMO"
• Adeiny Hechavarria: "LA PANTERA"
• Brad Miller: "RAT"
• Lucas Duda: "DUDE"
• Steven Souza Jr.: "SOUZBOT"
• Peter Bourjos: "NEEDLER"
• Alex Colome: "THE HORSE"
• Wilson Ramos: "BUFFALO"
Bill Chastain has covered the Rays for MLB.com since 2005.