Japan suffers 2nd loss, eliminated from LLWS
Curacao stuns perennial powerhouse; Mexico, Rhode Island also win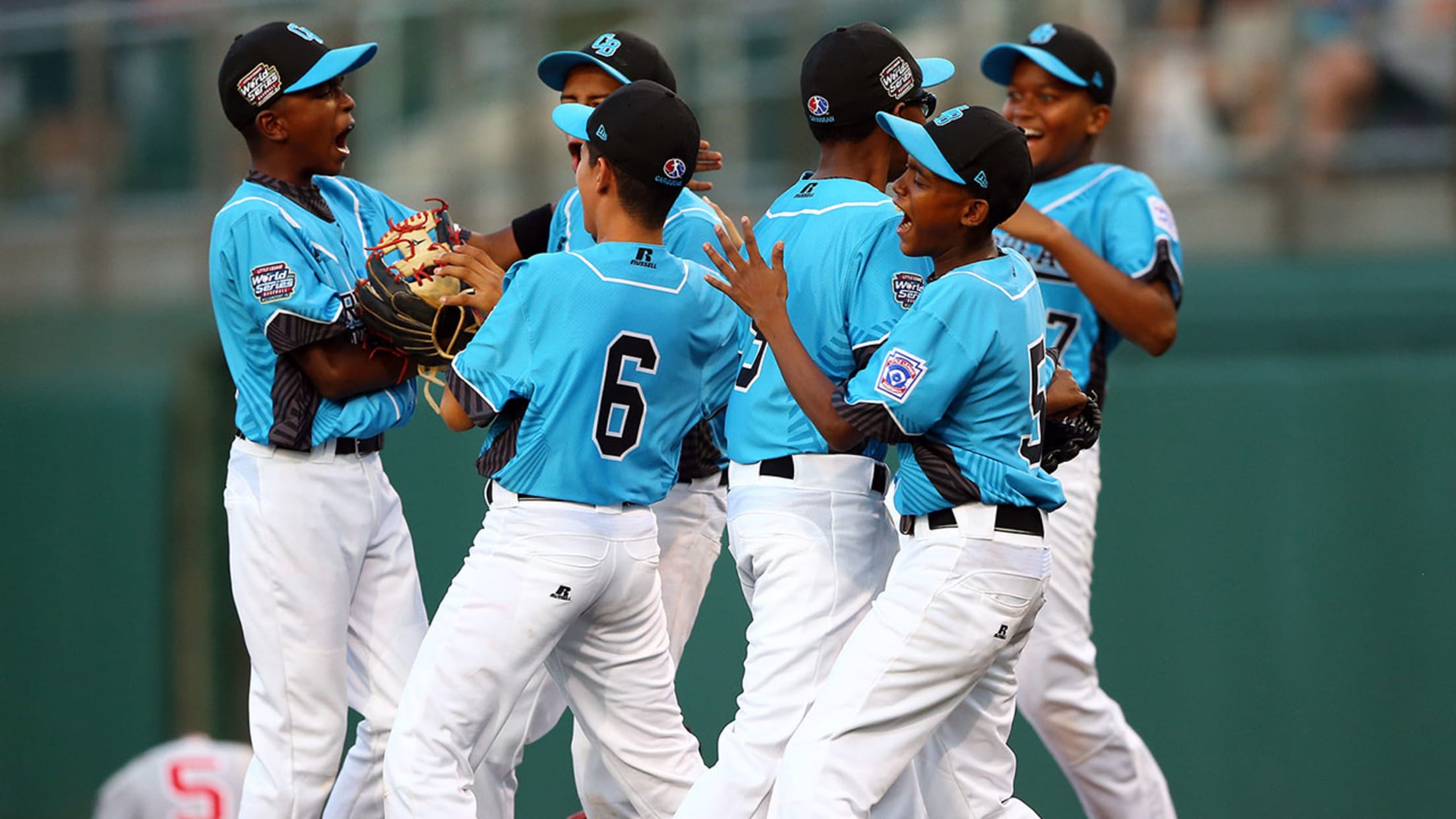 Curacao celebrates after defeating Japan, 2-1, eliminating them from the 2016 Little League World Series. (Alex Trautwig/MLB Photos)
WILLIAMSPORT, Pa. -- Two losses are all it takes to send a team home from the Little League World Series, and all four of Saturday's contests pitted teams vying to play another day. Mexico and Rhode Island used their bats to stay alive, while Curacao advanced with strong defense at
WILLIAMSPORT, Pa. -- Two losses are all it takes to send a team home from the Little League World Series, and all four of Saturday's contests pitted teams vying to play another day. Mexico and Rhode Island used their bats to stay alive, while Curacao advanced with strong defense at the expense of traditional power Japan. California extended its stay in Williamsport by showcasing enviable ability on both sides of the ball.
Saturday, Aug. 20
Game 12
West 5, Southwest 0
California's cheering contingent may have provided the motivation that the Park View Little Leaguers needed to triumph in Saturday's nightcap. The team took advantage of Texas' mound struggles to score twice in the first and once in the second before pinch-hitter Devin Hinojosa connected for a third-inning, two-run blast in just his second at-bat of the tournament. California executed near-perfect defense behind starting pitcher Victor Lizarraga, who authored a two-hitter.
NOTABLE PERFORMER
It was three up, three down for Texas against Lizarraga in the second, fourth and fifth innings. The ace allowed just one hit through his first five frames and finished the game with nine strikeouts.

Game 11
Caribbean 2, Japan 1
After a pair of bombastic opening contests, a pitchers' duel punctuated by some dazzling defense was overdue. Both Japan and Curacao tried to play small ball to get the momentum going, but in the fourth inning they scrapped that tactic in favor of big blasts. Japan's So Hirao went deep to center in the top of the fourth, but Donovan Antonia evened things up with a solo shot in the bottom of the frame. Curacao scored again in the fifth -- on a bases-loaded walk -- and had a chance for more, but Japan's right fielder stifled any hopes for a rally when he caught an Antonia fly ball and threw out the runner trying to tag from third.
NOTABLE PERFORMERS
Antonia provided the offensive boost that Curacao needed with his home run, while starting pitcher Jadon Gosepa kept his team in a tight game with seven strikeouts over five innings.
QUOTABLE
"My guys did their best. We worked hard for this moment. I don't have words." -- Curacao manager Purcy Geertruida
Day 3: Little League World Series
Game 10
New England 8, Northwest 0
The Rhode Island Little Leaguers threatened to score nearly as soon as they stepped up to the plate, loading the bases with a double sandwiched between a pair of walks. Oregon escaped that jam unscathed, but the same could not be said for the bottom of the second, when Rhode Island plated two. It wasn't until the bottom of the fourth, though, that the home team truly put the game away, as manager Kenny Rix's son, also Kenny, drilled a three-run homer to left to cap a four-run frame. While he didn't have strikeout stuff, pitcher Colin Lemieux held his Oregon opponents scoreless in his four innings of work.
NOTABLE PERFORMERS
After going 2-for-2 in his team's first game, Domenic Brazeau enjoyed a 3-for-3 day to maintain a perfect 1.000 average. He also added an RBI and scored a run.

QUOTABLE
"We were very confident going into today's game. The boys stayed hungry. We're not going to lay down for anybody. We're in this tournament to win it." -- Rhode Island manager Kenny Rix
Game 9
Mexico 12, Europe-Africa 7
Mexico collected a pair of one-out singles in the top of the second and capitalized on a walk and a hit-by-pitch to score its first run. From there, Mexico slowly added to its lead, thanks to a towering home run to left field off the bat of Gael Isaac Cortez and an RBI triple from Fabian Alejandro Mar. Cortez homered again in the top of the sixth before Italy rallied to score six runs in the bottom of the frame, but the deficit proved too much to overcome.

NOTABLE PERFORMERS
Cortez was 2-for-3 with a walk, a hit-by-pitch, three RBIs and two runs scored.
QUOTABLE
"In Italy it's not common to play with a lot of people watching. For them, this is the first time they are on TV, and it could be the last. " -- Italy manager Marco Bortolotti
WHAT'S NEXT
Sunday's schedule again features four contests, these pitting the winners of the opening round games, at 11 a.m., 3 p.m., 5 p.m. and 7 p.m. ET.
Allison Duffy-Davis is a reporter for MLB.com.