Predicting the Red Sox's Opening Day roster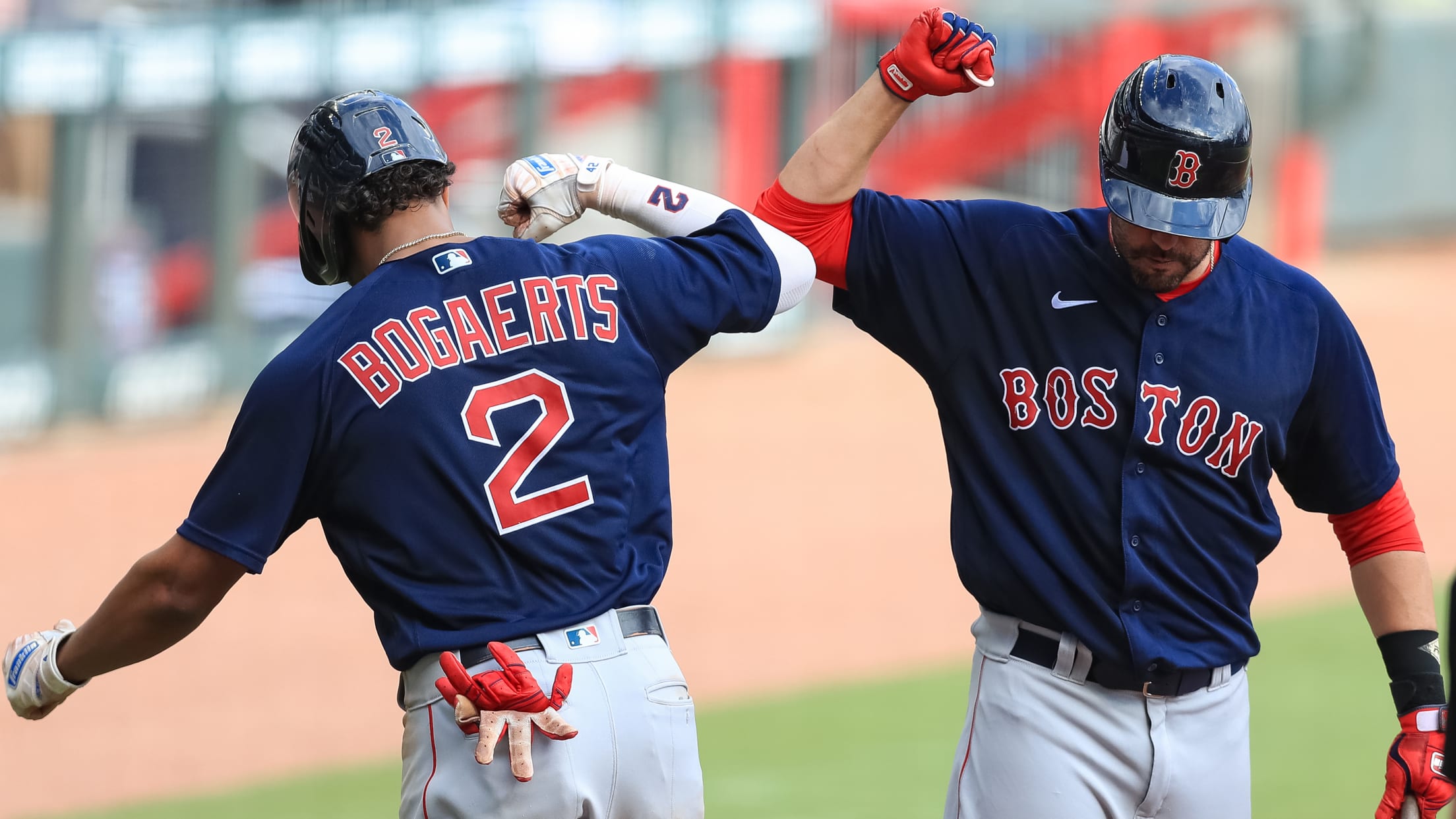 Though the offseason has just started, it is never too early to start projecting what the Red Sox's roster could look like in 2021. After a highly disappointing 2020, looking ahead creates excitement for a better future. One thing you can be sure of when it comes to next season's
Though the offseason has just started, it is never too early to start projecting what the Red Sox's roster could look like in 2021.
After a highly disappointing 2020, looking ahead creates excitement for a better future. One thing you can be sure of when it comes to next season's roster is that the pitching staff will be improved.
• Offseason checklist: Sox's needs and moves
The Red Sox still have a talented core of position players, but chief baseball officer Chaim Bloom is likely to add an impact piece to the outfield.
Here is MLB.com's first projection of what the roster will look like come Opening Day 2021.
Catcher (2): Christian Vázquez, Kevin Plawecki
The Red Sox have Vázquez back on the books for a $6.25 million salary in what is the final guaranteed season of the savvy three-year, $13.55 million extension the club signed him to in March 2018. The team also holds a $7 million option on Vázquez for '22. In what has been a transitional last year or so for Boston, Vázquez has provided stability to the pitching staff while being a threat at the plate. Plawecki proved to be just the kind of reliable backup the team needed last year, and it's likely the Red Sox will guarantee his return by offering him arbitration.
First base (2): Bobby Dalbec, Michael Chavis
Power-hitting prospect Dalbec got his chance over the final month of the 2020 season and sure looked like he belonged, smashing eight homers in 80 at-bats to go along with a .959 OPS. Dalbec held his own defensively at first base, but he will likely get better with more playing time. After a red-hot start to his rookie season in '19, Chavis has underperformed since. He will have to prove he belongs in '21. Chavis does offer additional versatility on defense with the ability to play second and third base and left field.
Second base (2): Trade/free-agent acquisition, Christian Arroyo
Ever since Dustin Pedroia's left knee went bad for good in 2017, this position has been one of musical chairs for the Red Sox. Might this be the offseason when Bloom finds a more consistent double-play partner for Xander Bogaerts? Arroyo, a former first-round Draft selection of the Giants, showed some flashes on both sides of the ball when given the chance in '20, but it would be a leap of faith to hand him the position before Spring Training even starts.
Shortstop (1): Xander Bogaerts
The Red Sox have no worries at this position, nor should they. Bogaerts is one of the best and most dependable players in the game. He puts up numbers every year and hardly ever misses time due to injuries. The 28-year-old is signed through 2025, but he does have an opt-out following the '22 season. Arroyo can back up at shortstop on the rare occasions Bogaerts takes a day off.
Third base (1): Rafael Devers
Much like Bogaerts at shortstop, the heavy-hitting Devers should be part of the equation for years to come, now entering his first season of arbitration eligibility. While the Red Sox love what Devers brings with his bat, he needs to be more consistent on defense. Devers regressed in that area in 2020 after making improvements the previous year. Dalbec can move across the diamond to his natural position of third base when Devers is out of the lineup.
Outfield (3): Andrew Benintendi, Alex Verdugo, trade/free-agent acquisition
The big question here is this: Who will replace Jackie Bradley Jr. in center field? There's always a chance Bradley will be re-signed, but for now that seems unlikely. Could the Red Sox make a run at a run producer like George Springer or Marcell Ozuna? That will be interesting to watch. Benintendi should be fully healthy after playing just 14 games in 2020 due to a strained right ribcage.
• George Springer rumors | Marcell Ozuna rumors
Designated hitter (1): J.D. Martinez
For the second consecutive offseason, Martinez decided not to exercise the opt-out clause in his contract. Assuming Martinez proves that his struggles in 2020 were an outlier and not a trend, this is good news for the Red Sox. When he is right, Martinez is an elite power hitter. While he will be the DH the majority of the time, Martinez will also get reps in the outfield.
Utility (1): Yairo Muñoz
In a small sample size, the Sox were enthused by what they saw from Muñoz's bat. The right-handed hitter had an .844 OPS in 45 at-bats. He can move all over the diamond with prior experience at all three outfield positions as well as second base, shortstop and third.
Starting pitchers (5): Eduardo Rodriguez, Nathan Eovaldi, Nick Pivetta, Tanner Houck, trade/free agent acquisition
The return of Rodriguez would be nothing short of huge, considering the lefty ace didn't throw a single pitch in 2020 due to COVID-19 and myocarditis. While the Red Sox hope that Rodriguez can return to full health this offseason, there is no precedent for a pitcher coming back from myocarditis, which is inflammation of the heart -- a condition doctors told Rodriguez he likely contracted from COVID-19.
Eovaldi's right arm stayed fully healthy in the shortened 2020 season, but he did miss time due to a right calf injury. Eovaldi still has dominant stuff even though he has a history of inconsistency with both his pitch mix and durability. The Sox can't wait to see if Pivetta will thrive in his new environment, and his two late-season starts were definitely encouraging. Houck looks poised to be the first starting pitching prospect Boston has drafted and developed in years and was lights out in his three starts at the end of the season. Chris Sale is still recovering from Tommy John surgery.
Expect Bloom to acquire one starting pitcher if not two. Some of the intriguing names on the market are Charlie Morton, Corey Kluber, Rich Hill and Jon Lester. Trevor Bauer is the best pitcher in free agency, but his price tag is high, and the Red Sox might be leery of giving up a Draft pick at a time they are still trying to restock their farm system.
Relievers (8): Matt Barnes, Darwinzon Hernandez, Phillips Valdez, Josh Taylor, Ryan Brasier, Austin Brice, trades/free-agent acquisitions
Though Barnes got a taste of the closer role for the final month of 2020, he has been a setup man for most of his career, and it wouldn't be surprising if he goes back to his old job in his final year before free agency. Bloom will be on the prowl for some difference-makers in the bullpen. Liam Hendriks, who has dominated in Oakland the last two years, might be the most appealing free agent. Lefty Brad Hand, surprisingly set free by the Indians, might be a close second.