Farrell searching for answers to 'pen woes
Red Sox relievers roughed up by O's in two losses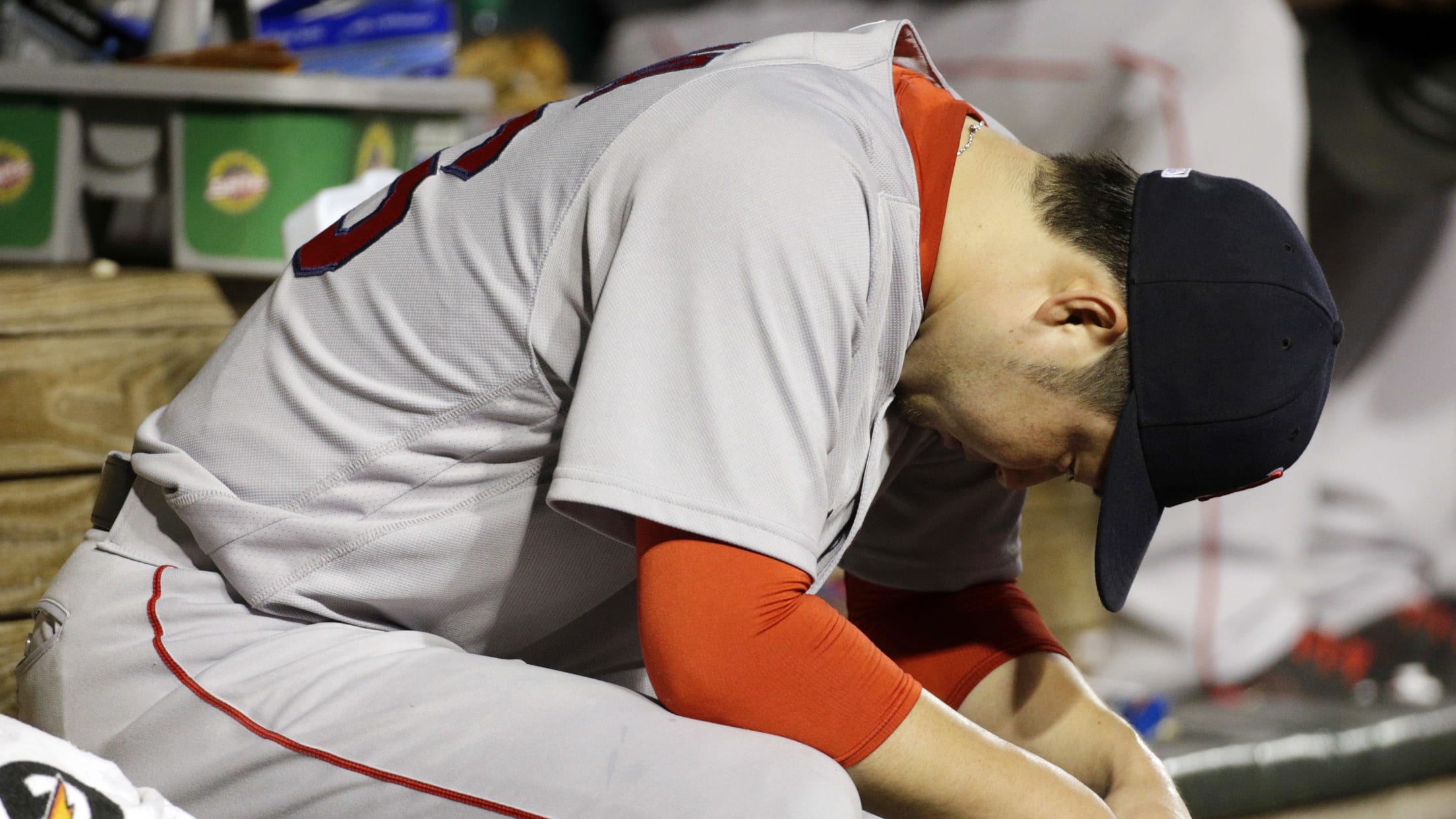 Reliever Junichi Tazawa gave up a tiebreaking three-run homer and a solo homer Thursday. (AP) (Patrick Semansky/AP)
BALTIMORE -- The Red Sox averaged just under seven runs per game on their seven-game road trip, but returned to Boston with a 3-4 record. This isn't a case, though, where the Red Sox's scoring average was inflated from their wins. In fact, the Red Sox averaged 7.5 runs in
BALTIMORE -- The Red Sox averaged just under seven runs per game on their seven-game road trip, but returned to Boston with a 3-4 record. This isn't a case, though, where the Red Sox's scoring average was inflated from their wins. In fact, the Red Sox averaged 7.5 runs in their four losses.
"Our guys, up and down the lineup, are contributing and yet the inability to locate consistently is the difference," manager John Farrell said after Thursday night's 12-7 loss to the Orioles. "We come through seven games in difficult environments on the road ... they're hard-fought games, but the inability to control our side of the inning on defense, particularly from the mound, that showed up here repeatedly."
The latest offensive night gone to waste was Thursday, when the Sox took a 5-4 lead with a five-run sixth inning before relinquishing the lead. This came on the heels of a 13-9 loss Wednesday. Sixteen runs in two games and no wins to show for it. It is a concerning trend for the American League East leaders.
"We've got to do some things differently as far as our attack plan from the mound," Farrell said. "You get these types of games where you're putting up that type of offense -- we're not going to get that all the time -- and to do that on the road in visiting ballparks, that's a testament and compliment to our offense. But we've got to find ways to navigate innings when we've got men on base and that's kind of been a reoccurring theme."
Starter Rick Porcello worked around a Hyun Soo Kim one-out single in the first and stranded Jonathan Schoop after hitting him with a pitch with two outs in the second. Those were the only two runners the Orioles left on base.
From there, the O's used a season-high seven homers to score 12 runs, with Porcello allowing two to Mark Trumbo and one to Adam Jones. Porcello left after six innings with the game tied at 5.
With Porcello's night done, the bullpen could not contain Baltimore's bats for the second straight night. Robbie Ross Jr. allowed the first two batters he faced to reach base to open the seventh, and both Ryan Flaherty and Francisco Pena would score on Manny Machado's tiebreaking three-run homer off Junichi Tazawa.
In the eighth, Tazawa allowed Pedro Alvarez's long ball before Noe Ramirez allowed homers to Pena and Jones -- the first two batters he faced in the Majors since April 23.
In dropping the last two games of the series at Camden Yards, Boston's bullpen threw 7 2/3 innings, allowing 12 hits and 11 runs (10 earned).
"We should have won both of these games," Porcello said. "We have to throw the ball better all the way around."
Ben Raby is a contributor to MLB.com.