Thursday's best: Groome excels in rehab start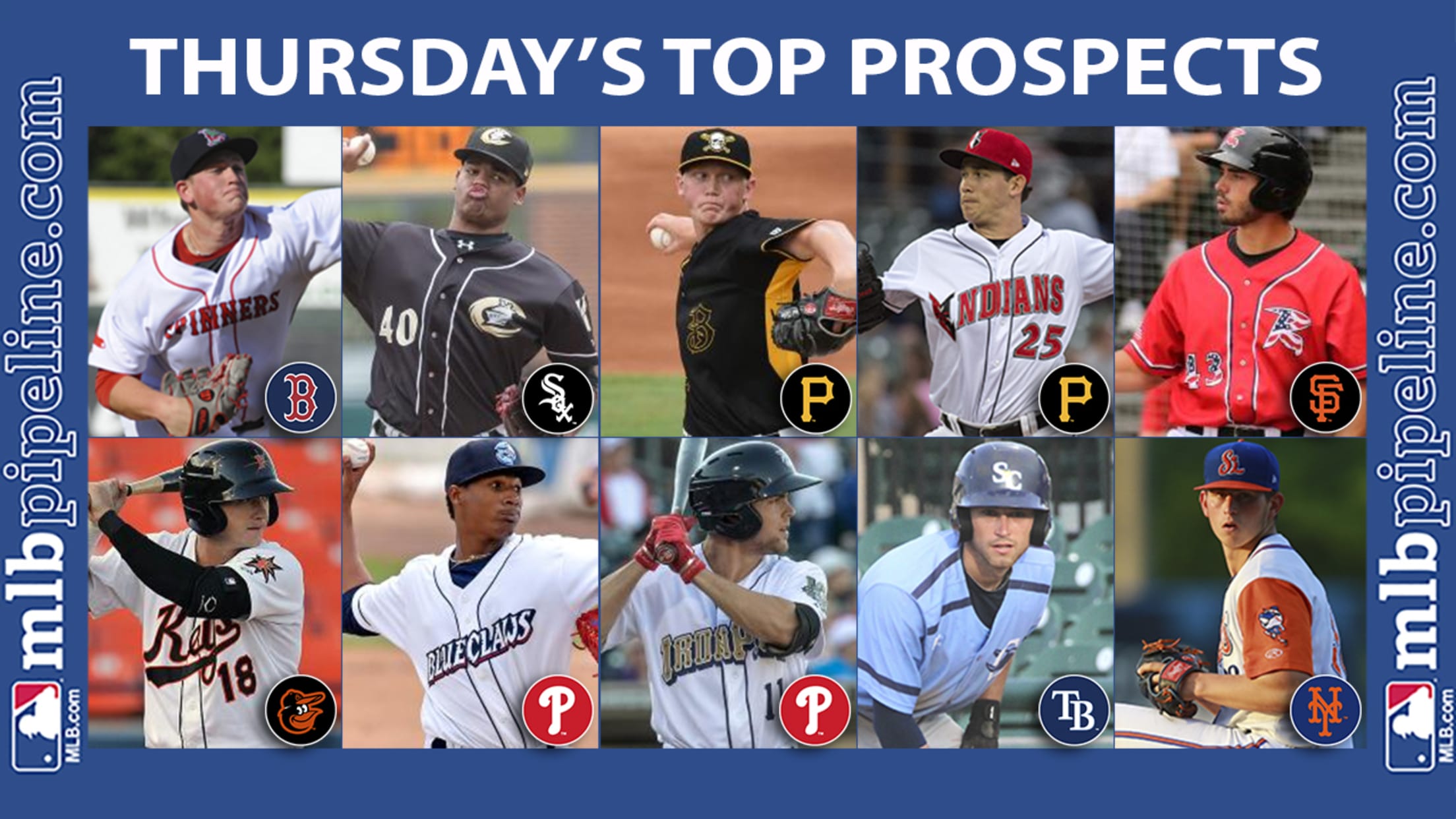 Finally healthy, Jay Groome is showing what he can do.The Red Sox's No. 2 prospect (No. 35 overall) fired five hitless frames with six strikeouts and two walks on Thursday as Class A Short Season Lowell defeated Hudson Valley, 5-2.It was Groome's third rehab appearance in the New York-Penn League
Finally healthy, Jay Groome is showing what he can do.
The Red Sox's No. 2 prospect (No. 35 overall) fired five hitless frames with six strikeouts and two walks on Thursday as Class A Short Season Lowell defeated Hudson Valley, 5-2.
It was Groome's third rehab appearance in the New York-Penn League since returning from a two-month stint on the disabled list for a lat strain, which he suffered during his season debut with Class A Greenville. The 18-year-old lefty surrendered one earned run in each of his first two turns while completing 2 1/3 and 3 2/3 innings, respectively, before stretching out his pitch count to 85 (49 strikes) on Thursday.
Groome, the 12th-overall Draft pick in 2016, made just three starts last summer, posting a 2.70 ERA with 10 strikeouts in 6 2/3 innings across two levels, after signing for $3.65 million -- a franchise record for a drafted pitcher.
The rest of the best performances from top prospects Thursday
• No. 37 overall prospectReynaldo Lopez (White Sox No. 5) set a season high with 11 strikeouts as he tossed 6 2/3 frames of one-run ball to lead Triple-A Charlotte past Columbus. The 23-year-old right-hander has fanned 79 batters in 81 innings this season while posting a 4.22 ERA in 15 starts.
MILB Video - Title: Lopez notches 11th strikeout - Url: http://www.milb.com/r/video?content_id=1554694983
• After making a pair of rehab starts in the New York-Penn League, No. 39 overall prospect Mitch Keller (Pirates' No. 2) tossed four perfect innings with two strikeouts in his return to Class A Advanced Bradenton. Before landing on the disabled list with a back strain on May 26, the 21-year-old righty had pitched to a 2.93 ERA with a 0.93 WHIP over 40 innings (eight starts) in the Florida State League.
MILB Video - Title: Keller goes four perfect innings - Url: http://www.milb.com/r/video?content_id=1553899883
• Giants No. 5 prospect Chris Shaw homered in his first two at-bats before finishing 4-for-5 with four RBIs in Triple-A Sacramento's 11-10 win over El Paso. The pair of homers gives him three in his last two games, and he's now gone deep six times in 30 games while hitting .292 since being promoted to Triple-A.
MILB Video - Title: Shaw hits second homer - Url: http://www.milb.com/r/video?content_id=1555413083
• Rays No. 6 prospect Josh Lowe stayed hot for Class A Bowling Green as he hit a home run and collected four RBIs for a second straight game. He's gone 7-for-18 with three homers and 11 RBIs over his last four games. Also pacing the Hot Rods' offense was Garrett Whitley (No. 11), who went 2-for-3 with a triple, four RBIs and his 11th stolen base from the bottom of the order.
• Orioles No. 7 prospect Austin Hays went 4-for-5 with a home run and four RBIs as he powered Double-A Bowie past Altoona, 9-3. The 21-year-old outfielder has hit .394 with two homers in his first eight games in the Eastern League, while his current 16-game hitting streak dates back to June 11 with Class A Advanced Frederick. He's batting .336 with 18 homers in 72 games between the two levels.
MILB Video - Title: Hays' three-run homer to left - Url: http://www.milb.com/r/video?content_id=1552827083
• Phillies No. 7 prospect Sixto Sanchez used his elite fastball to rack up seven strikeouts in five innings in a win for Class A Lakewood. The 18-year-old righty allowed two earned runs on five hits while walking one, which gives him an ERA of 2.98 with a 46-to-4 strikeout-to-walk ratio through 45 1/3 innings (nine starts) in his first full season.
• Pirates No. 8 prospect Steven Brault scattered four hits over a season-high eight innings to pace Triple-A Indianapolis in a 4-0 shutout of Durham. Brault also matched his season high in strikeouts with nine, all while generating nine ground-ball outs and throwing 69 of his 106 pitches for strikes. He's 7-0 with a 1.25 ERA in his last 10 starts.
• Phillies No. 11 prospect Scott Kingery regained a share of the Minor League lead as he connected on his 21st home run of the season in Triple-A Lehigh Valley's loss against Pawtucket. It was the third homer in four Triple-A games for the 23-year-old second baseman, who's hitting .314/.374/.622 on the season. Rhys Hoskins (No. 13) also homered for the IronPigs for the second time in as many games. He leads the International League with 19 home runs.
MILB Video - Title: Kingery belts a homer - Url: http://www.milb.com/r/video?content_id=1554401683
• Mets No. 24 prospectChris Flexen was sharp once again for Double-A Binghamton as he allowed one earned run on one hit (a solo home run) over six innings to lower his Eastern League ERA to 1.69 through four starts. The 22-year-old righty recorded a season-best 10 strikeouts and did not issue a walk, with 56 of his 84 pitches going for strikes in the performance.
MILB Video - Title: Flexen notches 10th strikeout - Url: http://www.milb.com/r/video?content_id=1554228783