Bobbled bunt sinks Uehara's outing vs. Royals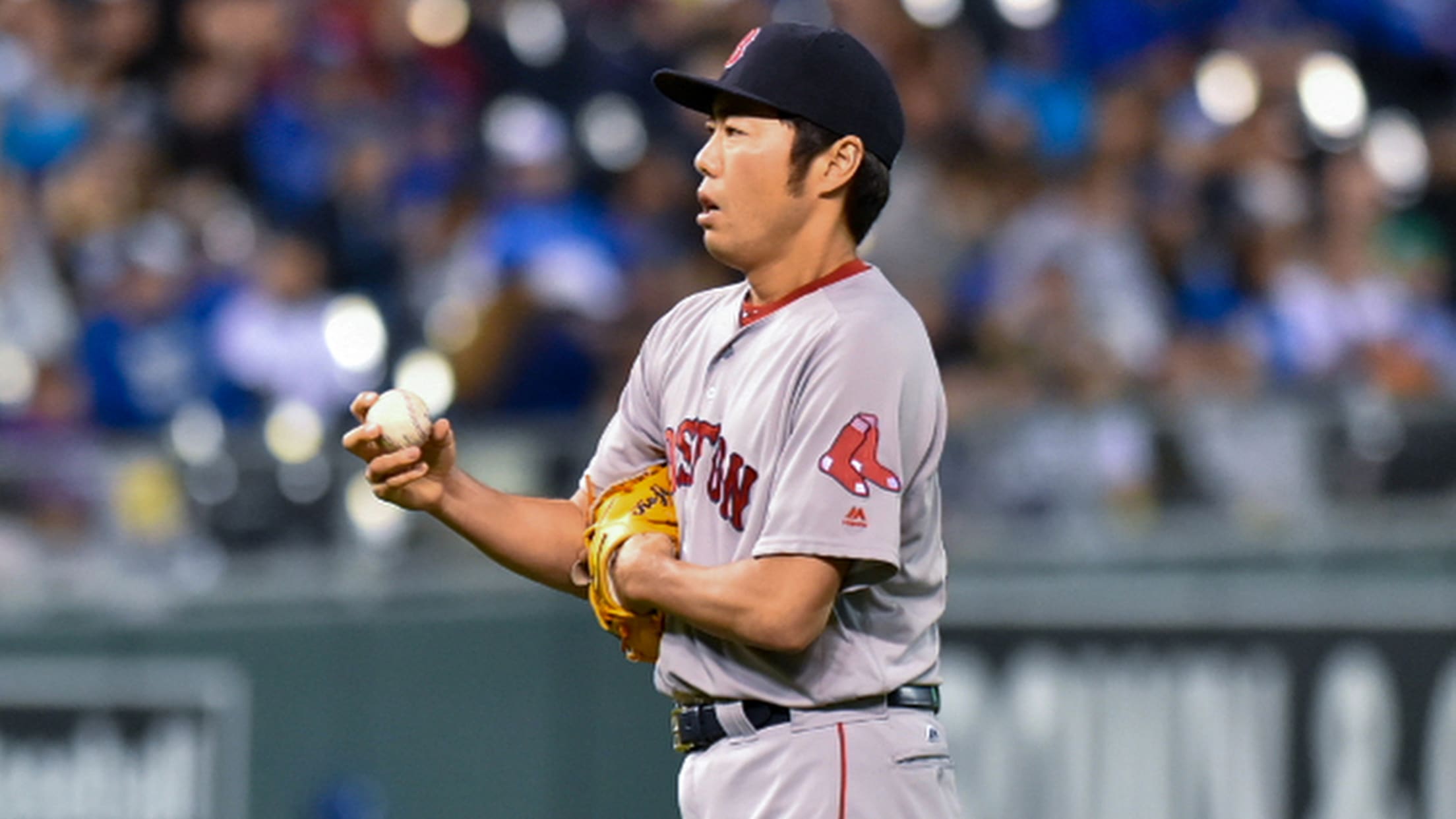 "I should have put it in my pocket and not thrown it," Koji Uehara said about an eighth-inning bunt. (Getty)
KANSAS CITY -- Koji Uehara had been in the midst of one of his typically magnificent stretches before being thrust into action in the eighth inning Tuesday night with the task of keeping the Red Sox a swing away from tying the game.But for the trusted setup man, this performance
KANSAS CITY -- Koji Uehara had been in the midst of one of his typically magnificent stretches before being thrust into action in the eighth inning Tuesday night with the task of keeping the Red Sox a swing away from tying the game.
But for the trusted setup man, this performance fell apart on a bunt he misplayed twice in his team's eventual 8-4 loss to the Royals.
With Salvador Perez on first and one out, Omar Infante dropped down a perfect bunt to the third-base side of the mound. Uehara pounced and tried to barehand the ball before getting the out at first. But Uehara initially bobbled the attempt.
Later, with the benefit of hindsight, Uehara realized the play should have ended right there -- with runners on first and second and nobody out.
"I should have put it in my pocket and not thrown it," Uehara said through an interpreter. "I rushed it and I didn't have a good grip on it."
The rest of the play was not pretty. Uehara's throw sailed down the right-field line, and Perez roared all the way around from first. Infante motored into third. Infante was credited with a single and Uehara was charged with a throwing error, allowing the runners to advance.
It was just the second error of Uehara's career and first since 2012.
Given that Uehara hadn't given up a home run all year, it's probably safe to assume the mishap carried over to the next at-bat, when Paulo Orlando deposited a splitter over the wall in left for a two-run shot that gave the Royals an 8-4 lead.
"I wanted to keep the game at a one-run lead but was unable to do that," Uehara said. "I tried to change my mindset after that misplay, but I wasn't able to do it."
The fielding play and the misfire to Orlando were both uncharacteristic of Uehara, who had a 1.13 ERA in his previous eight outings, allowing one run over eight innings while striking out 11.
"You get a ball on the ground and he's been such a good fielder," said Red Sox manager John Farrell. "He bobbles it, and I think he still had a chance to throw the runner out, but he pulls it wide. A split stays up in the zone to Orlando, and it's really uncharacteristic for Koji to give up the long ball like that tonight."