Red Sox wowed by Negro Leagues museum
Bradley, Betts, Wright join radio broadcasters for VIP visit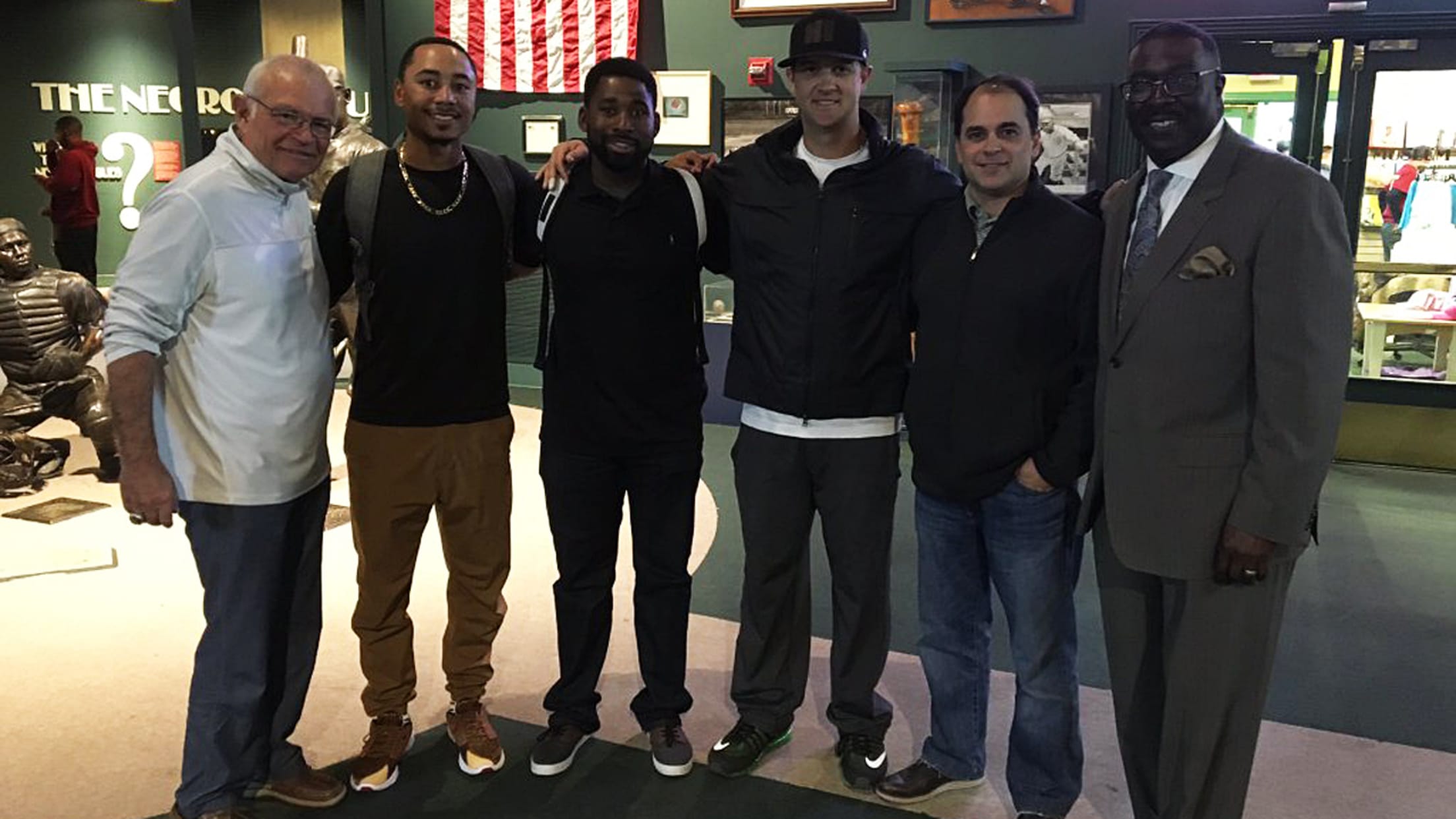 Joe Castiglione, Mookie Betts, Jackie Bradley Jr., Steven Wright and Tim Neverett pose with museum president Bob Kendrick. (@TimNeverett)
KANSAS CITY -- During his first trip to the Negro Leagues Baseball Museum on Tuesday morning, Red Sox center fielder Jackie Bradley Jr. felt as if some of the former players were right there in front of him.Museum president Bob Kendrick gave a passionate presentation during his VIP tour with
KANSAS CITY -- During his first trip to the Negro Leagues Baseball Museum on Tuesday morning, Red Sox center fielder Jackie Bradley Jr. felt as if some of the former players were right there in front of him.
Museum president Bob Kendrick gave a passionate presentation during his VIP tour with Bradley, Mookie Betts, Steven Wright and team radio broadcasters Joe Castiglione and Tim Neverett.
"Very enjoyable," said Bradley. "It was very inspiring and emotional and passionate. You could tell the passion he had telling the stories from each particular guy. It was almost as if he was depicting it as if they were right there in front of him. Just visually seeing all of that and hearing all of the information, it really makes me feel honored to be able to play after those guys just because of the adversity they had to go through and overcome at that particular time."
AL Player of the Week @RedSox CF @JackieBradleyJr w/me and Satchel Paige at the Negro Leagues Museum in KC #history pic.twitter.com/dH7VKPCxGW

— Tim Neverett (@TimNeverett) May 17, 2016
For the past several years, Castiglione has arranged the tour with Kendrick and invited Red Sox personnel.
"These guys were really, really attentive and so curious and so into it," Castiglione said. "Mookie is like a sponge. He had so many questions after and he was so fired up. Jackie was just amazed. And Steven Wright is really into baseball history."
Wright still seemed wowed by the experience a few hours later in the clubhouse prior to the Red Sox-Royals game.
"They played literally for the love of the game because they weren't getting paid," Wright said. "Most of the time, they were sleeping on the bus because they weren't allowed to go in some of the hotels. I'd definitely highly recommend going to anyone who's never been there."
Bradley was asked which image stuck out the most from the visit.
"Let's go with a picture of Hank Aaron," Bradley said. "He's standing at a railroad station and he has a small bag beside him and maybe has a ham sandwich and two pairs of clothes and maybe a dollar and 50 cents in his pocket, and that was almost symbolizing him about to take off chasing a dream and look at where he is now."