Reds baseball, softball camps in full swing 
16 camps available throughout Reds Country in 2019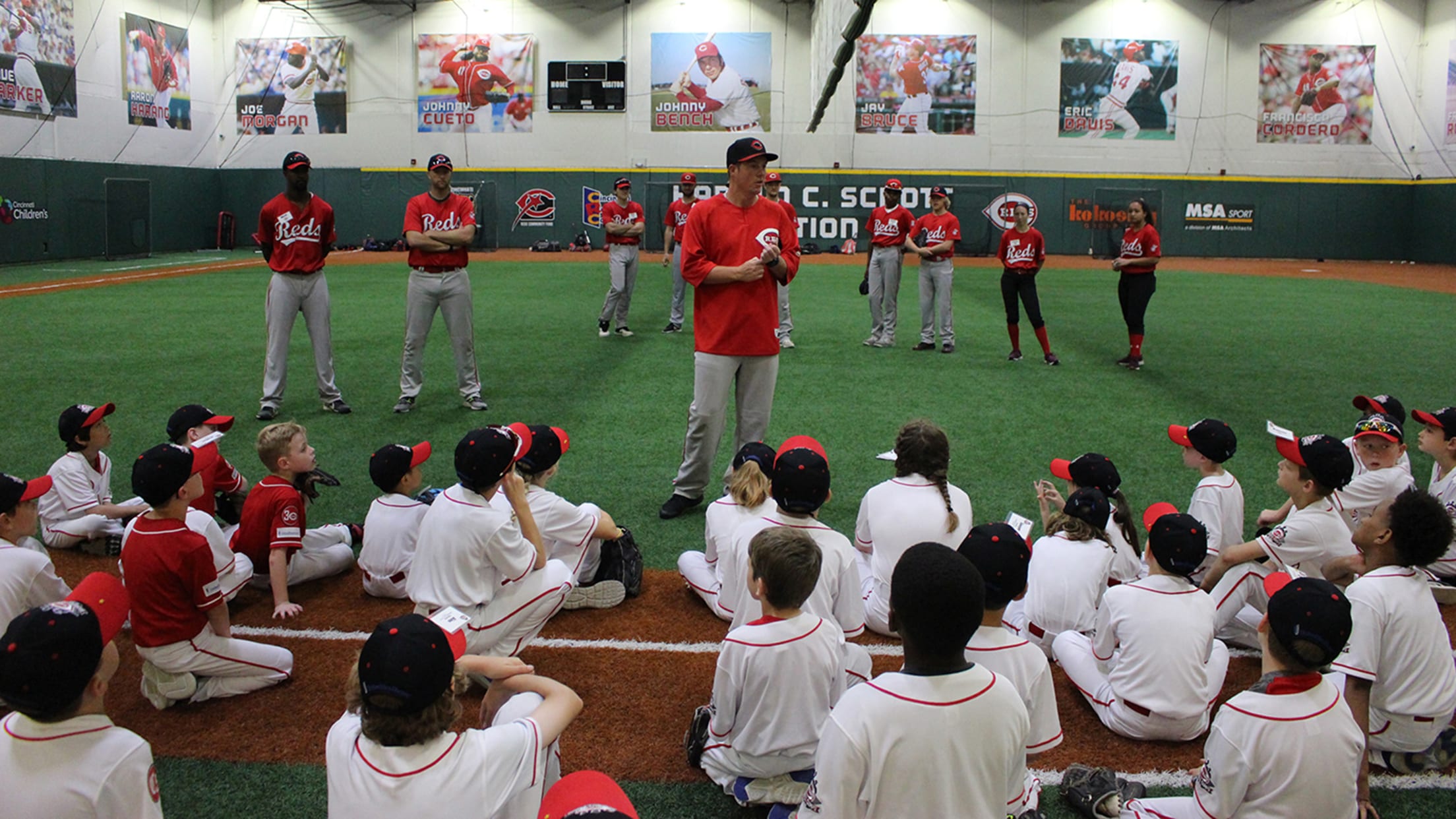 The 2019 Reds Baseball & Softball Camps presented by UnitedHealthcare kicked off in two locations this week. The Reds Youth Academy hosted one group of campers, while Beechwood High School in Northern Kentucky put on another. Now eight years in, Reds Camps continue to offer 30 hours of baseball and
The 2019 Reds Baseball & Softball Camps presented by UnitedHealthcare kicked off in two locations this week.
The Reds Youth Academy hosted one group of campers, while Beechwood High School in Northern Kentucky put on another.
Now eight years in, Reds Camps continue to offer 30 hours of baseball and softball training from Reds personnel. All campers receive instruction from a Reds coach, a full Reds uniform, tickets to a Reds game, a VIP experience at Great American Ball Park and an appearance by a Reds player.
In addition to the Reds-oriented perks, part of what makes the camps so unique is they are tailored to boys and girls of all skill levels. Whether a 12-year-old has been playing baseball since they were 5 years old, or a fifth grader has decided to pick up a glove for the first time, all are welcome and encouraged to join.
"We have a super-aggressive curriculum with pitching, infield, hitting and miscellaneous things like sliding or pickoffs for older kids," Reds Camps field director John Sullivan said. "At camp, an infield station will vary with age. So the older kids will get a lot more in depth into the curriculum than the younger kids. But while there is a huge window for these coaches to work with, with the curriculum and their agenda each day, they know how to progress with the kids."
Sullivan oversaw this week's camp at the Reds Youth Academy. After being asked to be a station leader at one of the camps many years ago, he quickly climbed the ladder and within a year found himself as a field director. Six years later, it's a role he still cherishes.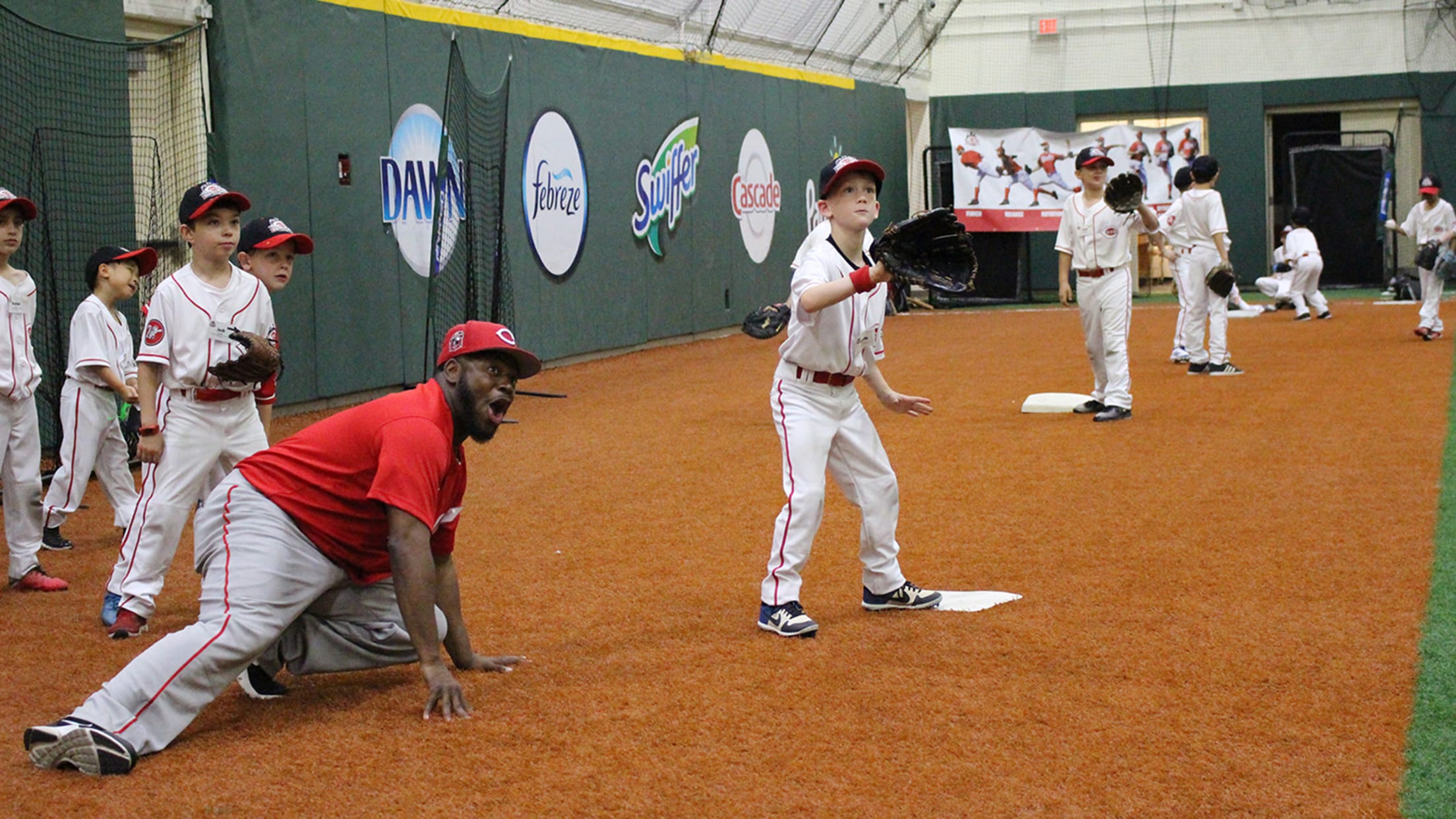 "My favorite part is, the ages are 6 to 14 so you really get to see an impact on the kids and see them grow from day one to day four [with one day spent at the ballpark]. There's a lot of things that go on throughout camp, but my favorite part is watching them grow," said Sullivan.
While developing fundamentals is a significant part of what the Reds offer during these camps, there is also plenty of friendly competition and games to keep the experience relaxed and fun. A last-team-standing throwing competition, a classic Wiffle Ball game and even a skills competition where the winners get to compete at the ballpark are just a sampling of what's offered.
Erik Ronquist is participating in Reds Camps for the sixth time, and he has the No. 6 patch on his right sleeve to prove it. The 12-year-old has advanced to the skills competition at the ballpark twice. But for him, the camps are about more than just winning.
"Getting to meet all these people and getting to learn different things throughout the week is what I like the most," he said.
For kids like Erik, there are only a couple more years that they can participate as a camper. But Erik's or any attendee's involvement doesn't have to end just because they graduate to high school.
"We have a program where kids can come back, kind of like an internship," Sullivan said. "We have two this week, one softball player and one baseball player. Both are 14 and started camps when they were 8 years old. They're not able to do camps anymore, they graduated from it. But they come back and get some hours for their school and both of them are part of RBI and they get their community hours with RBI. We reach out to them. It's a full program that we do, and we invite all the kids that graduate to come back each and every year."
While two camps have already wrapped up, there is still time to sign up for the 14 remaining opportunities across Ohio, Kentucky and Indiana. To register for the camp nearest you or for more information, visit reds.com/camps today.