Reds' bullpen bitten again by home-run ball
Ramirez yields go-ahead blast in decisive 6th against Padres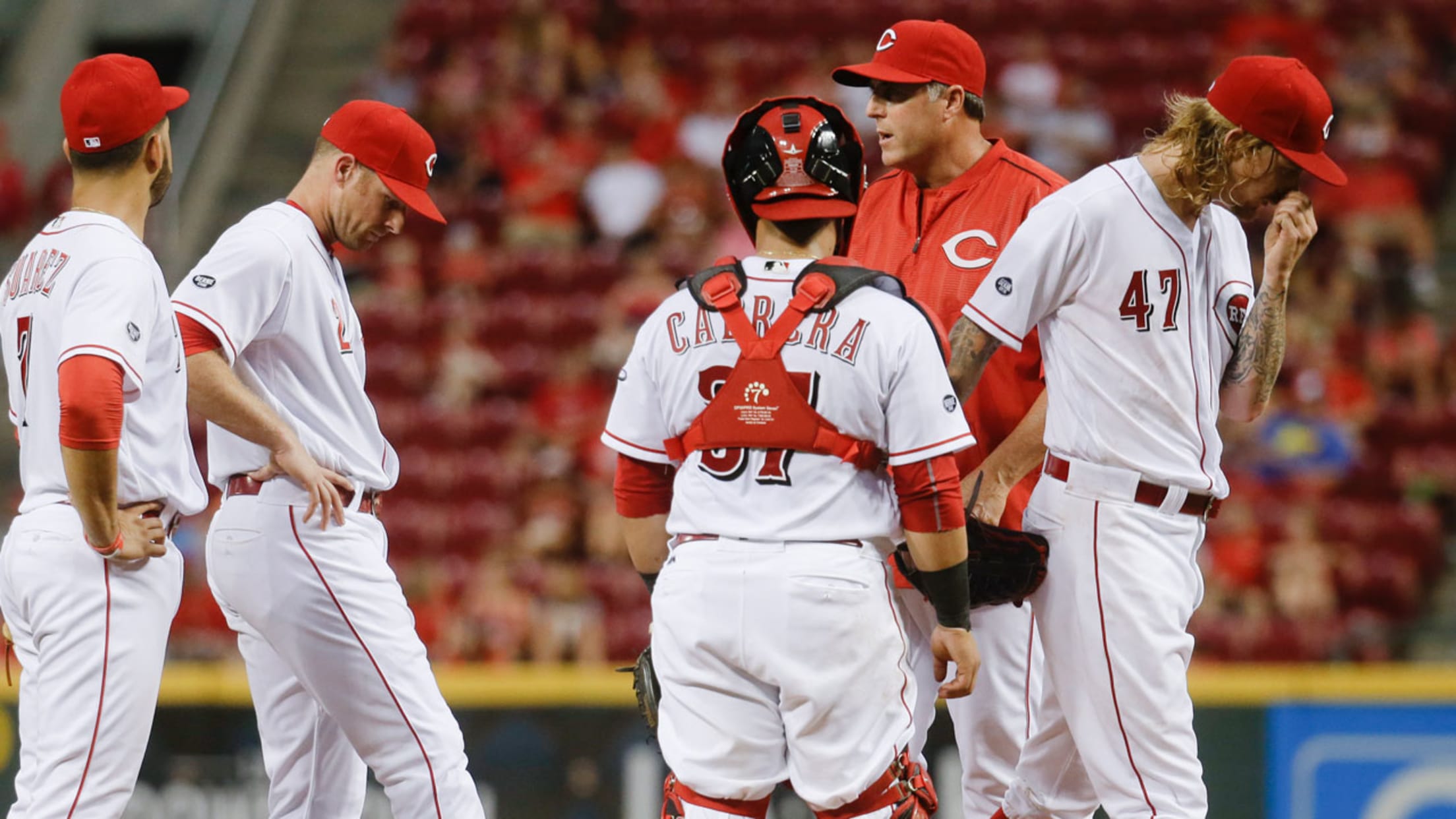 On Thursday, Reds starter John Lamb labored with a high pitch count and lasted 5 1/3 innings. (AP)
CINCINNATI -- Just as the Reds' bullpen has shown some signs of stabilizing lately, it received an influx of added help this week with the returns of Raisel Iglesias and Michael Lorenzen from the disabled list. But some problems remain unsolved, especially when relievers are giving up runs before they
CINCINNATI -- Just as the Reds' bullpen has shown some signs of stabilizing lately, it received an influx of added help this week with the returns of Raisel Iglesias and Michael Lorenzen from the disabled list. But some problems remain unsolved, especially when relievers are giving up runs before they get their first out.
Home runs yielded by relievers are especially hurting the Reds. On Thursday, it was JC Ramirez who gave up Derek Norris' three-run homer for the go-ahead runs in the sixth inning of a 7-4 loss to the Padres.
"It's the home runs and the timing," Reds manager Bryan Price said. "It's a lot of multiple-run home runs or home runs that either give up the lead or allow teams to extend the lead. And that's tough. One swing of the bat and it's a completely different ballgame. It's been a really big nemesis, a huge nemesis for us to this point."
One reason the bullpen has been better is that starting pitchers are working deeper more often. But on Thursday, John Lamb labored with a high pitch count and lasted 5 1/3 innings. This after he made it through 5 1/3 his previous outing and four innings before that. Not a coincidence, but a potential win was erased by a blown save in Lamb's previous start at Houston before a 4-2 loss in 11 innings last Friday.
More outs to cover mean more potential landmines for relievers. Lamb departed with one out in the sixth vs. the Padres, a runner on first base and a 4-2 lead. Ramirez's first batter, Melvin Upton Jr., hit a single. His second batter, Norris, hit the game-changing homer.
It was the Major League-leading 54th homer allowed by the Cincinnati bullpen and third in two games. By comparison, the entire Cubs pitching staff has given up 58 homers while the Mets staff have allowed 57. The Reds are on record pace with 119 homers allowed.
In Wednesday's 6-4 loss to the Rangers, J.J. Hoover and Tony Cingrani allowed homers to the first batters they faced -- proving to be the difference in the game. In the seventh inning or later, the bullpen has surrendered 44 homers -- also for the league lead.
Cincinnati relievers have another lead with 13 homers given up to the first batter faced. The 'pen has retired 62 percent of first batters (141 of 226) this season, while 41 of 107 inherited runners have scored.
"We've kind of settled somewhat into roles and definitions compared to where we were in large part in April and May," Price said. "We don't have [Blake] Wood right now [paternity leave] but typically Wood, [Ross] Ohlendorf, Cingrani will be in some late-inning opportunities and eventually Iglesias and Lorenzen will settle in there too as they get their feet under them."