Reds honor 12 HS players with signing day
Seniors from Reds RBI teams will play baseball or softball in college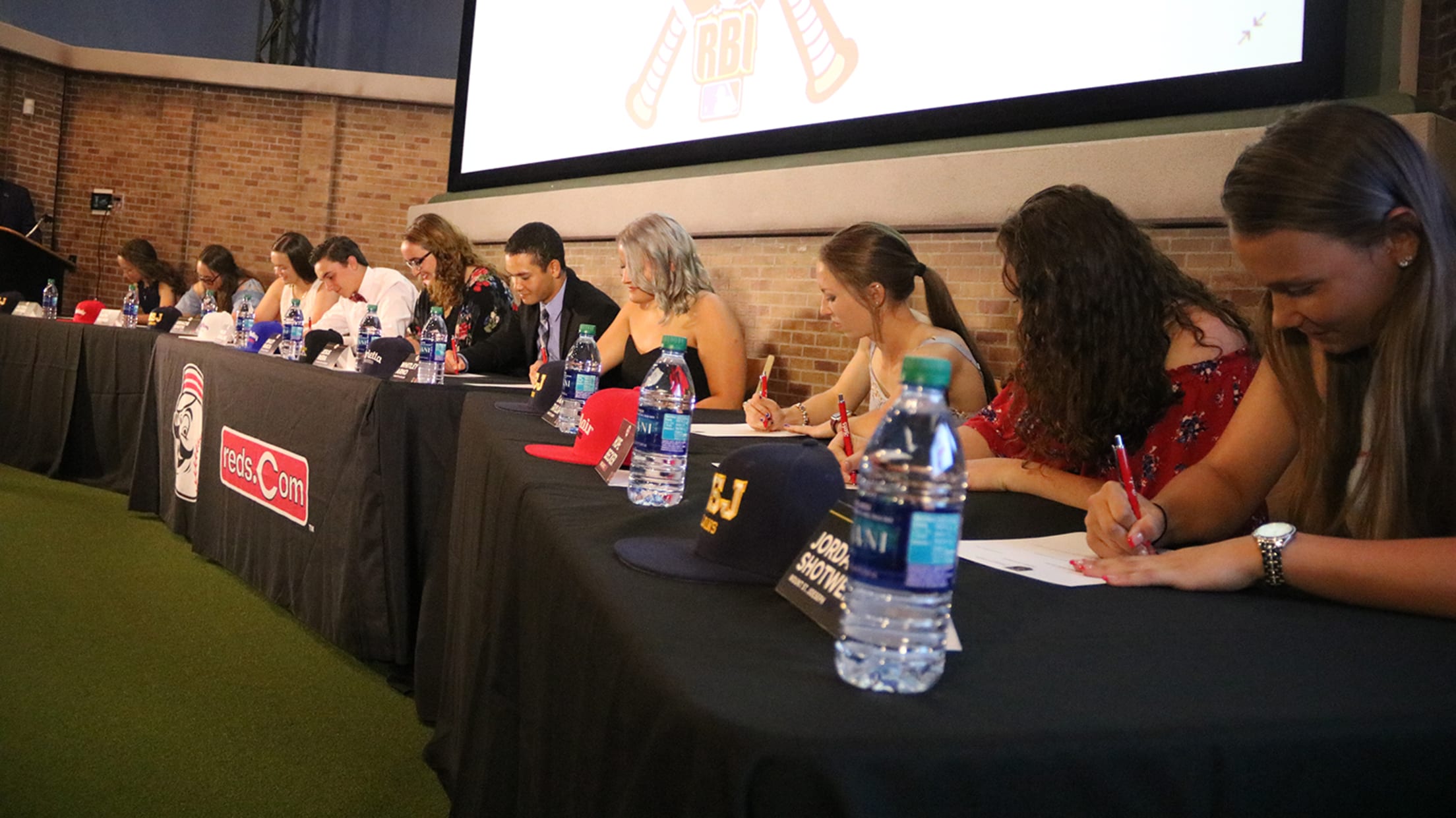 On May 28, the Reds Community Fund hosted its third annual "Signing Day" event for high school seniors in the Palace of the Fans Theater at the Reds Hall of Fame at Great American Ball Park. The ceremony honored 12 local high school baseball and softball players who have trained
On May 28, the Reds Community Fund hosted its third annual "Signing Day" event for high school seniors in the Palace of the Fans Theater at the Reds Hall of Fame at Great American Ball Park.
The ceremony honored 12 local high school baseball and softball players who have trained at the P&G MLB Cincinnati Reds Youth Academy and played for the Reds RBI (Reviving Baseball in Inner-Cities) baseball and softball teams. Ten of the 12 seniors were in attendance, while the other two were competing in high school tournaments.
Reds president and chief operating officer Phil Castellini, president of baseball operations Dick Williams and vice president and general manager Nick Krall were all on hand to recognize the signees, with executive director of the Reds Community Fund, Charley Frank, emceeing.
The honorees signed letters of intent to play baseball or softball at the college level:
Baseball
Jesus Riera: Alcorn State University (Campbell County)
Milan Schilling: Bluffton University (Lockland)
Softball
Whitley Arno: Marietta College (Ross)
Faith Becker: Sinclair Community College (Lakota East)
Hope Backer: Sinclair Community College (Lakota East)
Sydney Bostic: Franklin College (Rising Sun)
Bailey Garcia: Ohio Valley University (Oak Hills)
Becca Mitchell: Thomas More University (Campbell County)
Jordan Shotwell: Mount St. Joseph University (Fairfield)
Gracie Smith: Mount St. Joseph University (Mercy-McAuley)
Lauren Taylor: Mount St. Joseph University (Mercy-McAuley)
Alyssa Witmer: Mount St. Joseph University (Lakota West)
In addition, Schilling received a $2,500 college scholarship from the Reds Community Fund.
"I think taking on the next level is going to be pretty amazing," Schilling said. "That was always one of my goals: to make it to the next level and play in college. And I'm excited for it and to see the college life and enjoy the full experience. And every time I come home, I will definitely stop by [the Reds Youth Academy] and see what's going on. If there's kids that need help, I'll be there for them."
A second $2,500 scholarship was awarded to Sara Fields, a fellow RBI student-athlete heading off to college, but not to play softball. Frank stressed the importance of showing the same amount of appreciation for the dozens of student-athletes at the Reds Youth Academy who give their all on the field and in the community, but who will not be continuing in their sport during the next stage of their careers.
Reds assistant coach Cristian Perez appeared as a special guest. Only six years removed from being in the seniors' shoes, he congratulated them and shared some of his experiences.
"When I went to college, I was looking at baseball and academics as the two most important things," Perez said. "What I didn't fully appreciate at the time is the value of the relationships I would build while I was there. Know that you are going to learn a lot on the field and in the classroom, but also on campus and by being around some pretty cool people. I would also encourage you to not let being a student-athlete keep you from doing things that you're interested in, whether it's taking a class that sounds interesting or taking a challenging path just because this is what you're doing. Challenge yourself and enjoy every minute of it, because it goes by fast."
Perez played baseball for three seasons at Duke University and graduated with a Bachelor of Arts degree in sociology, with a minor in economics and a certification in markets and management. From there, he finished his playing career at the University of Southern California, where he also earned his Master of Science degree.
Perez's journey reflects what Phil Castellini had in mind with the Signing Day event and the many other community initiatives the Reds orchestrate.
"We're using this game to bring folks together to learn about life," Castellini said. "The use of the game can be [about] going to the next level to play the game like you all are, but it also can be about using the game to learn more about business, marketing, managing, life. For those of you who may not take the game any further than college, tons of opportunities will come from applying yourself and standing out from others the way you already have."