Thursday's best: Senzel continues to show power for Pensacola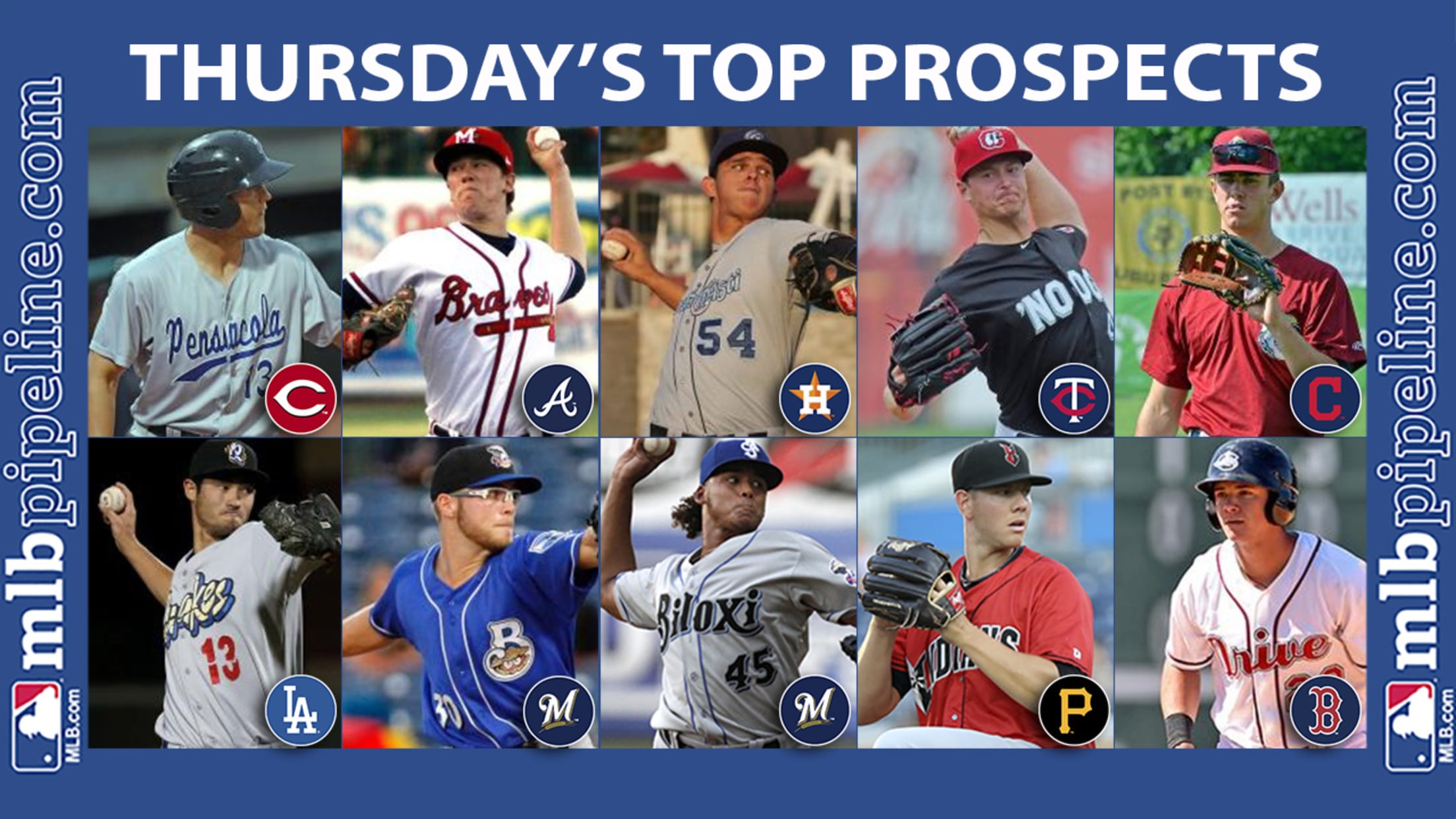 Free from the pitcher-friendly ballparks of the Florida State League, Nick Senzel's home-run power is starting to show in earnest.Senzel, the Reds' No. 1 prospect (No. 11 overall), turned in his first career multi-homer performance while he stuffed the box score on Thursday, going 3-for-4 with four RBIs, three runs
Free from the pitcher-friendly ballparks of the Florida State League, Nick Senzel's home-run power is starting to show in earnest.
Senzel, the Reds' No. 1 prospect (No. 11 overall), turned in his first career multi-homer performance while he stuffed the box score on Thursday, going 3-for-4 with four RBIs, three runs scored, a walk and a stolen base in Double-A Pensacola's 10-9 loss against Mobile.
Senzel helped stake Pensacola to an early lead, starting the scoring with a two-run homer to right-center field in the bottom of the first inning, then plating another run with a single in his next trip to the plate. The 22-year-old third baseman connected on his second homer in the fifth, when he opened the frame with a leadoff shot to center field.
"They were both fastballs I believe on the first pitch," Senzel told MiLB.com. "I'm just trying to be aggressive. If I get down in the count, I just try to battle, work the count and just try and be a tough out and hit the ball hard."
MILB Video - Title: Watch: Senzel launches 2nd homer - Url: http://www.milb.com/r/video?content_id=1713282683
Senzel's pair of homers pushed his season total 11, seven of which have come in his first 44 games since being promoted to Double-A. With one more homer, he will have doubled the total (four) he produced over 62 games with Class A Advanced Daytona (albeit with 26 doubles).
"In Double-A, they're a little bit more consistent and throw strikes and have little bit better arms so you got to be prepared every time you go to the plate," he said. "I just think the biggest adjustment is staying consistent and sticking to my approach at the plate each at-bat and not trying to stray away from it. We face some good arms, but you want to compete out there and battle every single time you're out there."
Senzel is hitting .341 in the Southern League after Thursday's three-hit performance, his second in the last three games. His overall average, meanwhile, improved to .320, and he's recorded 52 extra-base hits and 12 stolen bases in 106 games across two levels.
The rest of the best performances from top prospects Thursday
• No. 25 overall prospect Kolby Allard (Braves' No. 3) recorded his second double-digit strikeout game this season as he fanned 10 over six innings in a no-decision for Double-A Mississippi. He allowed two runs (one earned) on five hits and two walks and was consistently around the zone, with 62 of his 93 pitches going for strikes in the outing. After enduring a brief rough patch in July, Allard, 19, has bounced back to post 2.04 ERA in his past three turns for the M-Braves.
MILB Video - Title: Allard records 10th strikeout - Url: http://www.milb.com/r/video?content_id=1711949383
• No. 46 overall prospect Franklin Perez (Astros' No. 3) was sharp in his fourth start for Double-A Corpus Christi, tossing five scoreless innings of two-hit ball in a no-decision against Tulsa. Throwing 35 of his 61 pitches for strikes, the 19-year-old righty struck out six and walked one. Thanks to a 1.20 ERA across his last three starts, Perez has lowered his Texas League ERA from 7.71 to 3.27.
MILB Video - Title: Perez notches sixth strikeout - Url: http://www.milb.com/r/video?content_id=1711771083
"I think the biggest thing was [Perez] was able to get some breaking balls in the zone for strikes," Hooks pitching coach Dave Borkowski told MiLB.com. "He really can be fastball-heavy and he made some mistakes with fastballs in his previous outings that have gotten hit on him.
"I think it was a solid step in the right direction for him. Definitely a confidence-booster outing," Borkowski said. "The good thing about it is he was able to put up five zeros and I don't think it was anywhere near what he can show. I think he can be better even than what he did tonight."
• Making his Triple-A debut, No. 73 overall prospect Stephen Gonsalves (Twins' No. 2) yielded two earned runs on four hits and struck out seven over seven innings in a no-decision for Rochester. The 23-year-old southpaw was promoted to the International League after he went 8-3 with a 2.68 ERA in 15 starts with Double-A Chattanooga. Working 87 1/3 frames for the Lookouts, Gonsalves compiled 96 strikeouts and 23 walks while holding opposing hitters to a .207 average.
MILB Video - Title: Watch: Gonsalves strikes out side - Url: http://www.milb.com/r/video?content_id=1713312783
• Indians No. 5 prospect Nolan Jones extended his hitting streak to nine games with a 2-for-5 performance for Class A Short Season Mahoning Valley that included a double and a two-run homer, his third this season. The 19-year-old third baseman is raking at a .444 (16-for-36) clip with six extra-base hits, 12 runs scored and 11 RBIs in those nine games, which in turn has boosted his season slash line from .222/.358/.324 to .278/.404/.424.
MILB Video - Title: Jones jacks homer to right - Url: http://www.milb.com/r/video?content_id=1710280383
• Starting opposite Corpus Christi's Perez for Double-A Tulsa, Dodgers No. 5 prospect Mitchell White arguably was better than his counterpart, as he struck out eight in five scoreless innings while allowing two hits and one walk. It marked the second straight five-inning gem for the 22-year-old right-hander, who gave up one hit while fanning five in his previous outing. He's posted a 2.73 ERA with 73 strikeouts and a .164 batting average against in 62 2/3 innings (16 starts) across three levels in 2017.
MILB Video - Title: White finishes outing with a K - Url: http://www.milb.com/r/video?content_id=1711832883
• Brewers No. 7 prospect Corbin Burnes and Freddy Peralta (No. 11) combined to toss two-run ball for nine innings, with both hurlers striking out six, in Double-A Biloxi's matchup against Tennessee. Burnes, 22, worked the first five frames, giving up two runs (one earned) on six hits before turning over the ball to the 21-year-old Peralta, who delivered three hitless frames while issuing one walk.
• Pirates No. 9 prospectNick Kingham went the distance for Triple-A Indianapolis en route to his first career complete game. He allowed one earned run on two hits -- one a solo home run in the seventh inning -- in the performance, which he needed just 85 pitches (60 pitches) to complete. He struck out eight, matching his season high, and generated another 11 outs on the ground. The 25-year-old righty has now won four straight starts, posting a 0.88 ERA and a 21-to-3 strikeout-to-walk in 30 2/3 innings in that span.
MILB Video - Title: Kingham goes the distance - Url: http://www.milb.com/r/video?content_id=1711616383
"More than anything tonight I was attacking hitters," Kingham told MiLB.com. "I was executing pitches and making them put the ball on the ground early in the at-bat and let my defense take care of the rest.
"Tonight, it was a little bit of everything. I got some strikeouts on fastballs, changeups and only one on the curveball. That was surprising since it's my strikeout pitch. Everything was just going well for me tonight, it all kind of clicked and I was in the zone," he said.
• Red Sox No. 12 prospect Bobby Dalbec delivered a walk-off homer in the bottom of the 16th inning to lead Class A Greenville past Rome, 3-2. The 22-year-old third baseman has hit eight homers in 62 games with the Drive, while his average sits at .226 after Thursday's 2-for-6 showing.
MILB Video - Title: Dalbec blasts walk-off homer - Url: http://www.milb.com/r/video?content_id=1712931983
• Rangers No. 18 prospect Jonathan Hernandez carried a no-hit bid into the sixth inning but allowed two runs (one earned) on one hit before completing the frame. It was still a strong performance, as the 21-year-old righty struck out eight and walked three before departing after 94 pitches (58 strikes) in a no-decision for Class A Advanced Down East.
• Phillies No. 23 prospect Spencer Howard, the club's second-round pick in the 2017 Draft, fired four hitless frames with a career-high seven strikeouts in a dominant performance for Class A Short Season Williamsport. His 68 pitches also marked a career high for the 21-year-old right-hander, who walked two in his second straight scoreless outing in the New York-Penn League.
• D-backs No. 27 prospectChristian Walker connected on his 30th home run for Triple-A Reno to regain a share of the Minor League lead. It was his second homer in as many games and his sixth in his last nine contests. Beyond hitting for power, Walker, 26, has produced a batting average north of .300 as well as a Minor League-best 106 RBIs in 111 games.