Lopez aims to start in White Sox system
Renteria praises pitching prospect's command early at camp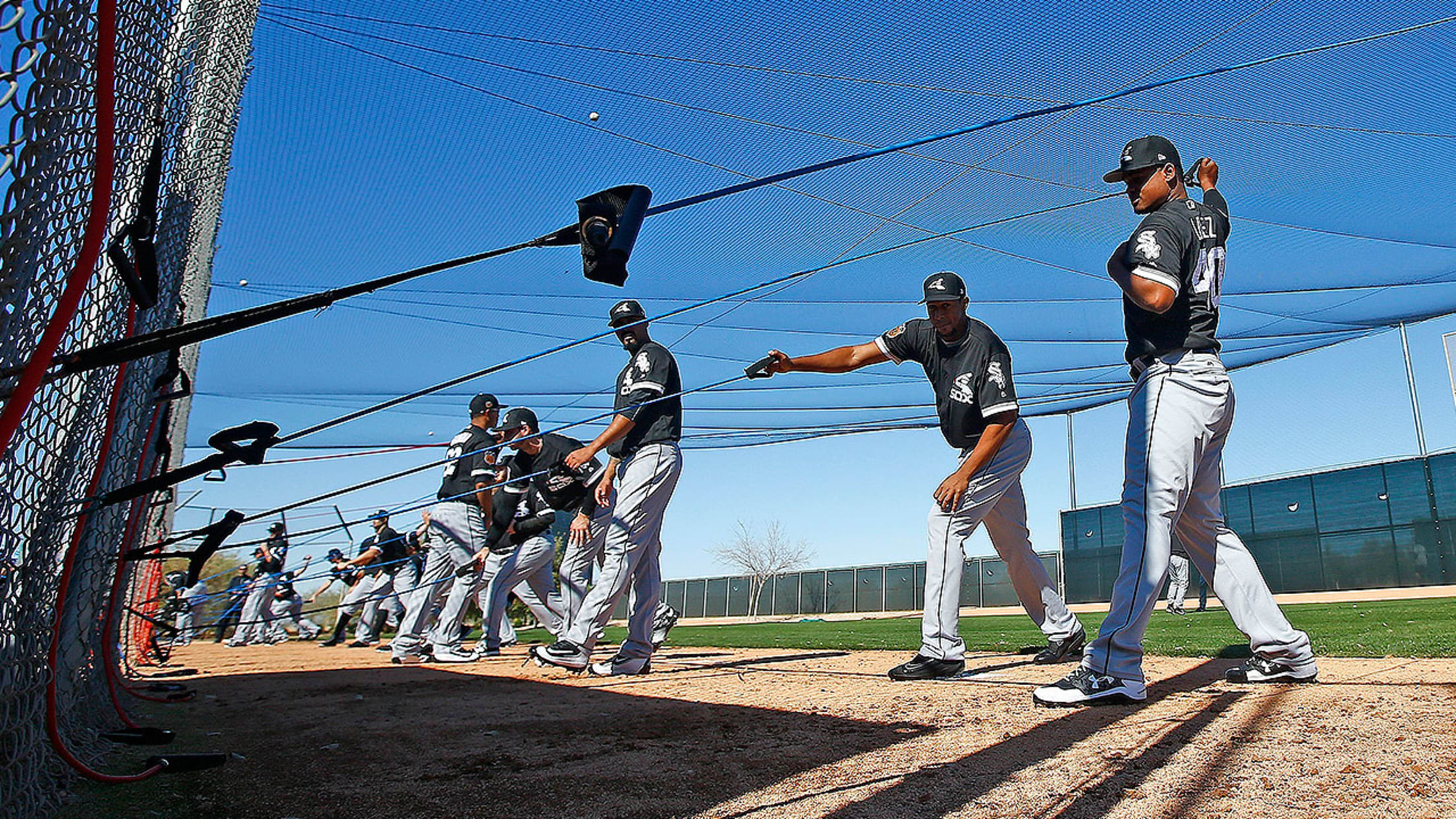 Reynaldo Lopez (right) works out with the White Sox pitchers on Wednesday at Camelback Ranch in Glendale, Ariz. (AP)
GLENDALE, Ariz. -- Reynaldo Lopez answered all of the media's questions Friday morning in Spanish, with the help of White Sox interpreter Billy Russo, except for one.Does he prefer to be a starter or a reliever?"Starter," a smiling Lopez replied.Lopez, who is ranked 46th on MLBPipeline.com's list of Top 100
GLENDALE, Ariz. -- Reynaldo Lopez answered all of the media's questions Friday morning in Spanish, with the help of White Sox interpreter Billy Russo, except for one.
Does he prefer to be a starter or a reliever?
"Starter," a smiling Lopez replied.
Lopez, who is ranked 46th on MLBPipeline.com's list of Top 100 prospects, came to the White Sox in December as part of the team's rebuilding prospect haul. He joined Lucas Giolito and Dane Dunning moving from the Nationals in exchange for outfielder Adam Eaton.
With the acquisition of Michael Kopech from Boston in the trade for Chris Sale, Lopez tends to get a little overlooked. But White Sox manager Rick Renteria likes what he has seen in a small sample size from the 23-year-old right-hander.
"Maybe goes under the radar a little bit, but when you see his bullpen work, he's pretty clean, pretty efficient," Renteria said. "He hits his spots."
Making 11 appearances, including six starts, for the Nationals last season was a strong learning experience for Lopez. That connection to the Nationals left Lopez a bit surprised when he was traded.
"I was in shock. I couldn't believe it," Lopez said. "When the people from the Nationals called me and let me know I was in a trade, I couldn't believe it.
"But then my lawyer called me and explained to me the situation and told me this is a good opportunity for me and a good team for me, and I was happy then. But first I was very surprised."
Frazier feeling good
Todd Frazier sported a splint at SoxFest to help take care of a sprained left index finger, an injury from the end of last season that was aggravated during an offseason workout. He reported no problems when meeting with the media Friday.
"Good," said Frazier as to how his finger felt. "I've been hitting every day."
Third to first
• White Sox head groundskeeper Roger Bossard had the irrigation system turned on at Guaranteed Rate Field this weekend because of the warm temperatures forecast for Chicago next week. Bossard said he doesn't remember ever turning on the system in February, but added, with a broad smile, that he wasn't complaining.
• The full Spring Training roster will be together Saturday for the first full-squad workout, although weather forecasts call for a 100 percent chance of rain in the Glendale area.
"Obviously, for pitchers and catchers, they're starting to come together as a group," Renteria said. "We're really looking forward to getting together with everybody tomorrow and kind of getting our message across."