All spots in Rockies' batting order 'dangerous'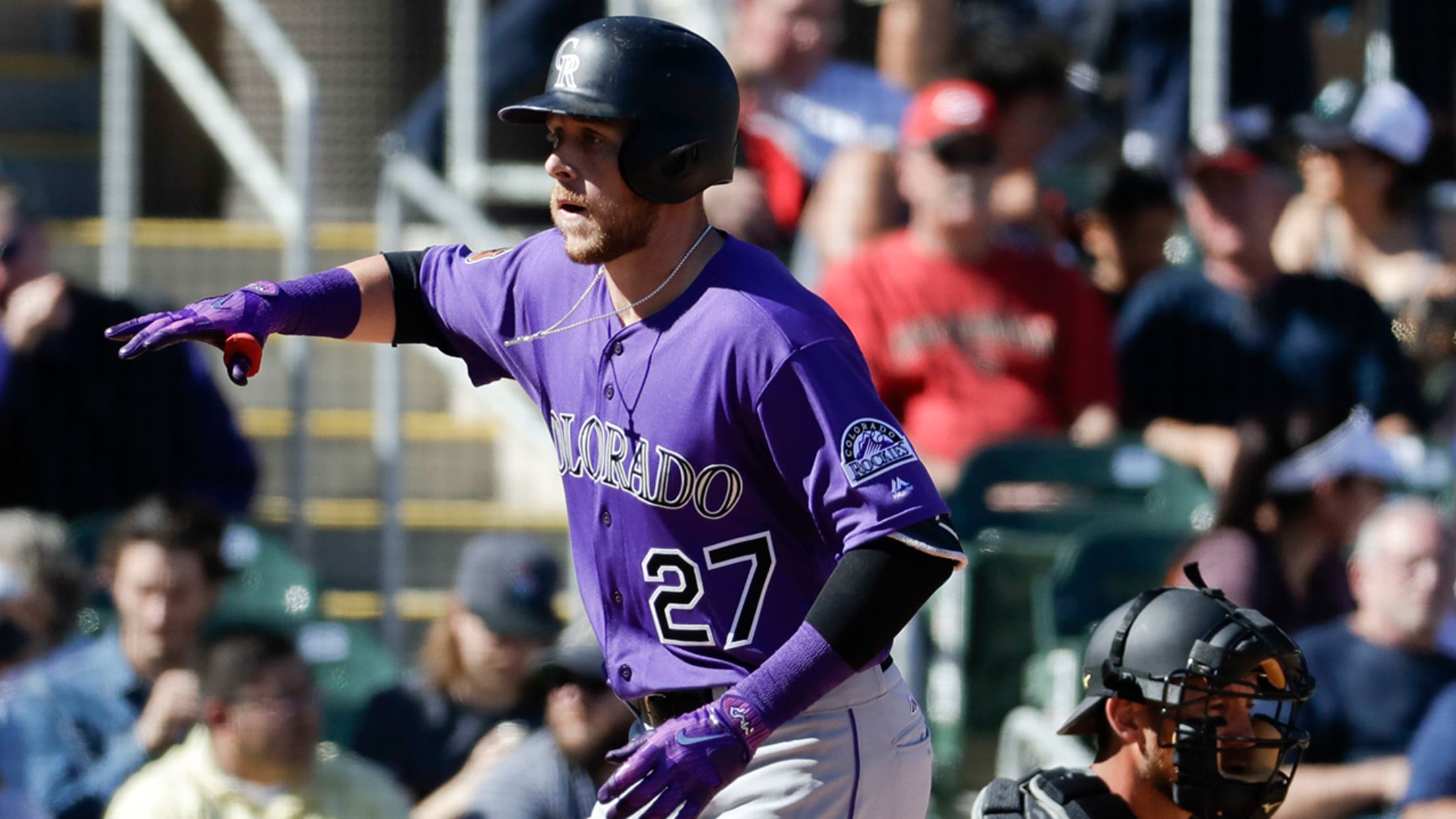 Trevor Story homered in the Rockies' spring opener, an 8-4 win over the D-backs. (AP)
SCOTTSDALE, Ariz. -- No matter where he hits in the order, Rockies shortstop Trevor Story showed Saturday he can make the ball fly. His teammates showed that the batting order doesn't matter, either.Hitting in the seventh spot against the D-backs in the Cactus League opener, Story launched Archie Bradley's first
SCOTTSDALE, Ariz. -- No matter where he hits in the order, Rockies shortstop Trevor Story showed Saturday he can make the ball fly. His teammates showed that the batting order doesn't matter, either.
Hitting in the seventh spot against the D-backs in the Cactus League opener, Story launched Archie Bradley's first pitch of the fourth inning over the center-field wall during the 8-4 victory over the D-backs at Salt River Fields at Talking Stick. And eight of the Rockies' starting players reached base at least once -- seven with hits -- before substitutes finished the contest.
• Spring Training:Info | Tickets | Schedule | Gear
Manager Bud Black said he likes lineup clarity. If he makes a significant change, he'll inform the player before the lineup is posted. But with the potential for so much offensive production -- the Rockies led the National League in many offensive categories last year and added productive veteran Ian Desmond via a five-year, $70 million contract -- it may not matter where folks hit.
"It doesn't matter … in fact, it don't matter," said Desmond, who went 3-for-3 with a stolen base and an RBI from the fifth spot Saturday, after batting mostly second with the Rangers last season.
"You're in the action all the time. I hit fifth today around some really good hitters. You just see them do what they do."
As a rookie who hit 27 home runs last season, Story hit .269 with a .322 on-base percentage and .570 slugging percentage in 44 games from the second spot, and .265/.341/.524 in 39 games from the fifth spot. So either way, behind leadoff man Charlie Blackmon or behind cleanup hitter Nolan Arenado, Story hit balls hard.
But DJ LeMahieu established himself in the second spot, and he ended up winning the National League batting title, so it would make sense for the Rockies to move Story.
Story said, as a rookie, hitting second was beneficial because "I would get that one extra at-bat in the two-hole, and a lot of times, they were in big situations. So it was good to get that experience."
But Story liked the fifth spot, too.
"Hitting fifth, sixth or seventh behind our guys, they're dangerous," Story said. "Sometimes they get pitched around. That leaves guys on base for us toward the bottom. We have a lot of guys who would be hitting higher on another team. But we don't really care."
Worth noting
• Righty Antonio Senzatela, who missed much of this past season at Double-A because of two bouts with shoulder issues and the illness and death of his mother in Venezuela, threw two solid, scoreless innings with two hits, a strikeout and a double-play grounder.
"I liked the velocity, delivery looked good and heartbeat -- for a young kid, it was good. He threw the ball outstanding," said Black, who also said righty relievers Jordan Lyles, Scott Oberg and Miguel Castro were sharp.