Barnes, Ynoa know all about roster bubble
Minors journeymen before reaching bigs, outfielder and utility man likely battling for one spot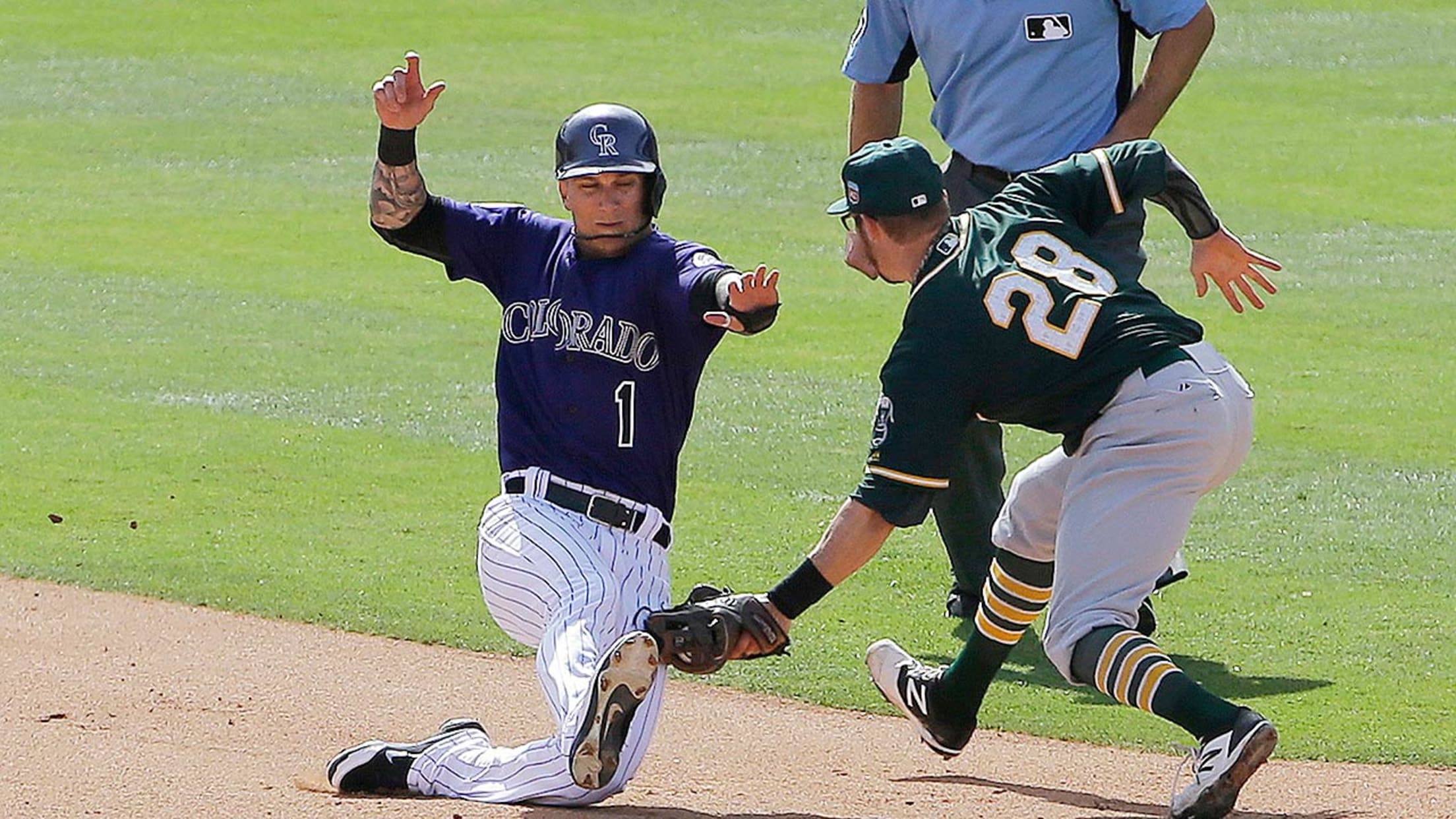 "Competition makes you a better player," said Brandon Barnes, who opened in Triple-A last year. (AP)
SCOTTSDALE, Ariz. -- Outfielder Brandon Barnes and utility man Rafael Ynoa are too busy trying to make the Rockies' Opening Day roster to waste time stressing about it.The Rockies' signing of right-handed-hitting Ryan Raburn, who has all the markings of a player the team wants to use against the tough
SCOTTSDALE, Ariz. -- Outfielder Brandon Barnes and utility man Rafael Ynoa are too busy trying to make the Rockies' Opening Day roster to waste time stressing about it.
The Rockies' signing of right-handed-hitting Ryan Raburn, who has all the markings of a player the team wants to use against the tough left-handed pitchers in the National League West, most likely pushed Barnes and Ynoa to the roster bubble.
Thus far, rookie shortstop Trevor Story has played like he deserves the starting job, and utility infielder Cristhian Adames, who is out of options, has played at a Major League level. If those situations hold, and the Rockies don't send Story down to delay his arbitration-eligibility clock, Barnes and Ynoa are most likely competing for the same one slot.
But Barnes, who turns 30 on May 15, battled for nearly eight seasons to make it to the Majors with the Astros in 2012. Ynoa, 28, spent eight seasons with the Dodgers without being called up before earning his first promotion with the Rockies in 2014. They've been here before.
"Nothing's come easy for me," said Barnes, who hit .251 with two home runs and 17 RBIs in 106 Major League games last season, after spending 33 games at Triple-A Albuquerque. "I'm always up for a challenge. Competition makes you a better player."
Ynoa has learned to approach spring with blinders.
"I just try to do my job," said Ynoa, who hit .260 in 72 games, but also spent 56 games at Albuquerque as roster structure at times cost him a spot. "I don't think about anybody else. I think about Rafael Ynoa and what I can do to be better every day, so that doesn't put a lot of pressure on me. I'm just trying to be a better guy and a better player."
Ynoa is batting .286 with a .360 on-base percentage, a triple and two RBIs while playing second base, third and shortstop this spring. Barnes, who plays all three outfield positions, is hitting .250 with a .306 OBP, two walks and 10 strikeouts.
Roster decisions tend to go deeper than spring stats when it comes to bench players. Roster makeup and track records can make a difference. Sometimes, it's where the players' technique is when decision time comes. Last year, Ynoa made the Opening Day roster, while Barnes, who was with the Rockies all of 2014, went to Albuquerque to complete adjustments in his swing.
"I just try to get my work in, stay with my routine and not worry about the results," Barnes said of his Spring Training philosophy. "On Opening Day, nobody has an average. What you do in Spring Training statistically doesn't really matter. It's how you're preparing for the season. Everybody's different."
Ynoa made 19 appearances (13 starts) in left field, which added to his versatility. He hasn't played in the outfield this spring, but manager Walt Weiss expects to use him and first basemen Mark Reynolds and Ben Paulsen in the outfield soon.
"I'm a really calm dude, so I try to do my best at third, my best at short and my best at second, and try to show the organization that I can play," Ynoa said. "It's a plus to be more versatile. This spring I haven't played in the outfield but I'm working on it in practice. It's going to help me play more in the big leagues."
Players like Barnes and Ynoa realize that this time of year is always a battle for a job. Barnes said even signing a one-year, $1 million contract this winter to avoid arbitration didn't change that.
"No, because that means your fight's gone, you get complacent and you just expect things to happen," said Barnes, who said he understands his goal is to perform better against lefty pitchers than his .224 batting average against them last season. "In my career I've always had to go grab things, take them and fight for what I wanted. I try not to ever feel like I just have a job. Obviously, I don't have that luxury."