Rockies-Bucs postponed, to be made up Monday
Jordan Lyles to start Monday's rescheduled game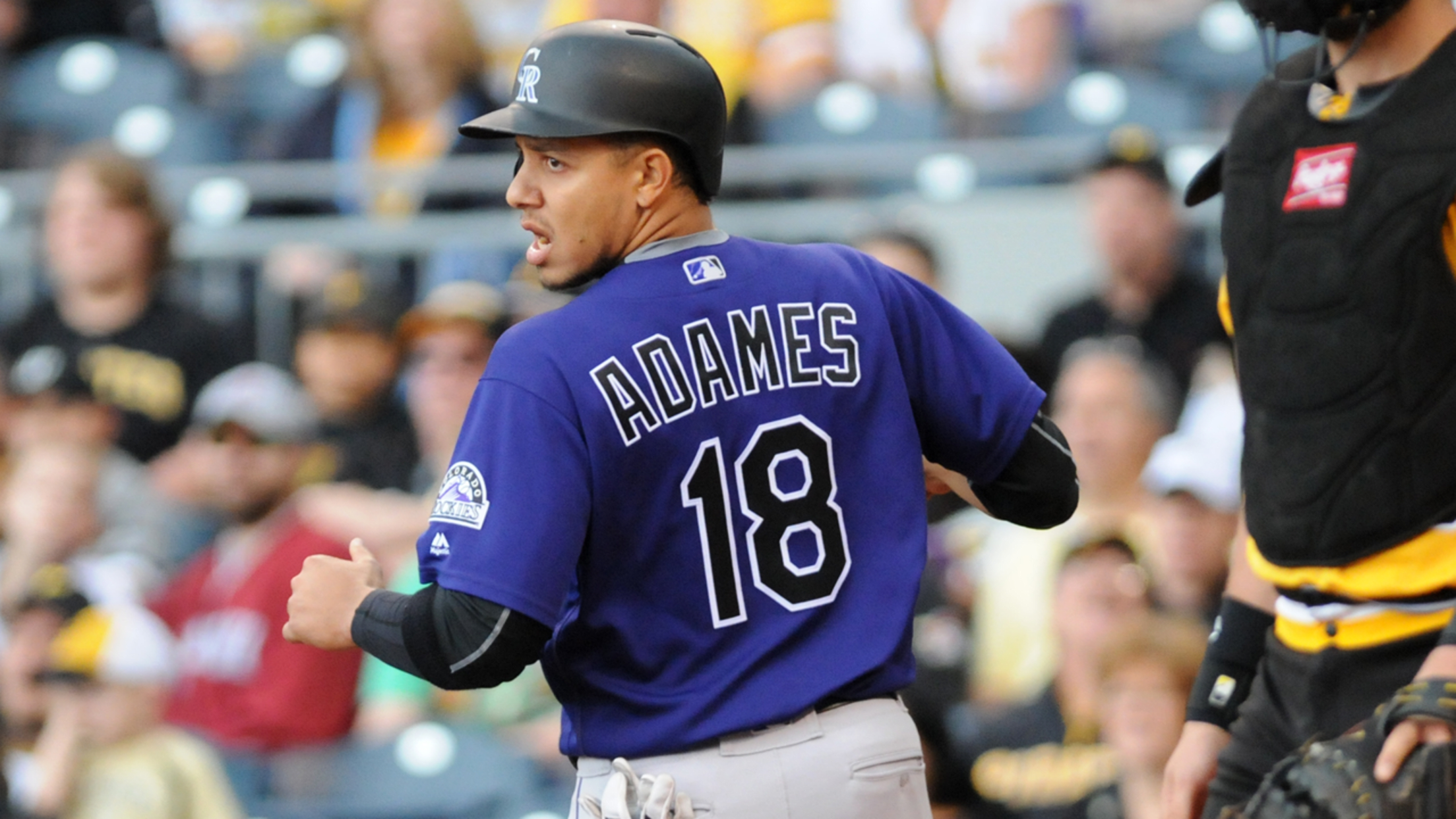 Cristhian Adames scored a run in Sunday's game vs. the Pirates before it was rained out. (AP) (AP)
PITTSBURGH -- Sunday's game between the Rockies and Pirates was postponed after a three-hour, 37-minute rain delay. The game will be made up on Monday at 10:35 a.m. MST, with Jordan Lyles getting the start on the mound for the Rockies against Pirates right-hander Ryan Vogelsong.The teams played the first
PITTSBURGH -- Sunday's game between the Rockies and Pirates was postponed after a three-hour, 37-minute rain delay. The game will be made up on Monday at 10:35 a.m. MST, with Jordan Lyles getting the start on the mound for the Rockies against Pirates right-hander Ryan Vogelsong.
The teams played the first inning, which ended with the Rockies leading 1-0 before the lengthy delay.
Sunday marked the second time this season the last game of a Rockies-Pirates series was called because of weather. After cold and somewhat snowy weather led to a postponement on April 28, the Pirates agreed to a June 9 makeup, which occurred on what had been an off-day in the middle of a Pittsburgh homestand.
Losing Monday's day off leaves the Rockies with 27 days without an off-day, and the Pirates with 31. Sunday's game counts as a work day. Under the Collective Bargaining Agreement between MLB and the MLB Players Association, the players must approve any stretch of work greater than 20 days.
The Rockies have reason to be cautious about playing a long stretch. They were scheduled for 20 straight games from April 22 to May 11. Even with the postponed game with the Pirates, the team showed fatigue after a 10-game road trip, and was flat in home losses to the D-backs April 9 and 10. They did salvage the series by taking a day game on April 11.
Sunday's postponement also changed the Rockies' rotation for the next series against the Red Sox at Fenway Park. Jorge De La Rosa, in his return from the disabled list, will still start Tuesday's series opener in Boston, but Chad Bettis, who started on Sunday and threw eight pitches in a stress-free first inning, will now go Wednesday. Jon Gray will now pitch Thursday against the Red Sox.
Eddie Butler will pitch on Friday when the Rockies return home to face the Giants, with Tyler Chatwood getting the start on Saturday.
At any rate, the double and run scored for Cristhian Adames and the RBI triple from Nolan Arenado against Pirates starter Juan Nicasio are washed off the stat sheet. But so is the strikeout of Rockies outfielder Carlos Gonzalez, so his slump remains at 2-for-32 (.083) in his last 10 games, and his May numbers sit at .183 (13-for-71) with one home run and one RBI.