Pitch, Hit & Run event a family affair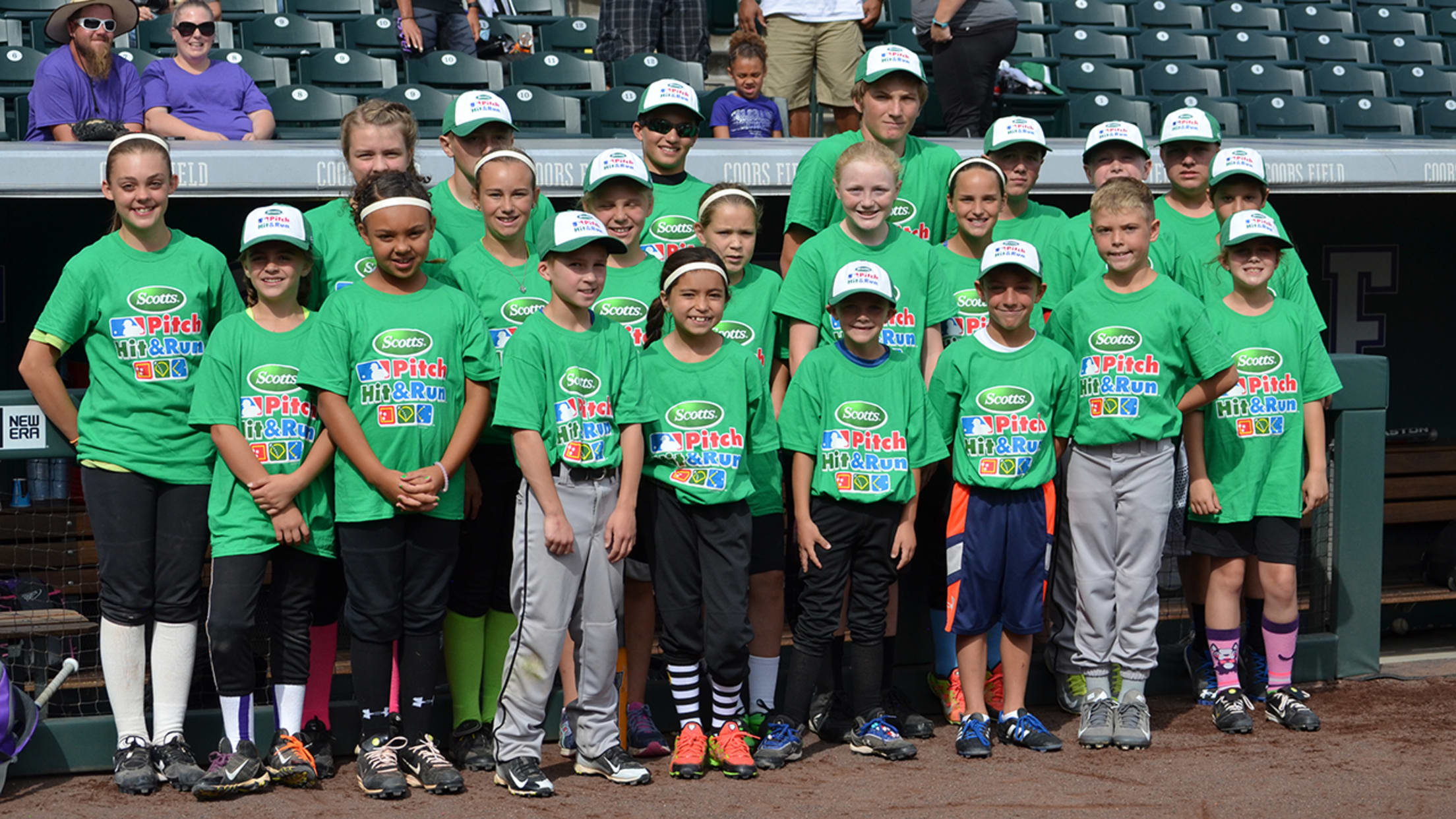 Twenty-four children, ages 7 to 14, participated in the Scotts Major League Baseball Pitch, Hit & Run Competition. (LEJ Sports)
DENVER -- On Thursday night, Parker Young was playing in the championship game for his Comp League baseball team. On Saturday morning, he was at Coors Field, for the Scotts Major League Baseball Pitch, Hit & Run Competition.After finishing in second place in his South Jordan, Utah, tournament, the Young
DENVER -- On Thursday night, Parker Young was playing in the championship game for his Comp League baseball team. On Saturday morning, he was at Coors Field, for the Scotts Major League Baseball Pitch, Hit & Run Competition.
After finishing in second place in his South Jordan, Utah, tournament, the Young family drove eight hours the next morning to Denver. There, Parker, 8, won first place in the 7-8-year-old baseball division, and his sister, Alexia, 10, won second place in the 9-10-year-old softball division.
Coming to Colorado meant missing out on the awards ceremony for his team on Friday night. But for Parker, who won MVP of his undefeated regular season Bingham Blue baseball team, the choice was easy.
"Playing today [was cooler]," Parker said. "I got to go on an actual baseball field."
Parker and Alexia were two of 24 children, ages 7 to 14, who competed in the team championship after winning in their local and sectional rounds. The eight first-place winners from each division will have their scores compared with the first-place winners from across the country for a chance to attend the 2016 All-Star Game presented by Mastercard at Petco Park in San Diego.
The participants are timed running from second base to home plate. They throw six pitches into a net attempting to hit a target and hit a ball off a tee measured by distance and accuracy to center field.
All 30 Major League teams will host team championships at their ballparks on weekends through the end of June. The top three competitors nationwide from each division age group (7-8, 9-10, 11-12 and 13-14) will advance to the national finals, which will be held before the T-Mobile Home Run Derby on July 11.
The Youngs weren't the only brother-sister combination to compete on Saturday. Morgan, 12, and Trevor Peterson, 14, made the three-hour trek from Enders, Neb., the seventh time their family has participated in this competition.
Morgan was competing for her fourth time and won the 11-12-year-old softball division. Parker finished third in the 13-14 baseball division.
The oldest Peterson sibling, Josie, was the national champion for the 13-14-year-old softball division at the 2014 All-Star Game in Minneapolis. Having participated in the competition four times before, she was able to support her brother and sister and pass on advice.
"She's been here before, but I can't really help him much," Josie said. "I remember hanging out on the field. That was really cool."
Competing at Coors Field with a chance to travel to the All-Star Game has become a tradition of sorts for the Petersons. And with their youngest son, Jaret, 9, having competed at Coors once before, this likely won't be their last time traveling to Denver.
"We've all been here, but there's not a whole lot of rivalry," Morgan said.
The other winners were Madison Anderson (7-8 softball), Jaylyn Kechter (9-10 softball), Rylee Callister (13-14 softball), Max Stanard (9-10 baseball), Landen Gilmore (11-12 baseball) and Justin Ross (13-14 baseball).
Ben Weinrib is a reporter for MLB.com based in Colorado.