Reynolds goes deep as Rox top Hill, A's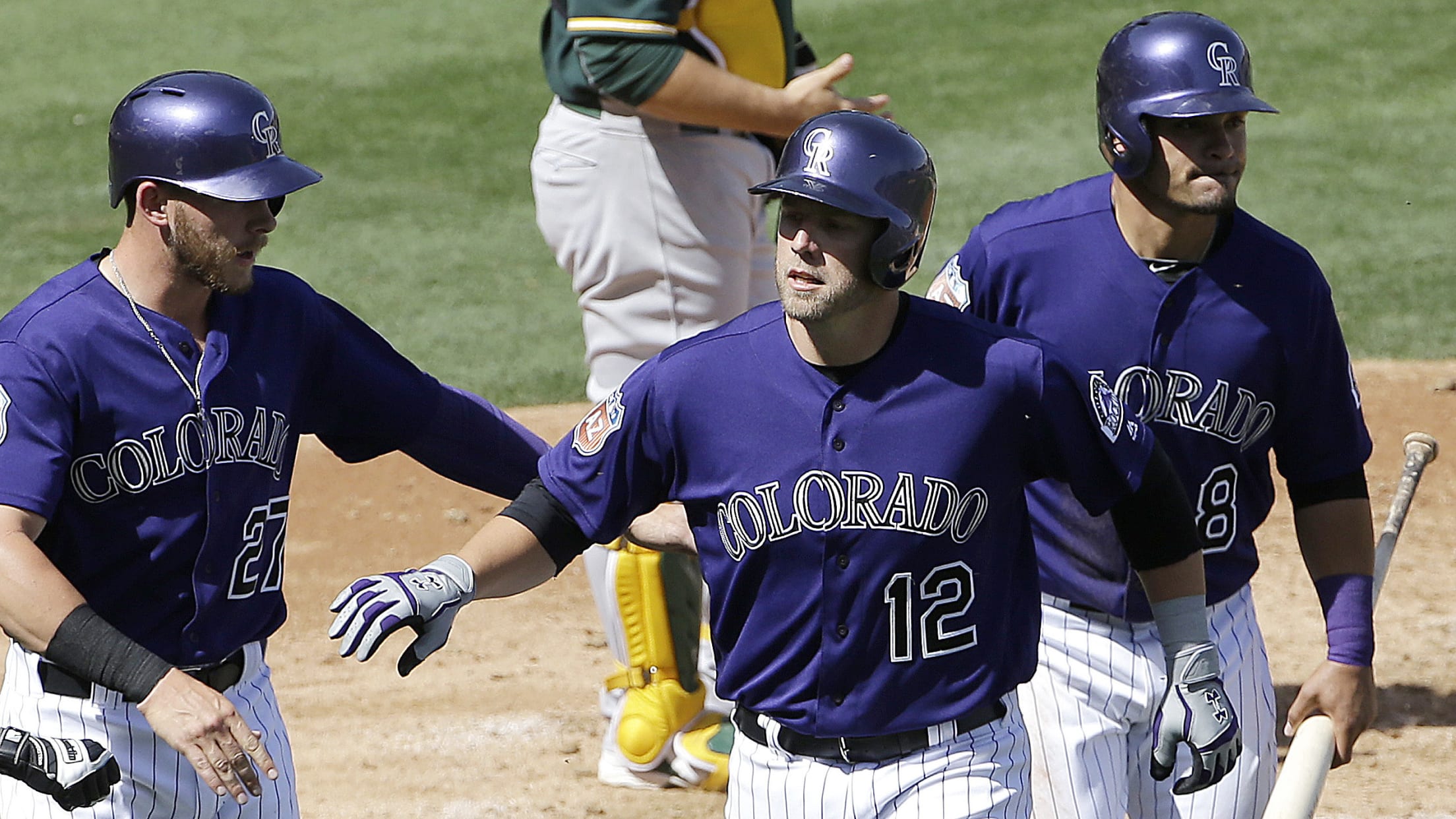 Mark Reynolds (center) broke open a two-run game with a three-run shot off Rich Hill in the third. (AP) (Jeff Chiu/AP)
SCOTTSDALE, Ariz. -- Mark Reynolds hit a three-run homer and Nolan Arenado went 2-for-3 to run his Cactus League average to .583 as the Rockies defeated the Athletics, 6-2, at Salt River Fields at Talking Stick on Tuesday afternoon.Reynolds' home run, his second this spring, came off Athletics lefty starter
SCOTTSDALE, Ariz. -- Mark Reynolds hit a three-run homer and Nolan Arenado went 2-for-3 to run his Cactus League average to .583 as the Rockies defeated the Athletics, 6-2, at Salt River Fields at Talking Stick on Tuesday afternoon.
Reynolds' home run, his second this spring, came off Athletics lefty starter Rich Hill, whose Spring Training struggles continued. Hill walked six and gave up five runs in four innings, but lowered his ERA from 19.64 to 15.26.
Many pitchers are having trouble with Arenado, who doubled off Hill in the second and later singled for his eighth spring RBI.
Rockies lefty starter Jorge De La Rosa pitched around two hits and walk in the first, and didn't give up a run until Matt Chapman's two-run, opposite-field homer to right with two outs in the fourth. De La Rosa struck out two, gave up five hits and walked two. It was Chapman's third Cactus League homer.
"My command wasn't good today -- I walked two guys in the first two innings and gave up that homer on a bad pitch," De La Rosa said. "You're going to have games like this, when you don't have your best command. You have to be able to fight."
"This is the first Spring Training I've been healthy, so I really didn't know what to expect, but it's just been a real honor to be able to play as much as I have and have an opportunity to contribute to the team," Chapman said.
Rockies non-roster lefty Yohan Flande, who has contributed as a starter and reliever the past two seasons and is trying to earn a roster spot, struck out two during three scoreless, one-hit innings.
Up next for the A's: The A's will enjoy their only off-day of the spring schedule Wednesday before returning to action against the visiting Mariners in a 1:05 p.m. PT matchup at Hohokam Stadium on Thursday. Rotation hopeful Kendall Graveman is scheduled to take the mound for his third Cactus League appearance.
Up next for the Rockies: Coming off three perfect innings with three strikeouts against the Giants, Rockies righty Chad Bettis will make his second Cactus League start Wednesday, against the Dodgers at Glendale, Ariz., at 2:05 p.m. MT. Following Bettis, who is slated for four innings, will be righty Christian Bergman, who has struck out three and allowed just two baserunners in four scoreless spring innings.