Friday's best: McMahon mashes for Albuquerque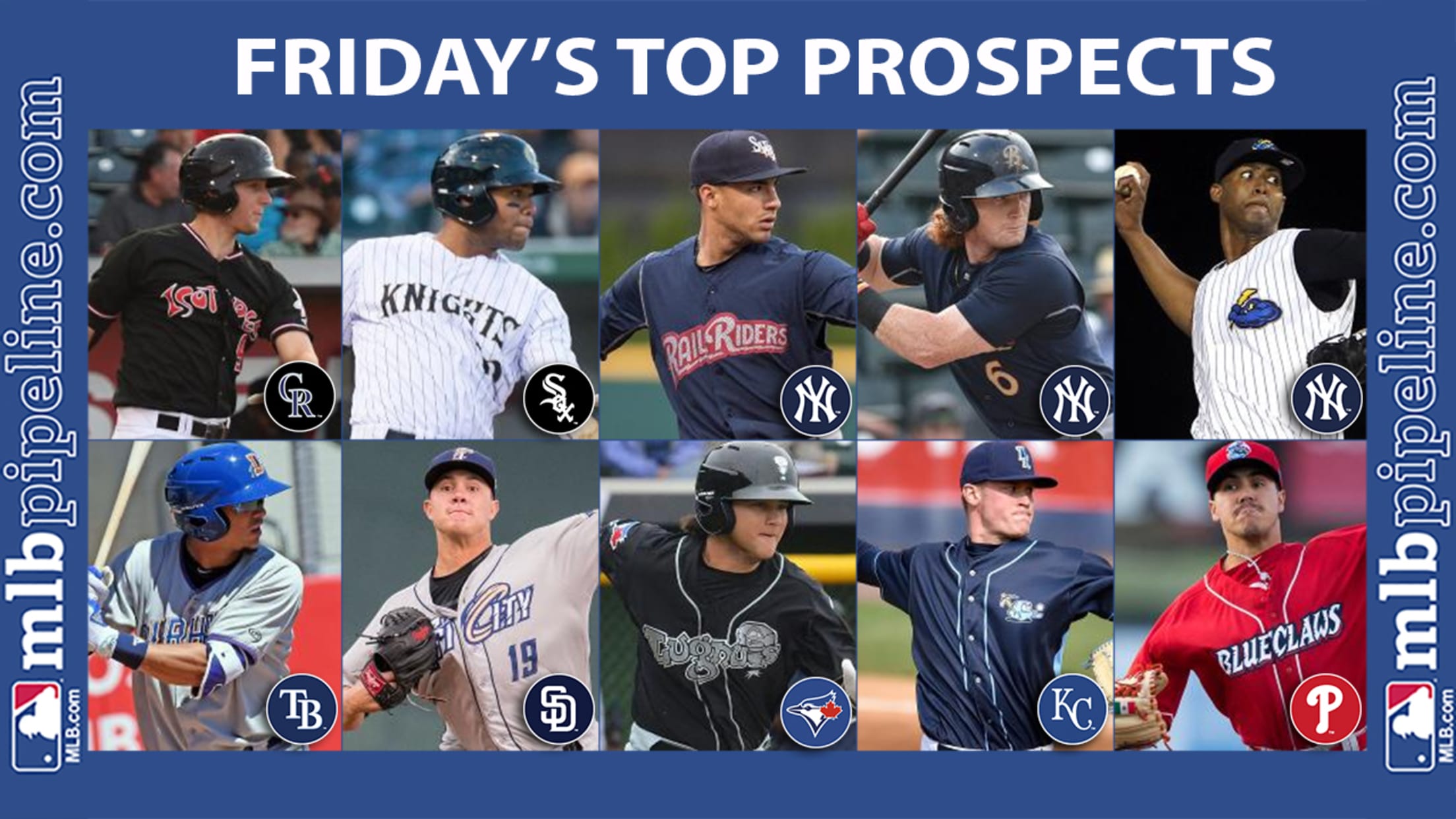 Pitchers in the Pacific Coast League are quickly learning that Ryan McMahon is a threat to do damage each time he steps to the plate.The Rockies' No. 5 prospect recorded a career-high seven RBIs behind his second straight two-homer game on Friday for Triple-A Albuquerque. He ultimately fell a triple
Pitchers in the Pacific Coast League are quickly learning that Ryan McMahon is a threat to do damage each time he steps to the plate.
The Rockies' No. 5 prospect recorded a career-high seven RBIs behind his second straight two-homer game on Friday for Triple-A Albuquerque. He ultimately fell a triple short of the cycle, finishing 5-for-6 with two home runs, two doubles and three runs scored. However, not even McMahon's big performance was enough to keep the Isotopes from falling to Fresno, 15-14.
Completing his cycle certainly appeared to be on McMahon's mind when he came to bat in the bottom of the sixth inning. After working the count full, the 22-year-old third baseman was caught between second and third base as he attempted to stretch his two-out, RBI double to right field into a triple. He struck out swinging in the eighth inning, snapping a streak of nine straight at-bats with a hit going back to Wednesday.
McMahon's first home run, a two-run shot to left-center field in the third inning, marked his third straight game with a homer. He then made it consecutive multi-homer games in the bottom of the ninth when he connected on a three-run blast to center field.
MILB Video - Title: McMahon clubs a homer - Url: http://www.milb.com/r/video?content_id=1507643183
After hitting a pair of homers on Thursday as part 4-for-4, four-RBI performance, McMahon has now tallied all five of his Triple-A home runs in his last three games. Overall, he's gone deep 11 times in 63 contests this season between the Double- and Triple-A levels.
What's more, McMahon has hit safely in 10 straight games for the Isotopes, eight of which have been of the multi-hit variety, and he owns a .448 average with a 1.313 OPS and 17 RBIs in 13 games since being promoted from Double-A.
The rest of the best performances from top prospects Friday
• No. 1 overall prospectYoan Moncada (White Sox No. 1) reached based six times for Triple-A Charlotte, going 4-for-4 with two walks, two runs scored and four RBIs out of the leadoff spot. One of those hits was his eighth home run, a three-run shot in the fifth inning, and he's now recorded multiple hits in two of his past three contests.
MILB Video - Title: Moncada rips three-run shot - Url: http://www.milb.com/r/video?content_id=1507300083
• No. 2 overall prospectGleyber Torres (Yankees' No. 1) went 3-for-4 with a double and an RBI in Triple-A Scranton/Wilkes-Barre's victory over Buffalo. Clint Frazier (Yankees' No. 2, No. 18 overall) also contributed with a three-run homer, his 12th of the season, while right-hander Domingo Acevedo (Yankees' No. 12) allowed one earned run on three hits in seven innings to record the win in his Triple-A debut.
MILB Video - Title: Torres collects third hit - Url: http://www.milb.com/r/video?content_id=1506418383
• No. 16 overall prospectWilly Adames (Rays' No. 1) banged out a pair of run-scoring doubles in a 3-for-4 performance for Triple-A Durham. After a relatively slow start to his season, the 21-year-old shortstop is batting .392/.508/.627 with seven extra-base hits in 14 games this month.
MILB Video - Title: Adames rips two-run double - Url: http://www.milb.com/r/video?content_id=1506786783
• Making his United States debut, No. 91 overall prospect Adrian Morejon (Padres' No. 3) allowed a home run to the first batter he faced but yielded just two singles over three scoreless frames the rest of the way for short-season Class A Tri-City. Signed for $11 million last July, the precocious 18-year-old lefty has the potential to develop into a frontline starter in the big leagues.
• A day removed from going 6-for-7 with five RBIs, No. 100 overall prospect Bo Bichette (Blue Jays' No. 5) came right back to go 2-for-5 with a double and a steal in Class A Lansing's loss against West Michigan. Thanks to five multi-hit efforts in his last five games, the 19-year-old shortstop continues to pace the Midwest League in all three triple-slash categories, at .400/.466/.644, through 55 games.
• Royals No. 4 prospect Scott Blewett matched his career high as he struck out 10 over six scoreless innings in a win for Class A Advanced Wilmington. He threw 90 pitches (58 strikes) in the outing, allowing two hits and three walks. He owns a 4.00 ERA in 72 innings (13 starts) this season.
"I just attacked the zone, didn't try to do too much, went right at them," Blewett told MiLB.com. "I faced most of these guys the last two years when they were in Greenville and this is the second time I've faced them this year, so I had a game plan and executed it."
• Padres No. 8 prospect Eric Lauer tossed five scoreless innings for Class A Advanced Lake Elsinore to lower his California League-leading ERA to 2.15. He scattered six hits and struck out six while throwing 52 of his 73 pitches for strikes. He owns a 76-to-16 strikeout-to-walk ratio in 62 2/3 frames (11 starts) this season.
• Dylan Cozens and Rhys Hoskins, the Phillies Nos. 9 and 13 prospects, respectively, both went deep, scored two runs and went 2-for-4 in Triple-A Lehigh Valley's loss against Syracuse. They are tied for the International League lead with 15 homers each.
• Phillies No. 25 prospect JoJo Romero set a career high with 10 strikeouts as he completed eight scoreless innings for Class A Lakewood for the second time this season. The 20-year-old southpaw scattered four hits, generated eight ground-ball outs and did not issue a walk, throwing 65 of his 89 pitches for strikes in the outing. He lowered his ERA to 2.01 with the performance, and he's registered 76 strikeouts in 71 2/3 innings (12 starts) while holding hitters to a .217 average.