Rosales again pushes Padres to home run record
Club has hit franchise record 173 homers this season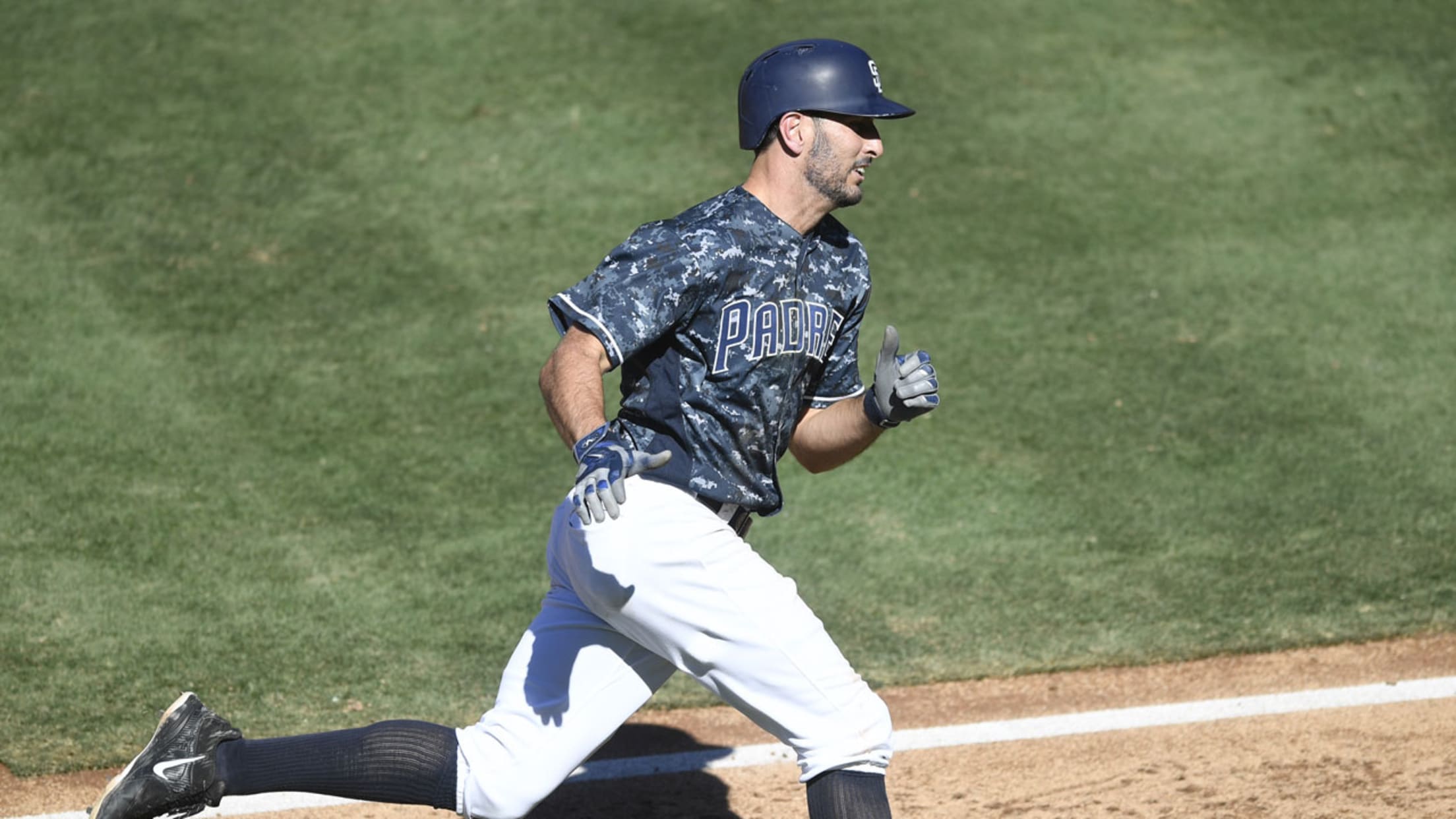 Bill Center, longtime sportswriter for U-T San Diego, is an employee of the Padres. career.Adam Rosales' second homer in as many games Sunday allowed the Padres to break their single-season home run record.Rosales hit the homer that tied the record Saturday night off Madison Bumgarner. Rosales' 12th homer of the
Bill Center, longtime sportswriter for U-T San Diego, is an employee of the Padres. career.
Adam Rosales' second homer in as many games Sunday allowed the Padres to break their single-season home run record.
Rosales hit the homer that tied the record Saturday night off Madison Bumgarner. Rosales' 12th homer of the season was the Padres' 172nd. That tied the record set by the then, second-year Padres in 1970.
Rosales then hit the Padres 173rd homer of the season on Sunday. Ironically, it was Rosales on July 27 who also hit the home run that allowed the Padres to tie the National League record of homering in 25 straight games.
The Padres have hit 80 homers this season at Petco Park and 93 on the road.
The 80 home runs at Petco Park are a record for the 13-year-old facility. The 2006 Padres had 75 homers at Petco Park.
The 1970 Padres team that hit 172 homers still included most of the hitters the Padres picked in the 1968 expansion draft to stock the inaugural 1969 Major League Padres. Nate Colbert hit 38 homers in 1970. Clarence "Cito" Gaston hit 29 and Ollie Brown, the Padres first pick in their expansion draft, hit 23. Eight members of that 1970 team hit 10 or more homers.
Those 1970 Padres hit only 68 homers at San Diego Stadium and 104 on the road. The reason was the dimensions at San Diego Stadium at the time. It made Petco Park look small.
The original baseball set up at San Diego Stadium had both foul poles 330 feet from home plate. It was 420 feet to center and 375 feet to both power allies. Additionally, a 17-foot wall lined the field from pole-to-pole. Colbert hit 16 balls off that wall in 1970.
The fences at San Diego-Jack-Murphy-Qualcomm Stadium were later moved in and lowered to half the original height.
The 1998 National League champion team had the second-highest homer total in Mission Valley with 167. The 2002 team hit 161 homers in Mission Valley and the 2000 team had 157.
Before this season, the highest home run count at Petco Park was 171 in 2007 when the Padres also hit a franchise record 322 doubles. The 2006 team had 161 homers. That was before the fences at Petco Park were shortened an average of eight feet.
The Padres have had 21 players homer this season. That is two shy of the franchise record of 23 set in 2008 and tied in 2013.
NOTES FROM THE SCOREBOOK:
--Left-handed reliever Brad Hand got five outs Sunday to get his first save of the season. Hand leads the National League with 79 appearances this season. Hand has 105 strikeouts in 85 2/3 innings. He has allowed only 60 hits and 35 walks. He has appeared in 10 of the Padres' last 16 games, allowing one run on three hits and a walk with 10 strikeouts in 9 1/3 innings.
--Another reliever who deserves some recognition is right-hander Brandon Morrow, who struggled earlier this season in his attempted return from injury as a starting pitcher. Since joining the Padres bullpen on Aug. 13, Morrow has a 1.93 ERA and picked up his first win Sunday. Morrow has worked 14 1/3 innings out of the bullpen, allowing 16 hits and three walks with seven strikeouts.
--Left fielder Alex Dickerson is 9-for-26 (.346) with five walks, three doubles and a home run with seven RBIs over his last nine games. During the run he has a .452 on-base percentage and a .615 slugging percentage for a 1.067 OPS during the nine-game run.
--Meanwhile, Padres middle infielders Luis Sardiñas and Ryan Schimpf are struggling. Sardinas is hitless in 21 straight at-bats with three walks since homering in Colorado on Sept. 16. Schimpf is 4-for-30 with a double, one RBI and five walks with 15 strikeouts since Sept. 16.