Homers hampering Royals' pitching staff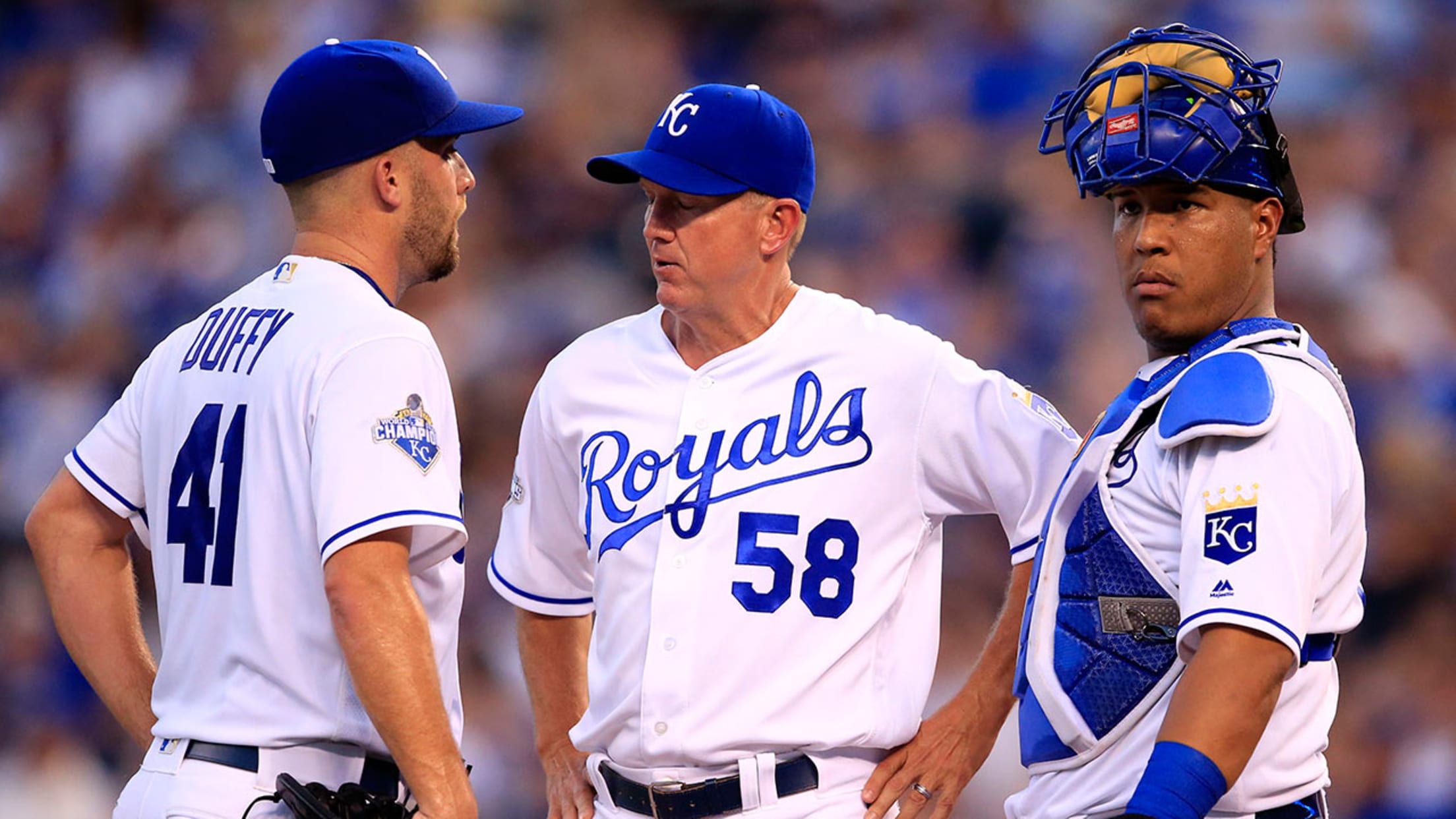 The Royals have allowed 31 home runs in 18 games since June 12. (AP)
PHILADELPHIA -- The Royals matched a franchise record last set in 2001 on Friday night by giving a home run for the 18th consecutive game.In that span, which dates back to June 12, the Royals gave up 31 homers total, 21 solo.The streak finally came to an end Saturday night
PHILADELPHIA -- The Royals matched a franchise record last set in 2001 on Friday night by giving a home run for the 18th consecutive game.
In that span, which dates back to June 12, the Royals gave up 31 homers total, 21 solo.
The streak finally came to an end Saturday night in the Royals' 6-2 win over the Phillies, as Danny Duffy was dominant, giving up two runs over 8 2/3 innings, none on homers.
Ask the Royals coaching staff and players, and you'll get a wide variety of answers, from the fact that the Royals have fly-ball pitchers in Ian Kennedy to Chris Young, to the fact that homers are up all around baseball, to the fact that the weather pattern in June in the Midwest felt more like August -- hot and sticky.
"The ball at Kauffman Stadium carries a lot more when it is hot and humid," Royals manager Ned Yost said.
And yes, there were 1,012 home runs throughout baseball in June, compared to 776 home runs last June.
"I don't have an explanation for that," Yost said.
But Royals pitching coach Dave Eiland had a few theories.
"Guys now, even though PEDs are supposedly out of the game, are so much bigger," Eiland said. "They're like linebackers. Now you don't even have to barrel a ball and it can go out. You see a fly ball now and you immediately go, 'Oh no.'
"I think every home run is a mistake up now, it seems. It's not that hitters are going down and digging balls out for home runs. Hitters are geared more for the high ball away from them.
"Why is that? The game is changing. You can't pitch inside as much or you get a warning. You can't do a brushback pitch to make the hitter uncomfortable."
Eiland preaches that his pitchers throw inside to keep hitters uncomfortable. But that has led to bench-clearing melees last year in Toronto and this year in Baltimore.
"You throw two straight pitches inside, and hitters are looking for a fight," Eiland said. "Baseball has taken away that ability to pitch inside. If you throw inside, you get what happened to Yordano [Ventura] in Baltimore with [Manny] Machado. So then, you have to tell your pitcher, 'Hey, we can't afford to have you suspended.' So they don't try to throw in as much."
Royals right-hander Edinson Volquez agreed, saying, "The game is different. Everyone used to pitch inside before. Now you really can't as much."
Added Eiland, "Guys like Pedro Martinez couldn't pitch aggressively inside today. Nolan Ryan used to pitch inside -- he'd call it giving the hitter a bowtie. He would pitch one up and in, and back the hitter off and get the hitter leaning out of the way, making him uncomfortable. Today he'd get suspended."