KC's Watson called Crosby's walk-off FG
Royals director of pro scouting tight with Packers kicker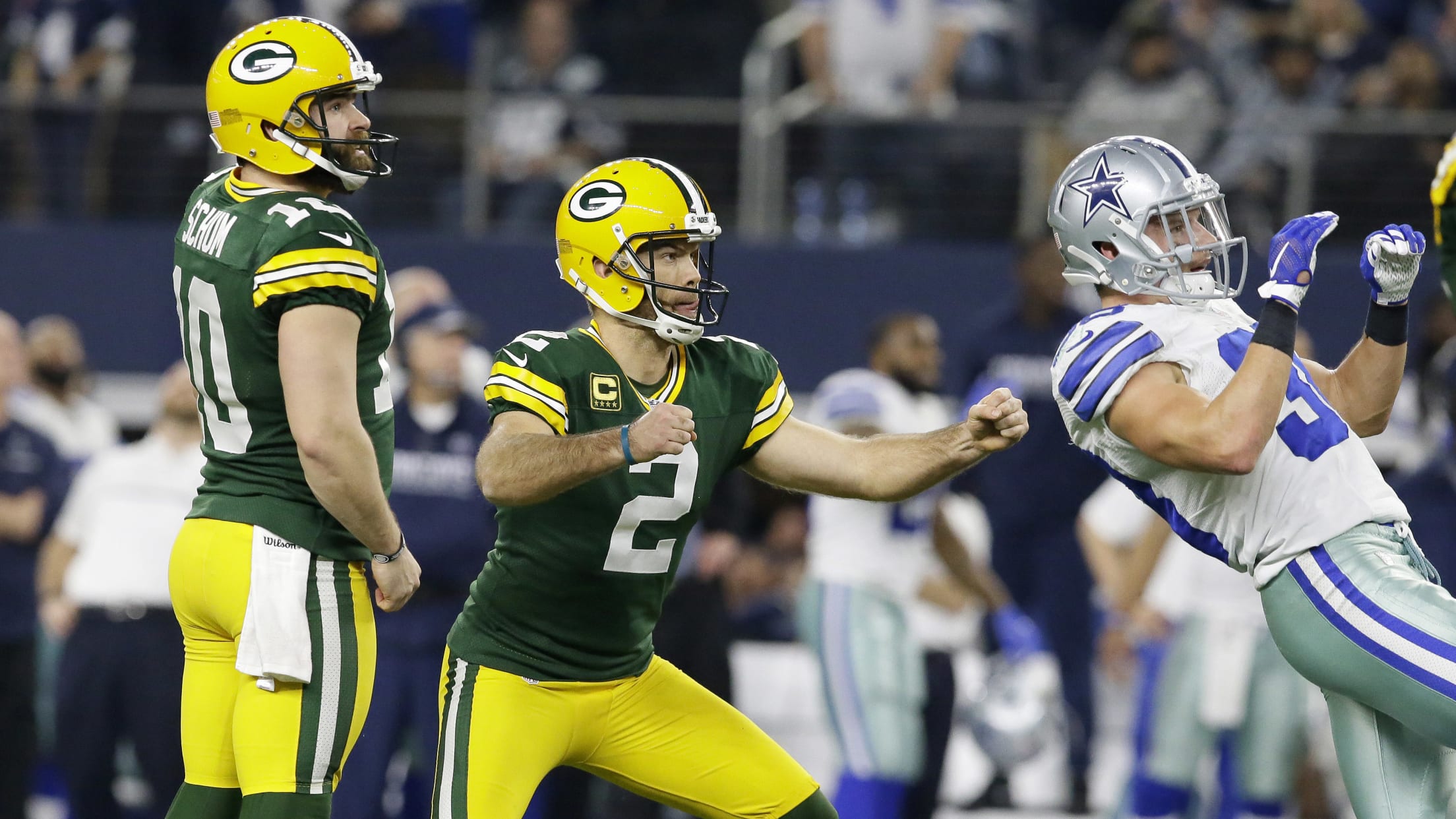 Mason Crosby (center) used to coach Gene Watson's son, Tyler, on the art of kicking. (AP) (LM Otero/AP)
KANSAS CITY -- The moment that Packers kicker Mason Crosby booted the walk-off field goal Sunday to beat the Cowboys, 34-31, and send Green Bay to the NFC title game, Gene Watson's cell phone began buzzing non-stop.Watson, the Royals' director of pro scouting, has a special friendship with Crosby and
KANSAS CITY -- The moment that Packers kicker Mason Crosby booted the walk-off field goal Sunday to beat the Cowboys, 34-31, and send Green Bay to the NFC title game, Gene Watson's cell phone began buzzing non-stop.
Watson, the Royals' director of pro scouting, has a special friendship with Crosby and his family. Their wives, Melanie and Karen, are close.
And it was Crosby who used to coach Watson's son, Tyler, on the art of kicking back in Georgetown, Texas, during the summers. Tyler once aspired to be a collegiate kicker before then concentrating on baseball. He's now an Angels farmhand.
But the Crosbys and Watsons remain tight, a fact Watson often beams about. In fact, before Sunday's game, Watson boasted to his fellow scouts at a dinner in Los Angeles that Crosby would kick a last-second field goal to win it.
"I said it to about five tables full of people," Watson said. "Then when Mason drilled it, I went crazy. And my phone went crazy."
Sunday's thriller actually was well-represented by other Royals. Center fielder Lorenzo Cain, a big Cowboys fan, was in attendance, as were first baseman Eric Hosmer and former Royal Jarrod Dyson.
In another Packers-Royals connection, Green Bay cornerback Damarious Randall is the younger brother of former Kansas City farmhand Patrick Norris.
Spotted on the sidelines of today's Packers/Cowboys game! Members of 2015 World Series Champions!! Jarrod Dyson, Eric Hosmer, Lorenzo Cain! pic.twitter.com/IwuQFVJjJy

— Anthony Geronimo (@ATXANT10) January 15, 2017