Youngsters compete in Pitch, Hit & Run in KC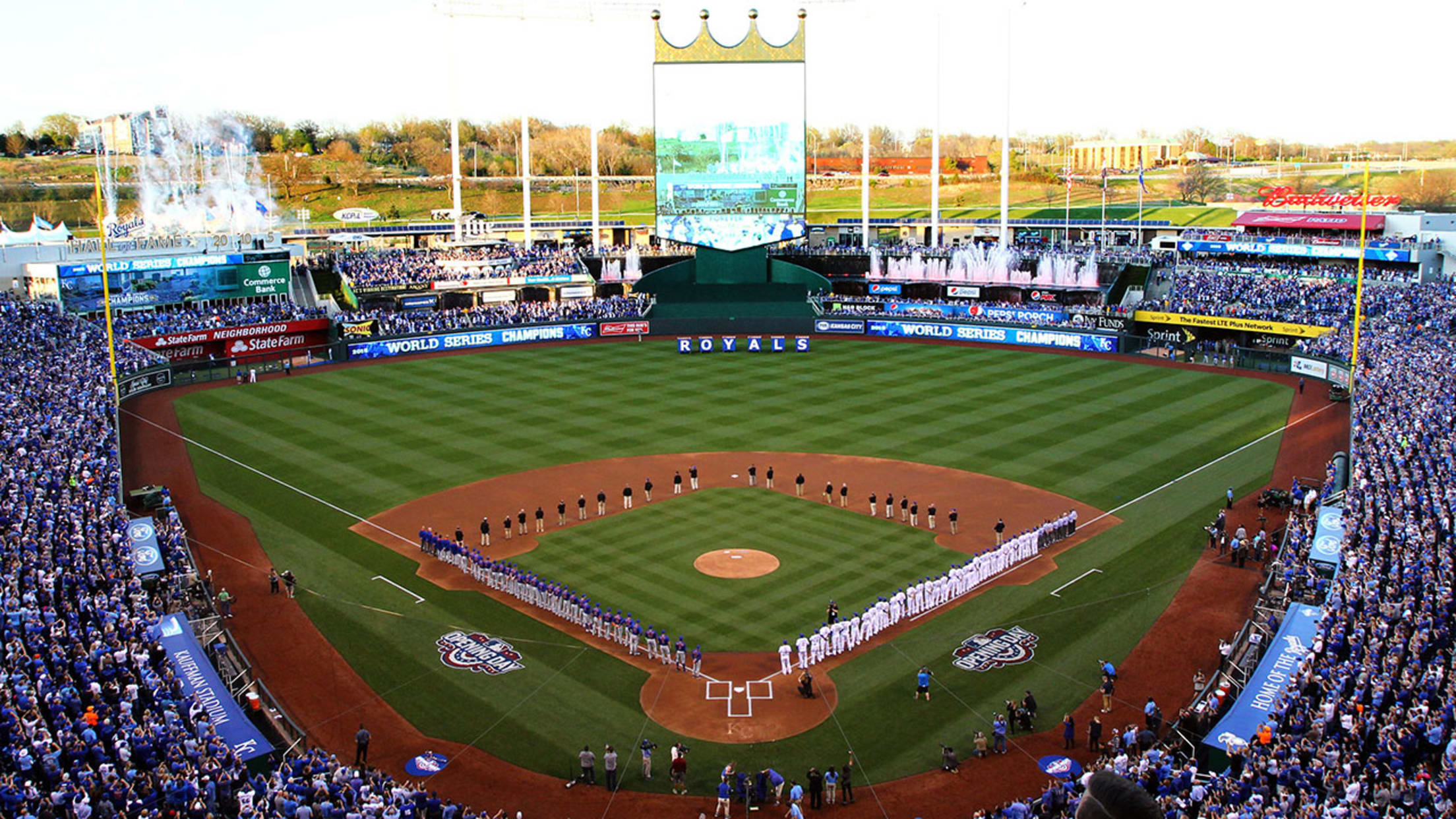 The Royals hosted a regional Pitch, Hit & Run competition on Saturday. (Getty)
KANSAS CITY -- Most children -- and probably most adults -- would be nervous to compete in a national event inside a Major League stadium, but not 8-year-old Bailey Barnett.Competing in the Scotts Pitch, Hit & Run regional competition at Kauffman Stadium on Saturday morning, Barnett, 8, took home first
KANSAS CITY -- Most children -- and probably most adults -- would be nervous to compete in a national event inside a Major League stadium, but not 8-year-old Bailey Barnett.
Competing in the Scotts Pitch, Hit & Run regional competition at Kauffman Stadium on Saturday morning, Barnett, 8, took home first place in the 7/8-year-old softball division.
"This is my second time here," Barnett said with a grin before the event began.
Grant Westphal, Kaedyn Litke, Gabriel Studdard, Macy Richardson, Brady Johnson, Mija Carlson and Brenden Thom also won their respective divisions. The eight winners -- four baseball players and four softball players -- are eligible to compete at the national Pitch, Hit and Run competition, which will take place during All-Star festivities at Marlins Park in Miami. Each Major League team hosts a regional competition, and the top three scorers from each division are picked for the national round.
"It would mean the world to me," said Johnson, who won the 11/12-year-old baseball division.
The event, which began at 8 a.m. CT, included hitting off of a tee, running from second to home plate and pitching toward a strike-zone sized target. Although only eight of the 24 players won, all in attendance seemed to relish playing inside Kauffman Stadium.
"I started smiling at 3:30 this morning," Litke said.
Prior to this competition, the 24 young athletes had to win a sectional competition to advance to regionals, and many said they practiced every day for the past few weeks. Out of 650,000 players, the field is now down to 720.
The regional Pitch, Hit & Run competition coincides with this weekend's "PLAY BALL" initiative between Major League Baseball, USA Baseball and USA Softball, which encourages widespread participation in all forms of baseball/softball activities among all age groups, especially youth. The initiative also provides players, parents and coaches with resources to help find events and leagues, as well as proper play information and instruction, through playball.org.
In between the batting and running portions of the event, Barnett chatted with another seasoned veteran, Richardson, who won the 8-year-old softball division at the All-Star Game competition four years ago. She hopes another national appearance is in her future, but all of the winners will have to wait until final results are announced on June 26. If Richardson and Barnett get what they want, they'll both be there.
"The fact they get to go out here and do it is a privilege," said Barnett's mother, Brooke. "We live in a really little town, [Bethany, Mo.], so to be able to come and see your kid out on a Major League baseball field is awesome."
Wilson Alexander is a reporter for MLB.com based in Kansas City.