Yandy to IL, misses date with former team
Rays infielder dealing with hand bruise after HBP; Yarbrough recalled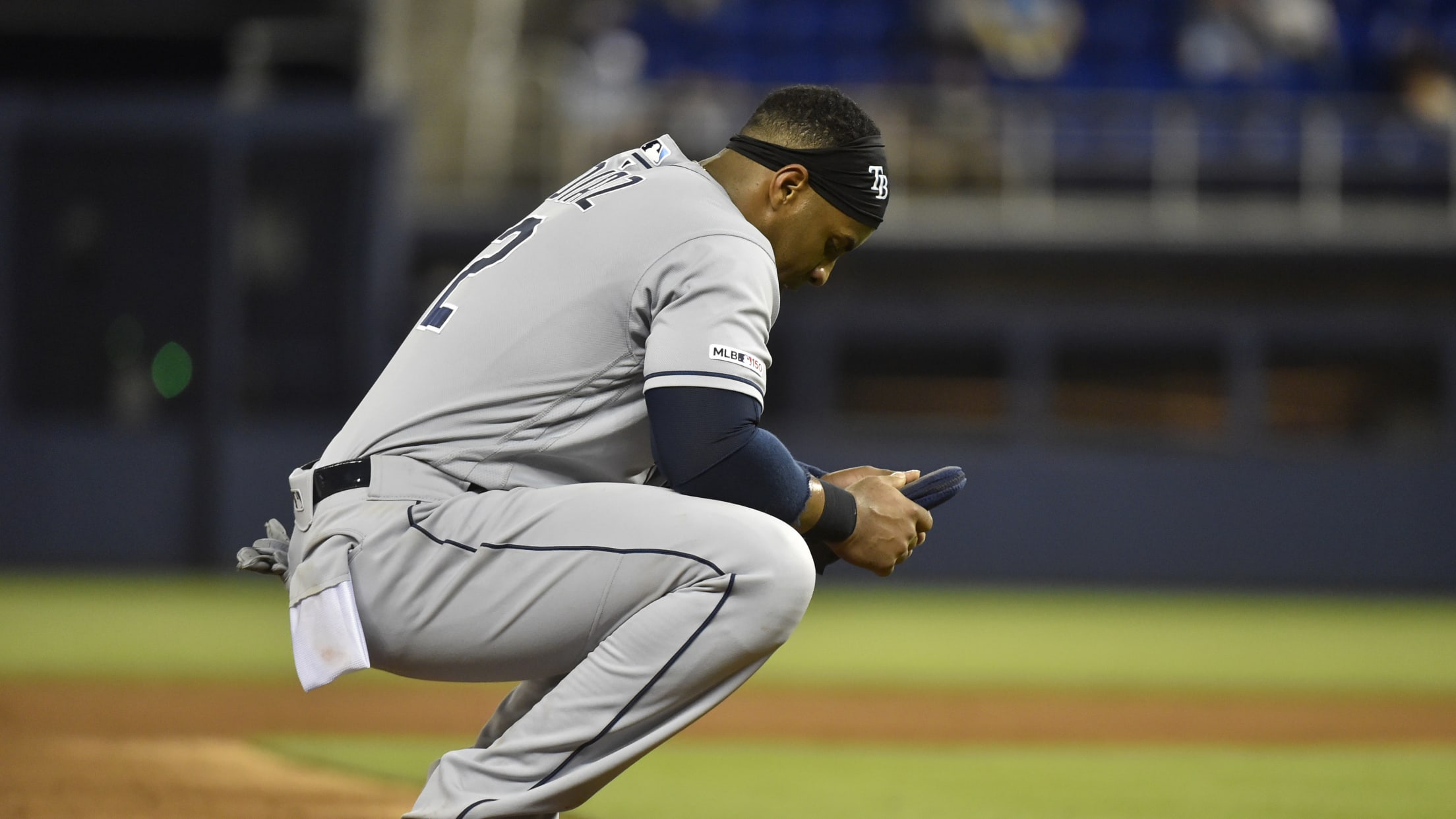 CLEVELAND -- Yandy Díaz's first chance to face his former squad will have to wait. Hours before Diaz's current team was set to face his old team in the Rays' opener of a four-game series against the Indians at Progressive Field on Thursday, Tampa Bay placed Diaz on the 10-day
CLEVELAND -- Yandy Díaz's first chance to face his former squad will have to wait.
Hours before Diaz's current team was set to face his old team in the Rays' opener of a four-game series against the Indians at Progressive Field on Thursday, Tampa Bay placed Diaz on the 10-day injured list with a left hand contusion, retroactive to May 20.
"It was a little disappointing," Diaz said through an interpreter. "That's not something I wanted. But that's what came out of the situation. It's bad timing."
The 27-year-old infielder hasn't played since Sunday against the Yankees. He was hit in the left hand by a pitch in the 13-5 loss to New York and was forced to exit the game. X-rays and additional scans came back negative, and he was initially diagnosed as day to day.
"He got squared up," Rays manager Kevin Cash said. "There's a lot of soft tissue [in there]. I'm sure there's probably some of that bone contusion in there. Nothing alarming."
While the Rays remain hopeful Diaz's stint on the IL will be short, the development was frustrating to the right-handed hitter, who was eager to play against his former squad. Diaz was traded to the Rays on Dec. 13 after signing with Cleveland as an amateur free agent in 2013. He spent parts of the past two seasons with the Tribe's big league team, posting a .727 OPS in 88 games from 2017-18.
"It was a good experience," Diaz said. "I had a lot of good teammates when I was here."
Unfortunately, he'll be forced to watch them from the dugout.
"I know he wants to be playing these four days," Cash said. "But watching him come in, we've tested it out every single day with the bat. We're not going to ask a guy to go out there when he's not feeling he can get through the zone or [there is] a potential re-injure. We've seen too many times when you start altering your swing, then it becomes something that you're doing something different. You're re-aggravating your wrist. I don't think that's fair to the player."
Beyond just Diaz losing an opportunity to face his ex-teammates, the Rays will miss the infielder's production. Diaz is slashing .256/.339/.500 in his first extended opportunity as a regular big leaguer. While his exit velocity has typically been eye-popping throughout his career, Diaz has demonstrated more power this year than in previous seasons, slugging nine homers through his first 41 games of the 2019 campaign. He homered just once and slugged .366 over his first two seasons.
"He's doing terrific," Indians manager Terry Francona said. "I think we always felt that Yandy was a tremendous hitter."
As for the increased power -- a potential that seemingly became a daily topic during Diaz's time in Cleveland -- the infielder says an opportunity to play every day is a big factor.
"Having that mentality of knowing that I'm going to be playing every day," Diaz said. "And having that chance to know that I'm not only going to be playing every three, four, five days, but to be in the lineup every day."
Welcome back
Taking Diaz's spot on the roster, Tampa Bay recalled Ryan Yarbrough from Triple-A Durham, and the left-hander started Thursday's game. Yarbrough spent most of May in the Minors after posting an 8.10 ERA in his first five appearances of the year with the big league club.
The 27-year-old had a 2.14 ERA in 21 innings at Triple-A following the demotion. He struck out 30 and walked three over four outings, including three starts.
Despite early-season struggles in the Majors, the Rays say they haven't forgotten the 3.91 ERA he posted in 147 1/3 innings last season.
"I know he got off to a little bit of a rough start," Cash said. "But give Yarbs a lot of credit for going down there and getting himself into a little better spot. He's throwing the ball really, really well. Hopefully that can pick up right where he left off in Durham."