Saturday's best: Burrows unhittable for Erie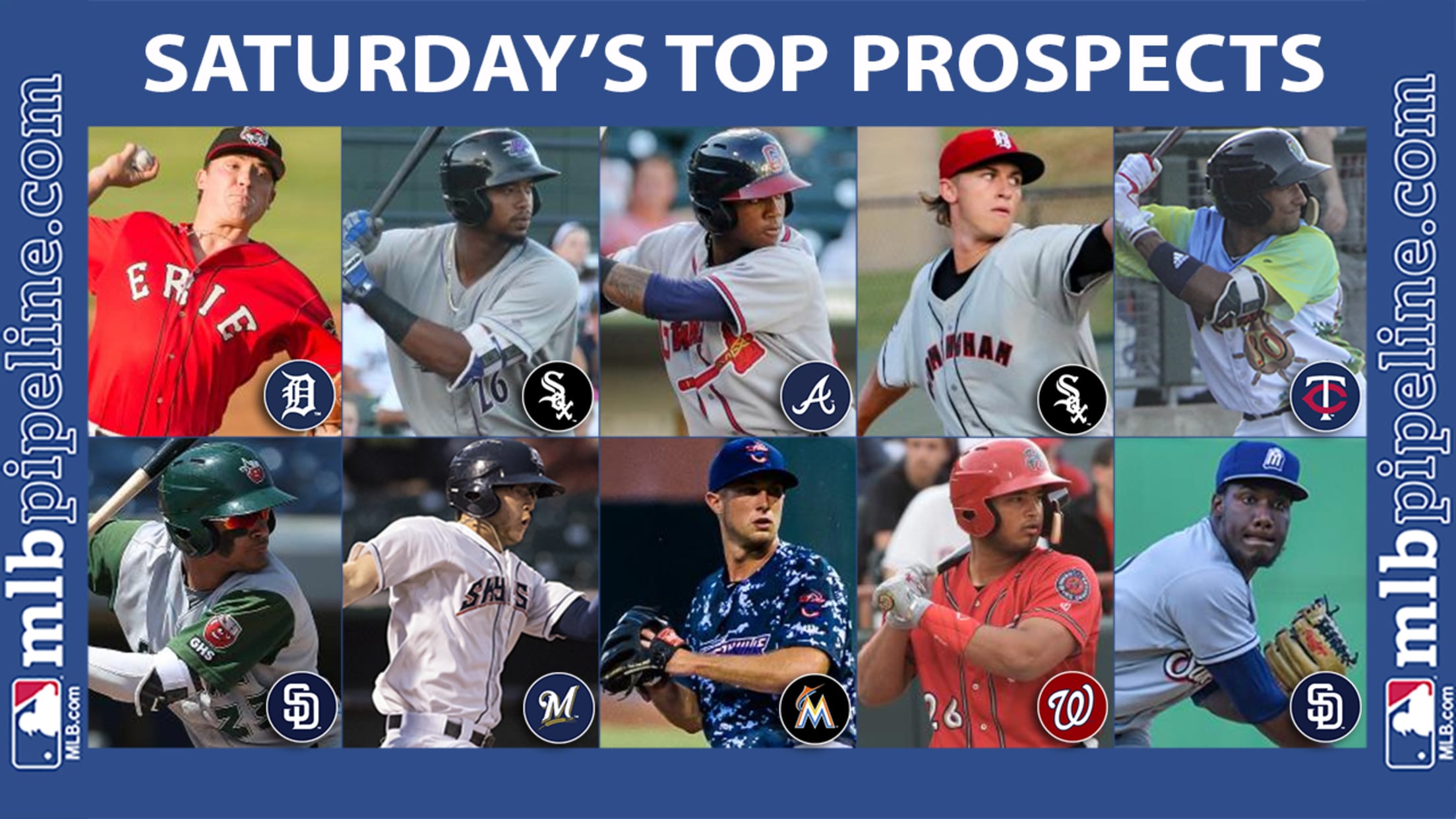 Pitching deeper into the season than he ever has before, Beau Burrows continues to get better. Burrows, Detroit's No. 4 prospect (No. 95 overall), was untouchable on Saturday as he tossed six hitless innings with eight strikeouts and two walks to pace Double-A Erie in an 11-0 rout of New
Pitching deeper into the season than he ever has before, Beau Burrows continues to get better. Burrows, Detroit's No. 4 prospect (No. 95 overall), was untouchable on Saturday as he tossed six hitless innings with eight strikeouts and two walks to pace Double-A Erie in an 11-0 rout of New Hampshire.
"It was definitely a dominant performance," Erie pitching coach Willie Blair told MiLB.com. "It was probably the most consistent he's been with executing pitches. He located the fastball down in the zone early and on the edges. He then was able to elevate it late. It seemed like his fastball had an extra gear when he got to two strikes. He elevated it and it had a little extra life on it. It was probably the most consistent his breaking stuff has been since I've had him. He's shown times of having breaking balls -- the curveball and the slider. But tonight I think it was a little more consistent."
MILB Video - Title: Burrows' eighth K - Url: http://www.milb.com/r/video?content_id=1720761783
Burrows began his outing by issuing a leadoff walk, but quickly settled in and retired nine consecutive batters. The 20-year-old righty would allow two more New Hampshire batters to reach base in the outing: one on an infield throwing error in the fourth inning, and the other via a two-out walk in his sixth and final inning of work. Burrows threw 53 of his 86 pitches for strikes in the outing, including first-pitch strikes to 13 of 20 batters, though the Tigers' organization-imposed innings limit kept the young right-hander from returning for the seventh inning.
"It felt so unbelievable," Burrows said. "I wanted to come out for the seventh inning, but I came back to the dugout and they said I was done due to my innings limit. I was a little upset about it, but they gotta do what they gotta do, so I respect their decision. It was just fun to go out there and pitch."
Burrows has a 4.38 ERA with 64 strikeouts in 61 2/3 innings (12 starts) since being promoted for Class A Advanced Lakeland. Including his time in the Florida State League, he has pitched to a 2.84 ERA and 1.20 WHIP, with 126 strikeouts and a .240 batting average against over 120 1/3 innings.
The rest of the best performances from top prospects Saturday
• No. 7 overall prospectEloy Jimenez's (White Sox No. 2) prodigious power was on full display as he smashed a pair of home runs in Class A Advanced Winston-Salem's win against Lynchburg. The 20-year-old outfielder hit a solo shot in the fourth inning and added a two-run blast in the sixth to finish 3-for-5 with three RBIs. He's been on an absolute tear since joining the Dash, slashing .380/.446/.750 with eight home runs and 26 RBIs in 27 games.
MILB Video - Title: Watch: Jimenez crushes second homer - Url: http://www.milb.com/r/video?content_id=1721981883
• No. 8 overall prospect Ronald Acuna (Braves' No. 1) had a very Ronald Acuna-like game for Triple-A Gwinnett, hitting a solo home run and stealing a base while going 2-for-5 with a couple of runs scored out of the leadoff spot. The home run, a fifth-inning solo shot, was the 19-year-old outfielder's fifth with Gwinnett, and he's now gone deep 17 times in 115 games across three levels, all while slashing .318/.373/.522 with 37 steals.
MILB Video - Title: Acuna goes deep - Url: http://www.milb.com/r/video?content_id=1720572183
• No. 12 overall prospect Michael Kopech (White Sox No. 3) spun yet another gem for Double-A Birmingham as he recorded double-digit strikeouts for the third time in four starts. The 21-year-old flame-thrower punched out 10 over seven scoreless innings, allowing three hits and two walks. He threw strikes with 66 of his 99 pitches, including 19 swinging strikes. Kopech has been unstoppable since appearing in the Futures Game, as Saturday's outing gives him a 0.66 ERA over his last six starts, during which he's allowed just 21 hits while tallying 54 strikeouts and seven walks in 41 innings.
MILB Video - Title: Kopech's 10th strikeout - Url: http://www.milb.com/r/video?content_id=1720988183
• No. 31 overall prospect Royce Lewis (Twins' No. 1) collected a career-high four hits in his debut for Class A Cedar Rapids. The 2017 No. 1 overall Draft pick tallied four singles in the contest, going 4-for-5 with an RBI, two runs scored and a stolen base. The 18-year-old shortstop was promoted straight to full-season ball from the Rookie Gulf Coast League, where he had slashed .271/.390/.414 with 11 extra-base hits, 15 steals and more walks (19) than strikeouts (17) in 36 games.
MILB Video - Title: Lewis' first hit - Url: http://www.milb.com/r/video?content_id=1720555283
• No. 58 overall prospect Fernando Tatis Jr. (Padres' No. 4) connected on his 21st home run for Class A Fort Wayne to set a new single-season franchise record. He also reached base three times, finishing 1-for-3 with two runs scored, two RBIs and two walks. Pacing the TinCaps on the mound was left-hander Adrian Morejon (No. 78 overall, Padres' No. 5), who tossed six strong innings, allowed one earned run on five hits with one walk and five strikeouts to record his first Midwest League victory.
• Brewers No. 12 prospectBrett Phillips collected three extra-base hits in a four-hit effort for Triple-A Colorado Springs, going 4-for-5 with two doubles and a triple as well as three runs scored in a loss against New Orleans. He's now hit safely in 10 straight games for the Sky Sox, with the 23-year-old outfielder hitting a robust .513 (20 for 39) with eight extra-base hits and 12 runs scored during that stretch.
• Marlins No. 19 prospect Trevor Richards gave up one hit over six scoreless innings in a dominant start for Double-A Jacksonville. Throwing 52 of his 86 pitches for strikes in the outing, the 24-year-old righty compiled eight strikeouts against two walks and generated another six outs via ground balls. Signed out of the independent Frontier League in July 2016, Richards has excelled in his first full pro campaign, posting a 2.39 ERA with a 0.98 WHIP and a 140-to-25 strikeout-to-walk ratio in 128 innings across two levels.
MILB Video - Title: Richards records eighth strikeout - Url: http://www.milb.com/r/video?content_id=1720284783
"Great job. He was efficient," Jacksonville manager Randy Ready told MiLB.com. "Worked ahead of the hitters. Plus changeup all night, throwing it for strikes and wiping it out below the hitting zone."
• Nationals No. 14 prospectRaudy Read hit two clutch solo home runs for Double-A Harrisburg, delivering a game-tying shot in the sixth inning followed by a go-ahead blast in the eighth as the Senators defeated Hartford, 4-2, in Game 1 of a doubleheader. It was the third career multi-homer performance by the 23-year-old catcher, who has already hit a career-high 13 homers this season while slashing .262/.306/.442.
MILB Video - Title: Read's go-ahead homer - Url: http://www.milb.com/r/video?content_id=1720122283
• Padres No. 13 prospect Enyel De Los Santos carried a no-hit bid for 7 1/3 innings en route to completing eight one-run frames in Double-A San Antonio's win against Tulsa. The 21-year-old righty permitted just the one hit, as he recorded seven strikeouts and two walks while throwing 67 of his 95 pitches for strikes. He's allowed just one earned run in his last 15 innings to drop his ERA below 4.00 (3.85) for the first time since April 25.
MILB Video - Title: De Los Santos notches seventh K - Url: http://www.milb.com/r/video?content_id=1721254183
• Pirates No. 7 prospectSteven Brault tossed seven scoreless innings for Triple-A Indianapolis to lower his International League-leading ERA to 1.94. It was the second straight scoreless start for the 25-year-old lefty, who allowed two hits, walked three and struck out five in the performance.
MILB Video - Title: Brault records a strikeout - Url: http://www.milb.com/r/video?content_id=1721096283
"He threw strikes, he controlled counts and he was able to take advantage of a pretty free-swinging team," Indianapolis pitching coach Stan Kyles told MiLB.com. "He did a nice job of staying on top of the guys and inducing weak contact. "He didn't have the one great put-away pitch tonight, but I think it was just [using] all of his pitches and a good mix that was the most effective thing that he did tonight."