Winner of Schimpf-Spangenberg battle to play third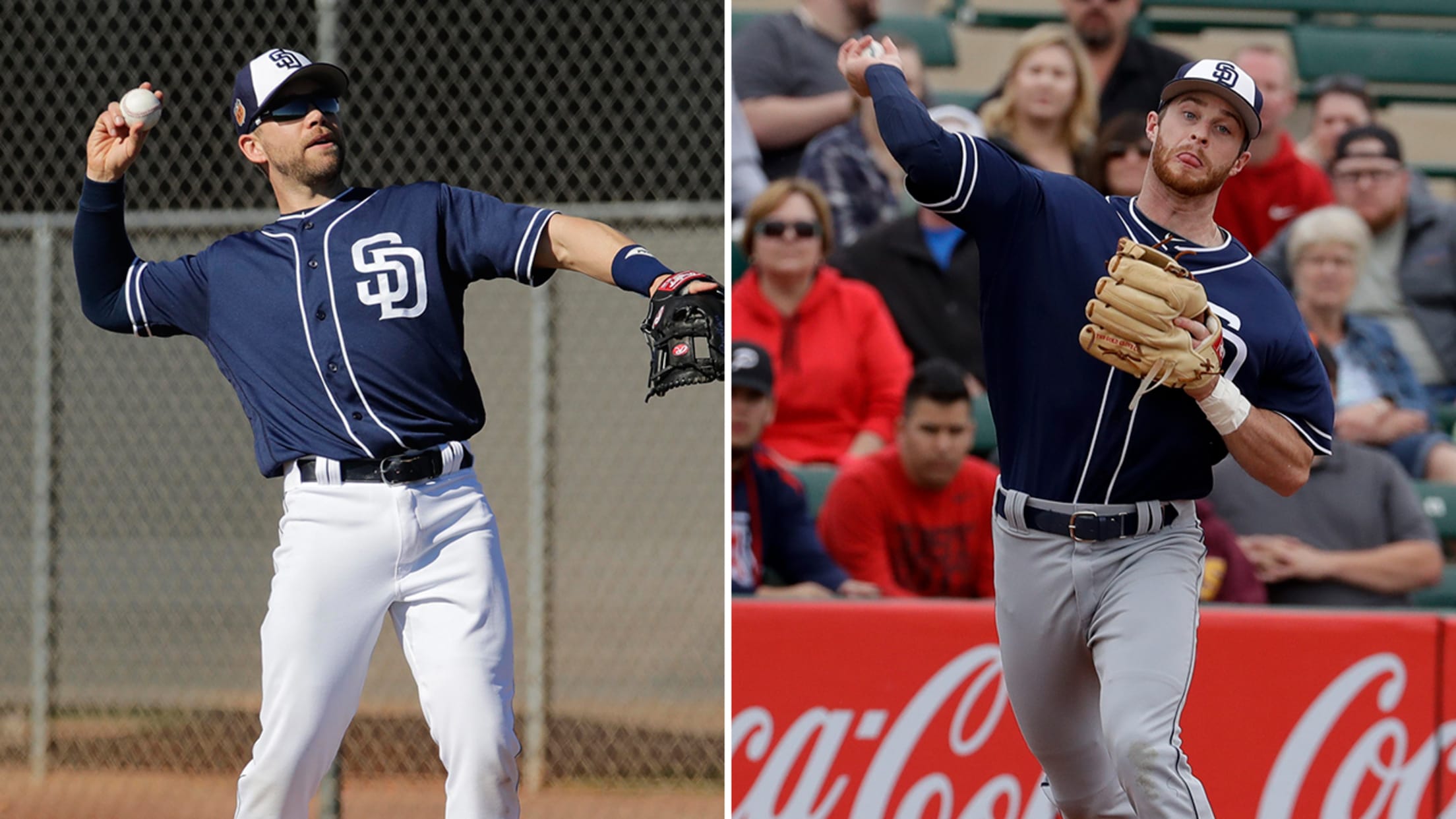 Ryan Schimpf and Cory Spangenberg are competing to be the Padres' starting third baseman. (AP)
PEORIA, Ariz. -- Does it really count as a spring position battle if the players involved aren't entirely sure which position they're fighting for?In the case of Yangervis Solarte, Ryan Schimpf and Cory Spangenberg, it does.Schimpf and Spangenberg have spent all of camp fighting for a starting job. Initially, that
PEORIA, Ariz. -- Does it really count as a spring position battle if the players involved aren't entirely sure which position they're fighting for?
In the case of Yangervis Solarte, Ryan Schimpf and Cory Spangenberg, it does.
Schimpf and Spangenberg have spent all of camp fighting for a starting job. Initially, that spot was presumed to be at second base. Now, it appears more likely that the winner is destined to play third.
Spring Training:Schedule | Tickets | Gear
Since his return from the World Baseball Classic, Solarte has played second base exclusively. It appears very likely that he'll be at second when the Padres open their season on Monday at Dodger Stadium.
"It was one of the first positions I ever played, and I had to learn it really well," Solarte said of second base. "I had to work hard to learn [second]. I could be moved wherever and come back and pick it up real quickly."
Solarte said he prefers second base, noting the double-play pivots and increased action at the bag. On Sunday, manager Andy Green said of Solarte, "If I'm handicapping it, I see him as a second baseman."
Well, Green is the skipper, so he is handicapping it -- meaning third base is now up for grabs. Green noted that he likes the instincts of both Spangenberg and Schimpf at the hot corner.
Spangenberg entered Monday batting .319 this spring with five doubles and a homer. Schimpf, meanwhile, was sidelined for half of March with left oblique tightness. He's 4-for-21 with a homer.
Spangenberg, 26, made his outfield debut on Sunday, but he didn't see much action in left. If he proves himself capable there, that could allow Green to get all three bats into the lineup against certain right-handers.
Utlimately, Schimpf, 28, and Spangenberg are infielders, and they'll continue getting work at both positions.
"It's important, especially in the National League," Schimpf said. "There's always constant movement, double switches and all that. So versatility definitely helps. It gives us more options."