Aybar could be biggest loss suffered Monday
Shortstop's improved offense and defense key to Padres' surge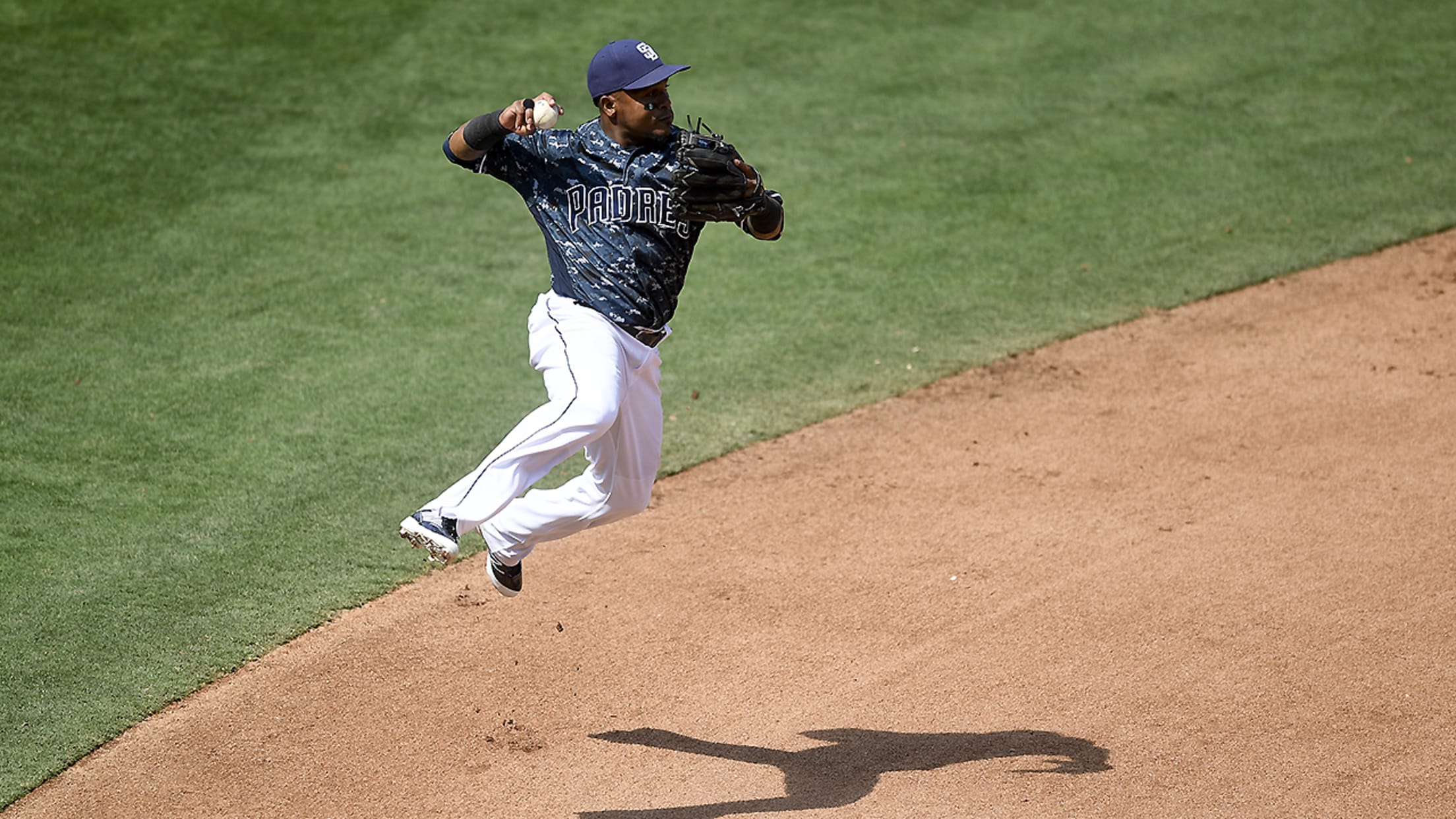 (Scott Wachter)
Bill Center, longtime sportswriter for U-T San Diego, is an employee of the Padres.Everyone was focused Monday afternoon on the trade that sent starting pitcher Trevor Cahill and relievers Brandon Maurer and Ryan Buchter to the Kansas City Royals. General manager A.J. Preller talked about the trade and the three players
Bill Center, longtime sportswriter for U-T San Diego, is an employee of the Padres.
Everyone was focused Monday afternoon on the trade that sent starting pitcher Trevor Cahill and relievers Brandon Maurer and Ryan Buchter to the Kansas City Royals.
General manager A.J. Preller talked about the trade and the three players the Padres were getting in return -- pitchers Matt Strahm and Travis Wood and prized 18-year-old second-base prospect Esteury Ruiz.
Manager Andy Green spoke kindly about the three players leaving the Padres and reflected on the changes that needed to be made to fill the void.
Then, with much of the media moving on, the other shoe dropped.
The reported contusion that shortstop Erick Aybar suffered last Friday night when he fouled a pitch off his left foot was actually a fracture -- creating the strong possibility that the 33-year-old infielder could miss the rest of the season, since foot fractures are notoriously slow to heal (see Travis Jankowski as an example).
Since June 9, Aybar was hitting .276 (29-for-105) with seven doubles, two homers, seven walks, eight RBIs and 12 runs scored. He had raised his batting average from .194 to .227.
More importantly, the Padres were 19-16 during Aybar's run of improved play.
Green talked about the importance of Aybar.
"Erick came back and claimed it," said Green of Aybar's resurgence. "He was getting big hits and making huge plays and helping us win baseball games. That all came out of the question of us telling him, 'I don't know how much you are going to play moving forward.' He earned it. To me that's the way it should be. We want someone to claim it."
Green said Aybar played a major role in the Padres having scored the second-most runs in the National League since the All-Star break.
"Erick had an impact on that, too," said Green. "He had great at-bats at the bottom end of the order. We've lost a lot of that offense at the bottom of the order."
Plus, the Padres couldn't promote the shortstop prospect closest to the Major Leagues. Jose Rondon is on the Triple-A El Paso disabled list with a finger injury that prevents him from swinging the bat.
That left the Padres with three options -- Allen Córdoba, Chase d'Arnaud (who had been optioned to El Paso) and Dusty Coleman, a slick-fielding 30-year-old who was hitting only .209 at El Paso, although he had some pop (14 homers in 300 at-bats) and a good eye (31 walks).
Because of the glove, the Padres elected to promote Coleman over d'Arnaud. Now the competition is between Coleman and Córdoba.
"I want to see someone rise up and claim it," Green said of the shortstop job. "Offensively, either one rising up and giving up something at this point is going to be a bonus. "Dusty is a defender. He's well beyond where Allen is in the field at this time of his career. The person who does it the best will play the most."
Coleman had his first Major League hit Tuesday night on his 10th career at-bat. He was 0-for-5 with Kansas City in 2015 and was 0-for-4 since his promotion Monday when he hit an RBI double in the ninth inning Tuesday night.
NOTE WORTHY
Hunter Renfroe's 405-foot homer in his first at-bat Tuesday night gave him home runs in three straight at-bats starting with Monday night's two-home run game. Each of the three homers travelled more than 400 feet with Tuesday's being the shortest at 405 feet. Of course, on Monday he drove a ball onto the roof of the Western Metal Supply Co. building for the second time. No other Padre has ever reached the roof.
Jose Pirela's 11-game hitting streak ended Tuesday night in an 0-for-5. Pirela and William Myers are tied for the longest hitting streaks this season by a Padre. Pirela was 15-for-47 (.319) during his 11-game streak. Monday's game was just the second multi-hit game in the streak, which included five doubles and a triple.
Manuel Margot was 3-for-4 Tuesday night and is 6-for-13 since returning from paternity leave. Before that, Margot was 7-for-44 over the previous 10 games with just one walk. Green dropped Margot from the lead-off spot to seventh in the order to "take the pressure off and help him get started."
Jhoulys Chacin was scheduled to start Tuesday for the Padres but was pushed back a day after reporting some tenderness in his back Monday. Chacin could have started Tuesday, but the Padres had already told Kyle Lloyd that he would made his Major League debut Tuesday against the Mets.