Solarte's injury creates huge hole in offense
Padres hottest hitter suffers left oblique strain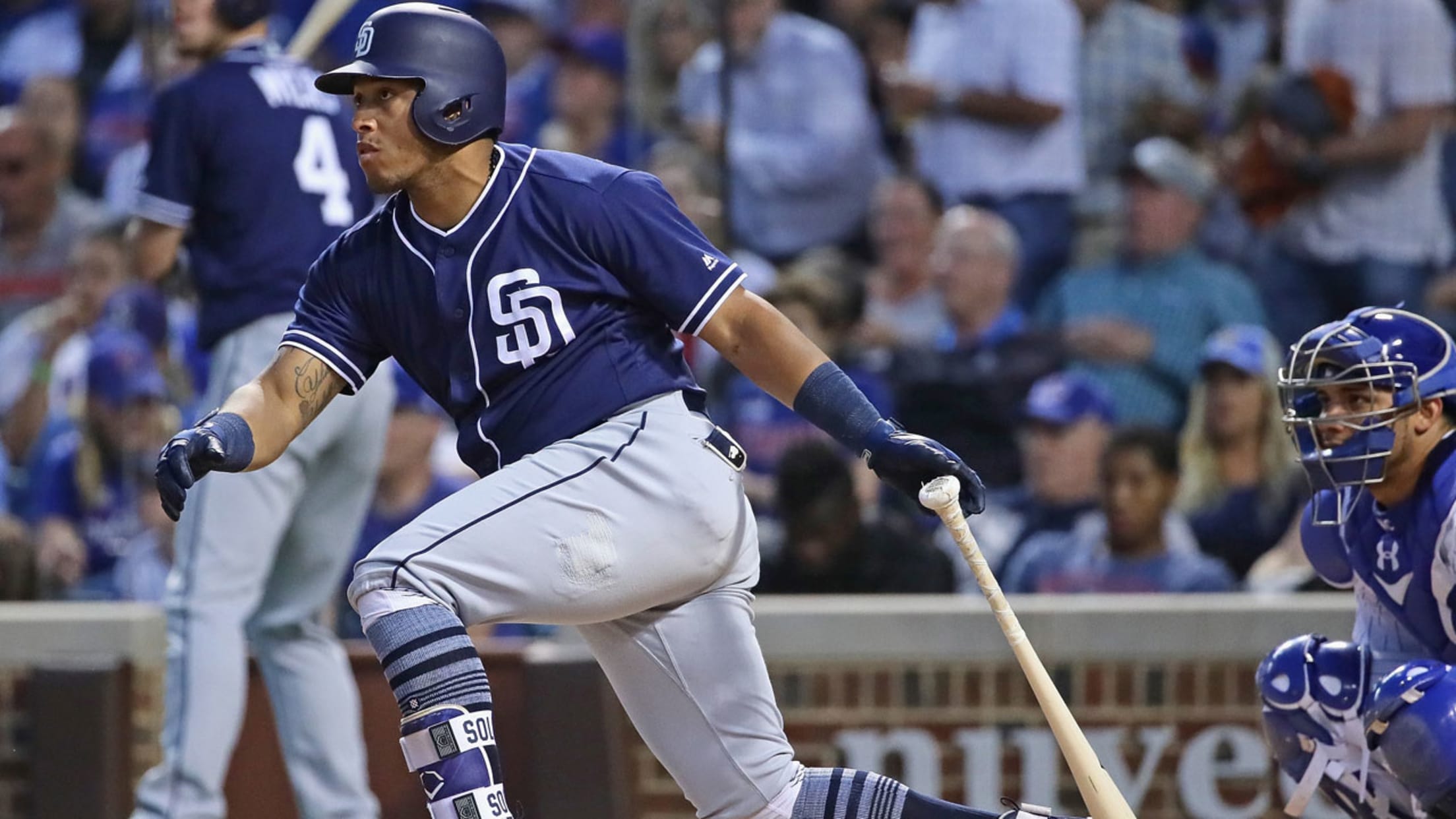 Bill Center, longtime sportswriter for U-T San Diego, is an employee of the Padres.I wasn't surprised that William Myers drew four straight walks Tuesday and Wednesday after Yangervis Solarte was scratched from the Padres lineup with a left oblique strain that will send the infielder to the disabled list. Until someone
Bill Center, longtime sportswriter for U-T San Diego, is an employee of the Padres.
I wasn't surprised that William Myers drew four straight walks Tuesday and Wednesday after Yangervis Solarte was scratched from the Padres lineup with a left oblique strain that will send the infielder to the disabled list.
Until someone else steps up - or Solarte heals - Myers has become something of an island in the middle of the Padres lineup. Teams are going to pitch around Myers until Solarte returns . . . or someone else starts hitting.
And Solarte might not soon return.
Depending on their severity, oblique strains don't get better overnight . . . or in 10 days. I remember an oblique strain that took more than a month to heal.
Any time without Solarte's bat - and his passion - in the lineup is going to be crippling to the Padres offense, which was blanked by the Cubs at Wrigley Field Tuesday in their first game without Solarte.
Going into Tuesday, Solarte was 11-for-28 with a double, five homers, eight RBIs and seven runs scored in a seven-game hitting streak. He had hit safely in 11 of his last 12 games with six homers and 13 RBIs while raising his batting average from .245 to .268.
Although Hunter Renfroe has 15 homers and Austin Hedges has 11, without Solarte there is no one hitting above .225 immediately behind Myers.
One fix might be activating center fielder Manuel Margot from the disabled list, sliding rookie replacement Franchy Cordero from left to center and moving Jose Pirela from left to second.
Pirela is off to a fast start with a .351 batting average, three homers and nine RBIs in 57 at-bats since being promoted from El Paso. But Cordero has cooled off, going 1-for-22 with two walks over the last six games with 13 strikeouts.
Get healthy soon, Yangervis.
NOTE WORTHY:
--CF Manuel Margot was 2-for-4 Tuesday night with two RBIs in his second rehab start with Triple-A El Paso. Margot, who has been out since May 25 with a calf injury, is 2-for-8 in his two outings with the Chihuahuas.
--C Luis Torrens went 3-for-7 with a bases-loaded, game-winning walk in his first back-to-back, Major League starts Tuesday and Wednesday in Chicago while subbing for the injured Austin Hedges. The 21-year-old Rule 5 draftee is 9-for-28 (.321) with two doubles and four walks since the last day in May to raise his batting average from .114 to a career-high .206. He is 6-for-17 since June 11.
--LF-2B Jose Pirela was 5-for-13 with a double, his third homer and two stolen bases in the Padres three-game series at Wrigley Field. Before that, Pirela had been 0-for-13 over three games, although he scored twice after drawing two walks.
--RHP Phil Maton has a win and a save and a 0.00 earned run average after his first six Major League appearances. He has allowed one hit in 4 2/3 innings with no walks and six strikeouts.