Numbers game: 1 next-level stat for each team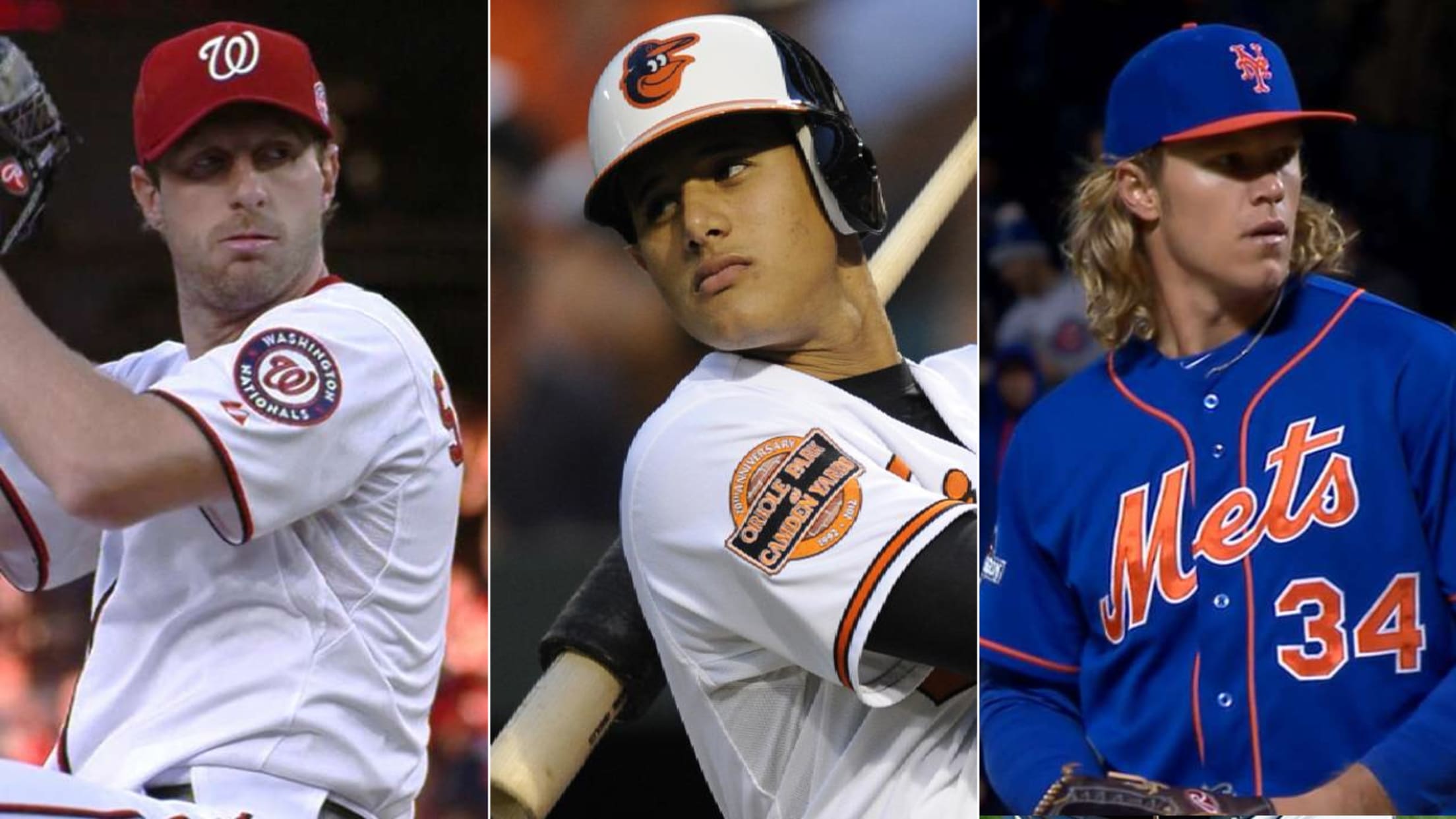 Each week on the Statcast™ Podcast, hosts Mike Petriello and Matt Meyers dig into the world of Statcast™ and advanced metrics, exploring the most important topics in baseball through the lens of the groundbreaking Statcast™ technology. Download, subscribe and help others find the show by leaving a rating and review
Each week on the Statcast™ Podcast, hosts Mike Petriello and Matt Meyers dig into the world of Statcast™ and advanced metrics, exploring the most important topics in baseball through the lens of the groundbreaking Statcast™ technology. Download, subscribe and help others find the show by leaving a rating and review on iTunes or your favorite platform.
With the 2018 Major League Baseball season just hours away, it's time for a Statcast™ season preview. On this week's episode of the Statcast™ Podcast, hosts Mike Petriello and Matt Meyers provide 60 Statcast™ facts, two per team, and make their award and postseason predictions.
To get all 60 of the facts and the award predictions, you'll have to listen to the entire episode above. But as a preview, here are 30 of the interesting nuggets -- one per team.
AMERICAN LEAGUE EAST
BlueJays: Of the 118 pitchers who threw at least 2,000 pitches last year, only three (including Bartolo Colon) had a higher fastball percentage than J.A. Happ's 70.8 percent.
Orioles:Manny Machado had 250 hard-hit balls (defined as those with an exit velocity above 95 mph), the most in the Major Leagues, nearly two dozen more than Jose Abreu's 230.
RedSox: Despite Craig Kimbrel's swing-and-miss dominance, no pitcher in baseball allowed a higher average exit velocity than his 91.4 mph, of the 438 pitchers who allowed 100 balls in play.
Rays:Chris Archer led the Majors with 184 strikeouts on sliders, 50 more than any other pitcher.
Yankees:Aaron Judge and Giancarlo Stanton combined for 20 home runs with an exit velocity of 115 mph or more in 2017. The entire rest of Major League Baseball had only 13.
AL CENTRAL
Indians:Andrew Miller allowed an average exit velocity of just 81.2 mph in 2017, the lowest of any of the 438 pitchers who allowed 100 balls in play.
Royals:Lucas Duda saw a shift on 85.5 percent of his 2017 plate appearances, the second most in baseball behind only Chris Davis.
Tigers:Jose Cabrera had a 47.8 percent hard-hit rate in 2017, the eighth-best of the 334 batters who put 150 balls in play, giving hopes for a 2018 rebound.
Twins:Byron Buxton led baseball with 29 Five- and Four-Star catches, five ahead of second-place Mookie Betts.
WhiteSox:Yoan Moncada had the second-fastest Sprint Speed among second basemen in 2017 (29.2 feet per second). Now that leader Dee Gordon is a center fielder, Moncada is baseball's fastest remaining second baseman.
AL WEST
Angels:Michael Trout had an Expected Catch Percentage of 89 percent, tied for the highest in the Majors, meaning he received the easiest defensive opportunities -- and that may have affected his unimpressive defensive metrics.
Astros:Jose Altuve led the Majors with 279 swings on the first pitch of a plate appearance.
Athletics:Matt Olson had an average exit velocity of 98 mph on fly balls and line drives, the sixth-highest mark among those with 100 such balls in play.
Mariners:Nelson Cruz has hit 192 barrels in the three seasons of Statcast™, the most in baseball, 10 more than second-place J.D. Martinez.
Rangers:Joey Gallo saw 19 pitches in 2017 where all four infielders were shifted to one side of second base. All were by the Astros, and they were the only pitches in the Majors all year for which four infielders were positioned in that way.
NATIONAL LEAGUE EAST
Braves:Brandon McCarthy's 24.1 percent hard-hit rate allowed in 2016-17 was the lowest of 293 pitchers with 300 balls in play.
Marlins:J.T. Realmuto is the fastest catcher in baseball, with a 28.6 feet per second Sprint Speed that is well above the 27.4 feet per second of second-place Willson Contreras.
Mets: Noah Syndergaard doesn't just throw the fastest four-seamer in baseball (98.6 mph), he also throws the fastest two-seamer (98.0 mph), the fastest slider (92.3 mph), the fastest changeup (90.2 mph) and the fourth-fastest curveball (84.4 mph) as well.
Nationals:Max Scherzer allowed the lowest expected batting average in baseball, at .173, of the 132 pitchers with 400 batters faced.
Phillies:Jorge Alfaro had the highest average arm strength on "max-effort" throws, 89.8 mph, with a minimum of five throws, topping Gary Sanchez, who was at 87.8 mph.
NL CENTRAL
Brewers: Of all the pitchers who allowed 300 balls in play last year, only three had a lower hard-hit rate allowed than Chase Anderson (26.8 percent) -- and one was Clayton Kershaw.
Cardinals: In 2017, the Cards had 14 home runs of 430-plus feet (25th in MLB). By himself with Miami last year, new St. Louis left fielder Marcell Ozuna had 13 homers of 430-plus feet (fourth in MLB).
Cubs: Tyler Chatwood has a 2,981 rpm spin rate on his curveball, the fifth-highest of the 234 pitchers who threw 100, one of several reasons why his first season with Chicago could be a strong one.
Pirates: The 2017 Bucs led the Majors both with the highest average fastball velocity (94.2 mph) and the highest fastball usage (61.8 percent).
Reds: Raisel Iglesias had a .140 lowest Expected wOBA on cutters/sliders in 2017, which is the best mark in baseball among the 201 pitchers who threw at least 300.
NL WEST
D-backs: Paul Goldschmidt had the second-highest launch angle on home runs (32.0 degrees) only to Atlanta's Freddie Freeman (32.2 degrees), making for some extremely majestic home runs.
Dodgers: Kenley Jansen has finished second (.214), first (.193) and first (.197) in Expected wOBA in the three years of Statcast™ so far, underscoring his historic dominance for the Dodgers.
Giants: Chris Stratton, suddenly a pivotal member of an injury-stricken Giants pitching staff, had a 3,105 rpm spin rate on his curveball, the highest of the 234 pitchers who threw 100 curves in 2017.
Padres: Austin Hedges had the fastest pop time (1.89 seconds) to second base of any catcher in baseball, among the 52 who had at least 15 steal attempts against them.
Rockies:Carlos Gonzalez (56.6 percent) had the third-highest hard-hit rate in baseball in September, among those with 50 batted balls, behind only Judge and Martinez.
Mike Petriello is an analyst for MLB.com and the host of the Statcast podcast.