Gonsalves among top prospect performers Tuesday
Twins' No. 5 prospect notches season-high 11 strikeouts in six scoreless frames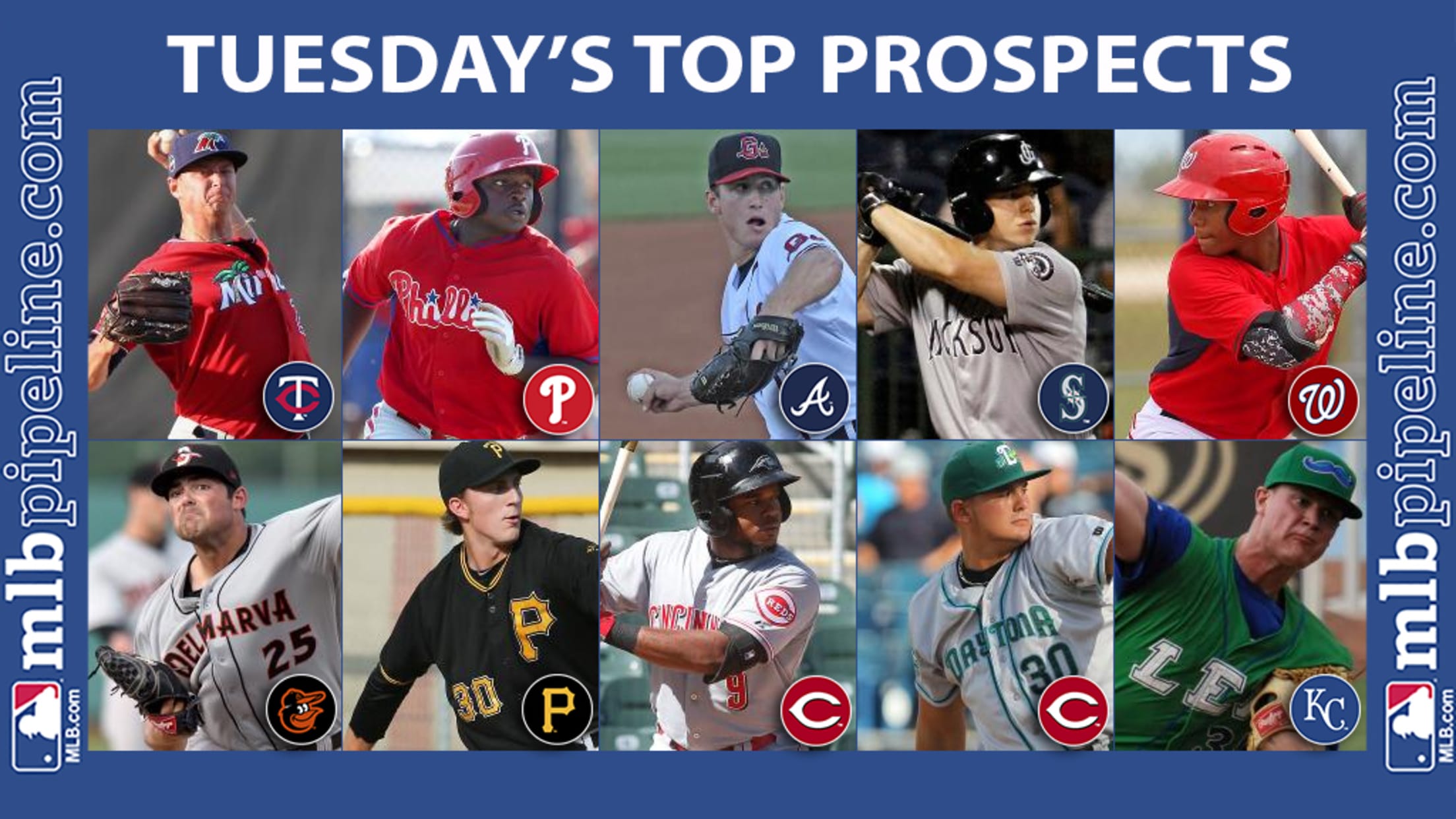 Stephen Gonsalves carved his way through the Tennessee lineup Tuesday night, extending his scoreless streak to 12 innings and setting a season-high for strikeouts with 11. The No. 98 overall prospect helped lead Double-A Chattanooga to a 4-0 shutout.The southpaw walked none, gave up four hits and threw 67 of
Stephen Gonsalves carved his way through the Tennessee lineup Tuesday night, extending his scoreless streak to 12 innings and setting a season-high for strikeouts with 11. The No. 98 overall prospect helped lead Double-A Chattanooga to a 4-0 shutout.
The southpaw walked none, gave up four hits and threw 67 of his 97 pitches for strikes in six scoreless innings.
MILB Video - Title: Gonsalves records strikeout - Url: http://www.milb.com/r/video?content_id=924266383
The win marked Gonsalves' second straight scoreless start as he threw six scoreless frames in his last start as well. The Twins' No. 5 prospect began the season with Class A Advanced Fort Myers, but was promoted on June 22. The 22-year-old has pitched at least five innings and allowed two runs or less in three of four starts since his promotion.
"These past two weeks, since I've been up here, we've been working a whole lot with my curveball as my fourth pitch," Gonsalves told MiLB.com. "Just throwing it in the strike zone and go from there. Tonight, I had all four pitches -- my fastball, changeup, slider and curveball -- in the zone tonight. I was able to get ahead with whatever I wanted to tonight. Pretty much every at-bat, we were 0-2 or 1-2 so we could pick between those four pitches to put them away with."
The rest of the best performances from top prospects Tuesday:
• No. 74 overall prospect Cornelius Randolph (Phillies' No. 5) snapped out of his slump and belted a pair of doubles for Class A Lakewood. Randolph had been hitless over his past five games (13 at-bats), but broke the skid with a single in the second inning and finished the game 3-for-4 in a 6-4 win.
• Lucas Sims put together a quality start for Double-A Mississippi. The Braves' No. 10 prospect has had his ups and downs this season, but was on the top of his game as he struck out seven and gave up one run over 6 2/3 innings in a 2-1 win over Mobile.
• Mariners' No. 4 prospect Tyler O'Neill continues to drive in runs and hit the ball out of the park. O'Neill went 1-for-3 with a homer and two RBIs for Double-A Jackson in a 4-3 win over Montgomery. The outfielder has homered in each of his past three games and is 5-for-10 with eight RBIs over that stretch.
MILB Video - Title: O'Neill homers in third straight game - Url: http://www.milb.com/r/video?content_id=924261683
• Juan Soto (Nationals' No. 15) is off to a hot start with the GCL Nationals. The 17-year-old went 3-for-4 with a double and RBI and is hitting .388 through his first 13 games.
• Brian Gonzalez (Orioles' No. 23) struck out eight in six scoreless innings in Class A Delmarva's 7-3 win. The quality start was a big one for the 23-year-old lefty who was roughed up in his previous outing. Gonzalez has given up two earned runs or less in three of his past four starts.
• Pirates' No. 23 prospect Gage Hinsz tossed his longest start of his pro career, completing seven scoreless innings for Class A West Virginia in its 1-0 win over Augusta. Hinsz notched two strikeouts, but had great command as he threw 55 of his 77 pitches for strikes and didn't walk a batter.
• Casey Gillaspie (Rays' No. 8) has a hit in five straight games after going 2-for-4 with a double and RBI for Double-A Montgomery in a loss to Jackson. The first baseman has drove in a run in each of his past four games and a total of seven during that streak.
MILB Video - Title: Gillaspie singles home a run - Url: http://www.milb.com/r/video?content_id=924357983
• Reds' No. 10 prospect Phillip Ervin drove in three runs for Double-A Pensacola and went 2-for-4 with a double in his club's 9-0 win. Ervin also stole his 27th base.
• Sal Romano (Reds' No. 15) completed seven innings for the third time this year, but for the first time, he didn't allow a run. The 22-year-old also tied a season-high with nine strikeouts and scattered three hits and a walk in Double-A Pensacola's shutout.
"All of my stuff was working," Romano told MiLB.com. "I was able to throw my changeup for strikes. I've been able to trust that lately, working off my fastball, and I was able to put guys away with my curve to get some strikeouts. That and getting ahead, those were the big things."
MILB Video - Title: Romano notches 9th strikeout - Url: http://www.milb.com/r/video?content_id=924299883
• A pair of Rockies prospects went deep in Class A Asheville's 12-inning win over Hagerstown. Brian Mundell (Rockies' No. 30) hit a solo blast in the first inning and Carlos Herrera (Rockies' No. 22) hit a two-run homer in the fifth. Both homers came against No. 1 overall prospectLucas Giolito (7 IP, 6 H, 4 ER).
• Royals' No. 6 prospect Scott Blewett put together a strong outing for Class A Lexington. Blewett gave up a pair of runs in the seventh, but that did little to spoil the day for the right-hander. Blewett struck out 10 -- a career-high -- and gave up two runs on four hits in seven frames.
2016 Draft
• Athletics' first-round pick A.J. Puk lived up to the expectations of the No. 6 overall pick in his professional debut with Class A Short Season Vermont. The lefty threw 17 pitches (12 for strikes) and did not allow a hit in two innings.
"My command was really good," Puk told MiLB.com. "I threw my fastball wherever I wanted to, moved it in and out. They were just reaching out for it and beating it into the ground. I had some good secondary offerings as well and got a lot of quick at-bats."
• Matt Krook has gotten off to a fast start in his professional career and the Giants' 4th-rounder continued that trend for Class A Short Season Salem-Keizer Tuesday night, tossing 4 2/3 scoreless innings.
The lefty struck out three and didn't allow a hit, lowering his ERA to 0.63 through his first four appearances, three starts.
• Giants 27th round pick Patrick Ruotolo has yet to allow an earned run. Ruotolo followed Krook's start with 2 1/3 hitless innings and hasn't allowed a hit in four of his six appearances. Salem-Keizer lost its combined no-hit bid in the bottom of the ninth when Preston Scott singled to open the frame.