Sternberg addresses Rays' 2018 success
Principal owner 'proud' of team's accomplishments in competitive AL East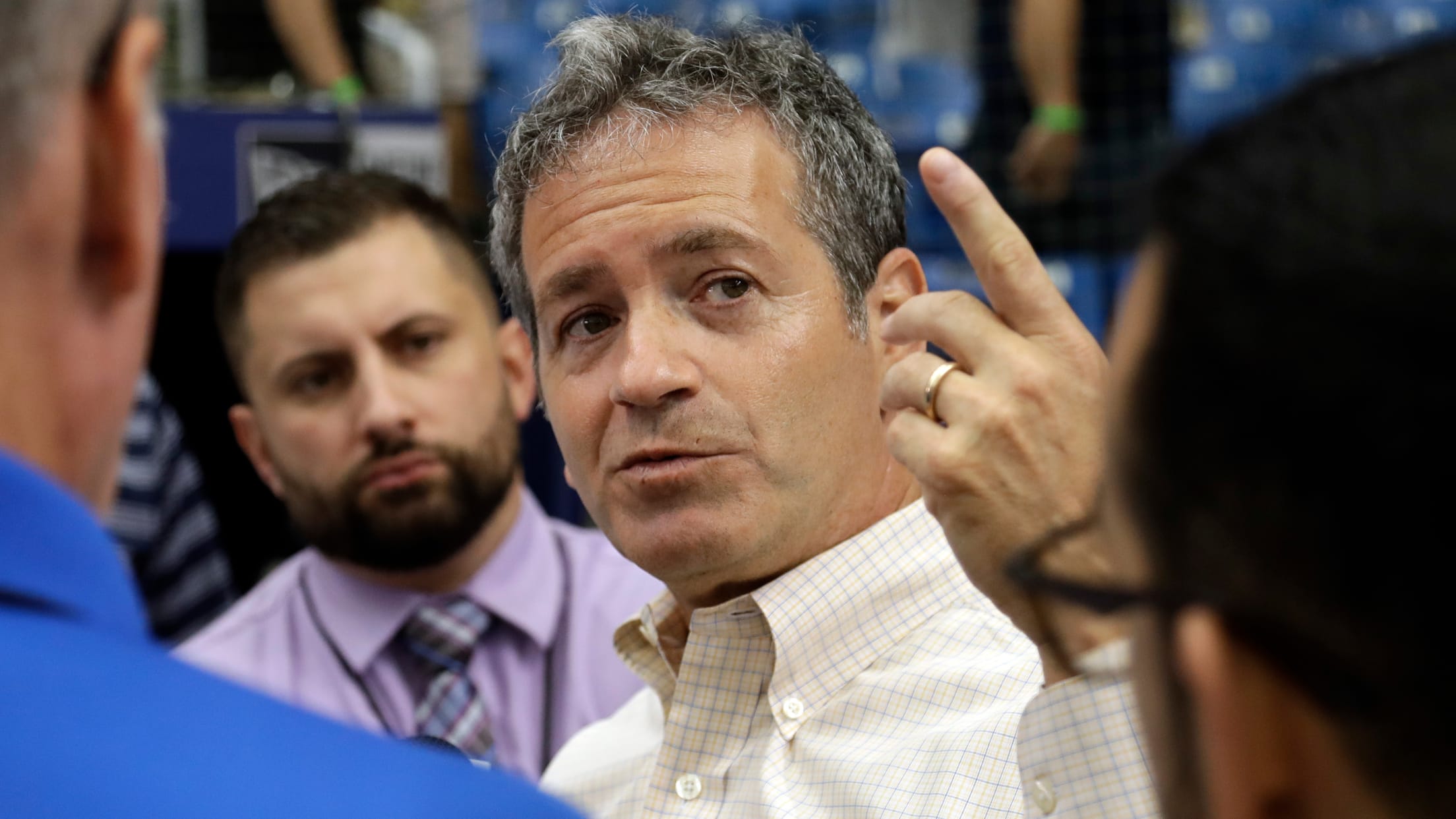 ST. PETERSBURG -- Stuart Sternberg attended Thursday afternoon's Yankees-Rays game at Tropicana Field, and Tampa Bay's principal owner took a little time to hold court on a number of subjects.Sternberg's message to this year's team: "I'm as proud of this group of guys. ... I'm as proud of this group
ST. PETERSBURG -- Stuart Sternberg attended Thursday afternoon's Yankees-Rays game at Tropicana Field, and Tampa Bay's principal owner took a little time to hold court on a number of subjects.
Sternberg's message to this year's team: "I'm as proud of this group of guys. ... I'm as proud of this group as we've had up to this point. Obviously, they're not going to get to the postseason. They're not going to get to the World Series. ... They performed up to their capabilities, which is all you ask for as an owner."
On the job the front office has done assembling the team that could win 90 games: "A-plus, plus. I've said it. And I've been unwavering about it. And it's nice to see it come to fruition, because I know not just the hard work, but the bright work that's been done behind the scenes to get us to this point. And I think anybody who is close to the team, and from a far distance, would think you couldn't feel much better about the way we stand on the field and in the organization."
On the Rays' use of "openers" and what effect that will have on the rest of baseball: "What you're seeing now are teams at the top end of the spectrum and at the bottom who are both using the strategy. When that happens it generally pushes toward the middle. When you see our success -- I think our success, you see owners of other teams who are saying to their baseball guys, 'Hey, should we be doing that? Because they've had success.' And that's the way, quite frankly, a lot of things have happened."
On the progress of getting a new stadium built: "Things are moving along. It's one foot in front of the other to get things done. We're aware that time is starting to tick a little bit louder. I'm thrilled with the commitment and desire. ... We're just continuing with the process. We're obviously talking to Hillsborough [County]. And we're trying to come up with solutions, both obvious and creative, and out of the box, and in the box, and from the playbook and everything possible to try and give this thing the best chance of happening."
On whether Sternberg thinks Blake Snell should win the American League Cy Young Award: "Yes. If one of the other guys is my pitcher, and I saw what Blake had done in the division, with that many wins and an under-2.00 ERA, and taking the ball from Day 1 to the end with a lot of the cacophony that's gone around him, having to be the guy -- yeah."
On whether Kevin Cash should win the AL Manager of the Year Award: "Look, what's happened in Oakland has been stupendous. What our guy has done has been as difficult a job that's been asked of a manager and then delivering. ... And it's been incredibly successful. ... Having said that, Oakland's success is really something to marvel at this year."