Anibal caps spring feeling '100 percent' healthy
Tigers reliever Ryan gets surprise at-bat; Mayberry released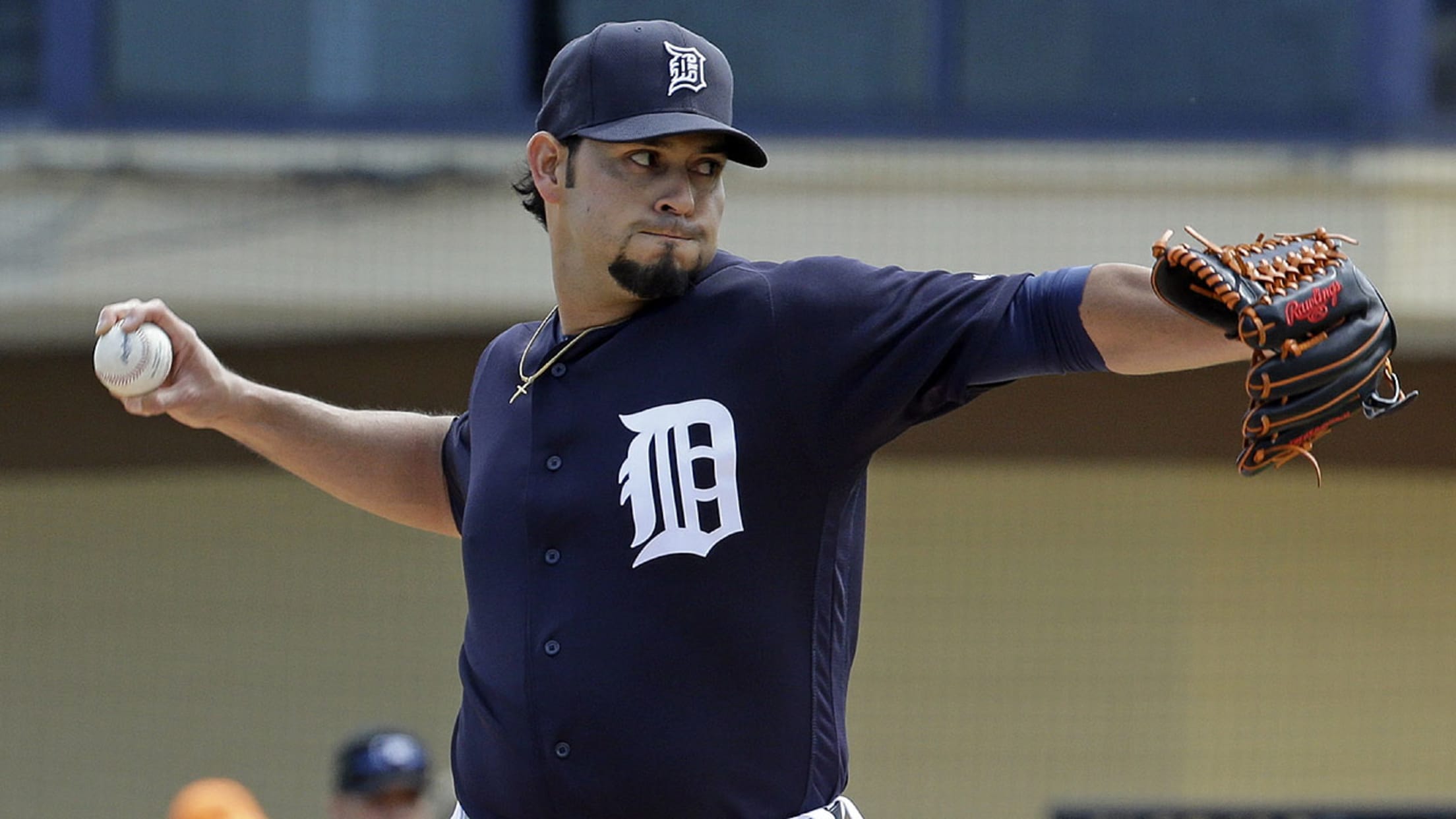 Anibal Sanchez: "My only goal is I want to be available every five days, 100 percent." (AP)
LAKELAND, Fla. -- Now that Anibal Sanchez has made it through Spring Training, he can admit it: He was a little bit worried, just like other folks."Yes, especially when I got my issue with the elbow early in Spring Training," he said. "I thought I wasn't going to be ready
LAKELAND, Fla. -- Now that Anibal Sanchez has made it through Spring Training, he can admit it: He was a little bit worried, just like other folks.
"Yes, especially when I got my issue with the elbow early in Spring Training," he said. "I thought I wasn't going to be ready for half of April or be in the fifth spot."
After 4 2/3 innings and 91 pitches in the Tigers' 9-4 win over the Rays on Friday at Joker Marchant Stadium, Sanchez isn't necessarily relieved, but he's thankful.
"Throwing 91 pitches in 4 2/3 innings, I don't like that. I'd like to be deeper with that kind of pitch count," he said. "But at the end, I feel healthy. Finally, I can say that. I feel really good, and I'm going into the first outing of the season 100 percent."
Triceps inflammation was the official injury, then a bronchial illness slowed his recovery. The combination left Sanchez out of Spring Training action from the opening days of camp until his first Grapefruit League start March 21. With three Spring Training outings, including a Minor League game, he was able to stretch out to 90 pitches, the threshold the Tigers had set for him to be ready to pitch the second game of the regular season next Wednesday at Miami.
"He should be ready to go, assuming he's fine tomorrow," manager Brad Ausmus confirmed.
Sanchez's strength was fine, he said. His command was off, evidenced more in the seven hits he allowed than the two walks. He left a few fastballs up in the strike zone early on, but settled in later. Tim Beckham got a fastball inside and hit it out for a two-run homer in a three-run second inning.
"I always say for pitches to work, you need to have really good location," Sanchez said. "Today I think my curveball and my changeup were working when I hit my fastball down in the zone."
He expects to work on that in the days before he takes the mound in a game that counts. The way his spring unfolded, he's thankful to be looking ahead to pitching on turn.
"My only goal is I want to be available every five days, 100 percent, ready to help the team and make a good game for me and for the team," he said.
Reliever Ryan gets an at-bat
The Tigers let Justin Verlander get ready for season-opening Interleague Play with a couple of at-bats last weekend, and they've let him take batting practice with the team this week in preparation for his Opening Day start. Kyle Ryan doesn't have any starts ahead as a lefty reliever, which made his appearance at the plate in the eighth inning Friday rather odd once he pitched the top half of the frame.
Ryan didn't know about it until he got to the dugout between innings.
"They said, 'You're done pitching, but you're going to get an at-bat,'" he said.
Ryan hit in the designated hitter spot for Victor Martinez, who had left the game. It wasn't a strategy move, Ausmus confessed, but a mix-up.
"When we took Vic out of the game, we thought we had one more hitter [on the bench]," Ausmus said. "Turned out we didn't. We tried to find someone on the Minor League side, but they had an early game today, so they were done."
What was supposed to be a token at-bat became more interesting when Ryan, using Andrew Romine's bat but under orders not to swing, drew a walk from Rays prospect Ryne Stanek. He slid into second base on a groundout and advanced to third on Romine's single.
Mayberry released; Triple-A roster set
The Tigers signed John Mayberry Jr. over the offseason with the idea of having the former Phillies and Mets slugger as insurance at first base in Triple-A Toledo. By the end of camp, they cut ties.
The Mud Hens revealed their Opening Day roster on Friday without Mayberry, whom the Tigers released. He's now a free agent open to any club.
Mayberry signed a Minor League deal with a non-roster invite to camp in January. He played in 19 games in big league camp -- going 5-for-42 with a home run, five walks and 13 strikeouts -- before being sent down last week. His release followed Casey McGehee's decision to re-sign with the Tigers on a Minor League deal.