Boyd allows first four KC batters to hit for cycle
Tigers lefty only fifth pitcher since 1913 to do so without recording an out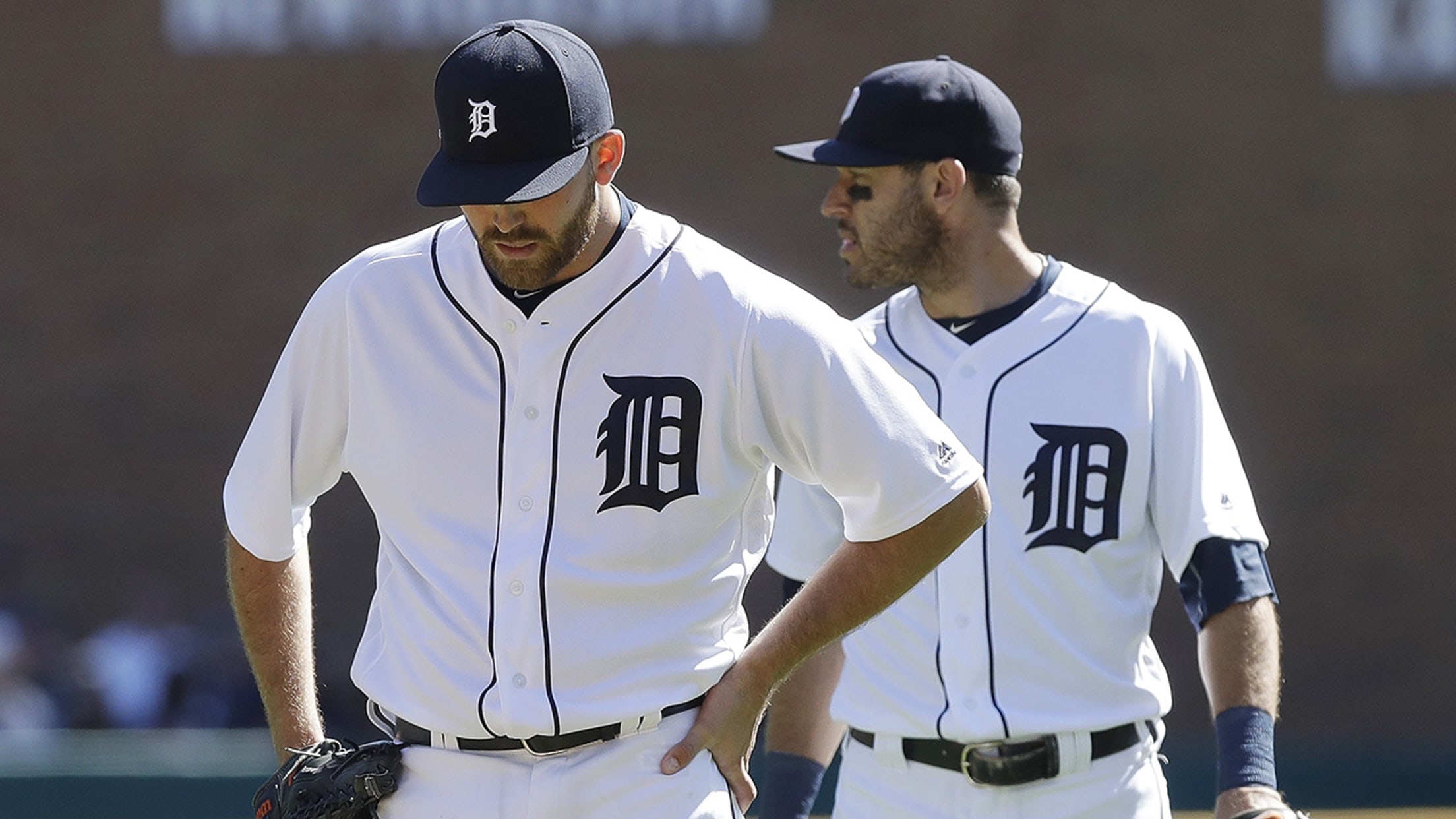 Matt Boyd (left) did not retire a batter Sunday, allowing four Royals runs on five hits. (AP) (Carlos Osorio/AP)
DETROIT -- While Matt Boyd emerged alongside Michael Fulmer and Daniel Norris in the Tigers' rotation, manager Brad Ausmus warned of the ups and downs young pitchers can take down the stretch. On Sunday, they downside hit Detroit hard.One day after the Royals spoiled the Tigers' playoff pursuit by rallying
DETROIT -- While Matt Boyd emerged alongside Michael Fulmer and Daniel Norris in the Tigers' rotation, manager Brad Ausmus warned of the ups and downs young pitchers can take down the stretch. On Sunday, they downside hit Detroit hard.
One day after the Royals spoiled the Tigers' playoff pursuit by rallying off closer Francisco Rodríguez, they put up their offensive onslaught at the start. Kansas City's first four batters combined to hit for the cycle off Boyd in a four-run first inning in Sunday's 12-9 Tigers loss at Comerica Park.
"The starter has the chance to set the tone, and I didn't do that," Boyd said.
According to baseball-reference, Boyd became the fifth Major League starter since 1913 to give up the cycle without recording an out, and the first since Montreal's Tomo Ohka gave up six runs on five hits against the Cubs on April 17, 2002.
The Royals' rally began with the first pitch of the game, which Billy Burns lined up the middle for a single. Whit Merrifield, starting at first base with Eric Hosmer off, worked the count full before sending a drive off the wall in right-center field for an RBI triple.
"Every pitch to hit was up," Boyd said. "Doesn't matter what it was. Just everything was up. I leave five pitches up, and all five got hit, and they didn't miss them."
Kendrys Morales, 8-for-11 for his career off Boyd, added to that with an RBI double to left as Blaine Hardy began to loosen in the Tigers' bullpen. Boyd put Salvador Perez in an 0-2 hole with back-to-back swings and misses, but Perez stayed alive by fouling off two pitches before connecting with a changeup on the outside corner, sending it deep to left for a two-run homer.
Earlier in the season, Boyd -- who tossed eight innings of one-run ball against Minnesota in his previous start -- probably would've had a longer leash to find his form. But with the Tigers fighting for a playoff spot, his day was done once Paulo Orlando lined a single to left off an 0-2 pitch.
"If this was June, I might have left him out there," Ausmus said, "and maybe he comes back in the second inning and he's fine. But at this point in the season, I couldn't wait to find out."
Said Boyd: "The margin for error is zero right now. I definitely could've fixed it, but I put myself in that hole. This is the time of year where every run counts, every game counts, and he can't let me work through it out there. And so, I understand. I've be sharper than that from the get-go."
Boyd threw 22 pitches, 17 of them for strikes, becoming the first Tigers starter to exit a game without recording an out for reasons other than injury since Nate Robertson in 2007.
"I don't know if it was mechanical today, to be honest with you," Ausmus said. "He wasn't out there that long that I could tell you if that was the cause. It could have been mechanical. It could have been an off-day. It could have been a young pitcher in a pennant environment.
"He didn't look like he was overamped. He looked under control. I don't think the emotions got the best of him. But I don't know if it was just an off -day or maybe an off inning."
Besides Ohka, the other three starters with such an outing on their resume are Boston's Reggie Cleveland in 1977, the Mets' Dennis Ribant on Sept. 23, 1966, and Cincinnati's Harry Perkowski on May 25, 1953.