Pelfrey mixes it up with cutter, with mixed results
Tigers righty trying to add to sinker-splitter arsenal, but can't control cutter vs. Nats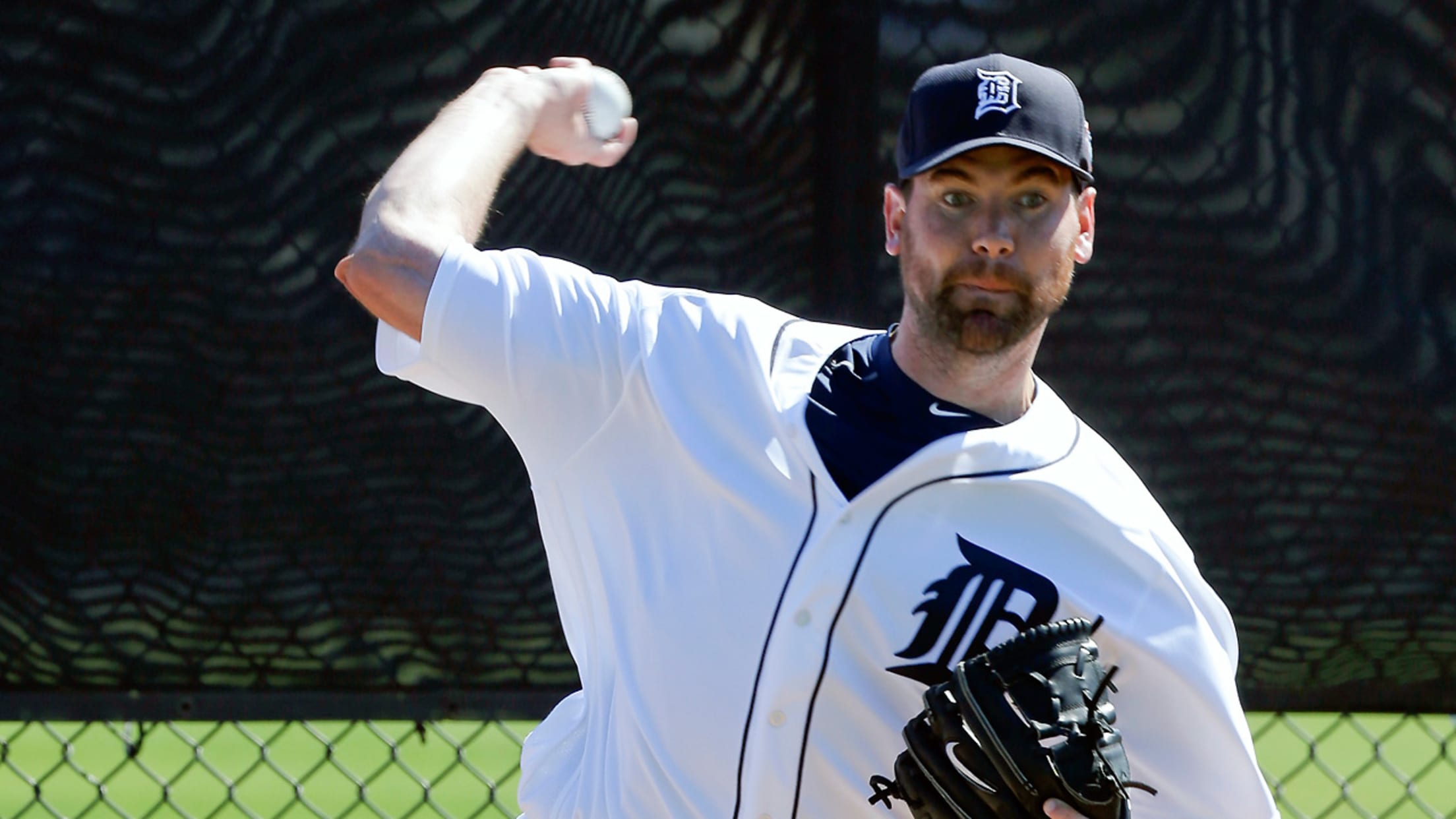 Mike Pelfrey walked two and threw 51 pitches -- just 26 for strikes -- over 1 2/3 innings vs. the Nationals on Wednesday. (AP)
LAKELAND, Fla. -- Mike Pelfrey is a sinkerball pitcher. No matter what happens the rest of his career, let alone this Spring Training, that won't change.What the Tigers are asking him to do this spring, however, is mix it up, adding fastballs and cutters to his sinker-splitter attack. The results
LAKELAND, Fla. -- Mike Pelfrey is a sinkerball pitcher. No matter what happens the rest of his career, let alone this Spring Training, that won't change.
What the Tigers are asking him to do this spring, however, is mix it up, adding fastballs and cutters to his sinker-splitter attack. The results of those pitches in his start Wednesday against the Nationals -- a 9-1 Detroit loss -- depend on the vantage point.
Pelfrey's cutter had movement. The Nationals' bats did not. As a result, Pelfrey threw 51 pitches -- and just 26 strikes -- over 1 2/3 innings, including two walks, five other full counts and two bases-loaded, full-count situations in as many innings.
"I wanted to work on my cutter, which I worked on this offseason, and throw more four-seamers," Pelfrey said. "And in 50 pitches or whatever, I threw maybe 25 of them, and maybe two strikes out of all of them. Terrible. It makes for a pretty long couple innings.
"... I thought [the cutters] were fairly good but I don't think I ever established it as a strike. I think most of them started as a strike and went off, but since I didn't establish it as a strike, I don't think they ever offered at it."
Or, as manager Brad Ausmus put it: "The action on the pitches was good. It's just the location wasn't there."
Pelfrey kept the ball down last year, but with no pitches to make hitters look up in the zone, opponents sat on pitches at the knees. Left-handed batters hit .351 (86-for-245) against him last year, while right-handed batters hit .312 (74-for-237).
Sinkers and splitters accounted for nearly 82 percent of Pelfrey's pitches last year, according to Statcast™.
"He's still going to use his two-seam and his split," Ausmus said. "We feel like adding to his arsenal will make him more effective, especially against left-handed hitters."
Pelfrey retired the first two batters in both innings, including two outs in his first three pitches. He gave up an infield single, a five-pitch walk and a hit-by-pitch to load the bases in the first and nearly lost Matt Skole to walk in a run, but escaped with a popout to second base.
Back-to-back singles and a five-pitch walk in the second loaded the bases with two outs for Michael Taylor, who fouled off four consecutive pitches on his way to a 3-2 count. Pelfrey tried to get his 51st pitch of the afternoon inside on him but missed over the plate; Taylor sent it back through the middle for a two-run single.
"And that's where coming in and not throwing enough strikes, enough quality strikes, comes into play," Pelfrey said.
That's also the catch of Pelfrey's situation. He needs to worry about mixing his pitches, but he also has to worry about competing for a job. He's trying to win his rotation spot back after Matt Boyd and Daniel Norris pitched well down the stretch last season. Pelfrey's $8 million salary this year guarantees him nothing.
"Obviously, when you're out there, you're working on things," Pelfrey said, "but you obviously want to get people out and you want to be successful. But I don't think I allowed myself [to do that] with not throwing for strikes. I wasted 25 pitches. I think reactions were fairly good on them, just didn't throw enough strikes."