Tigers' offense erupts against Norris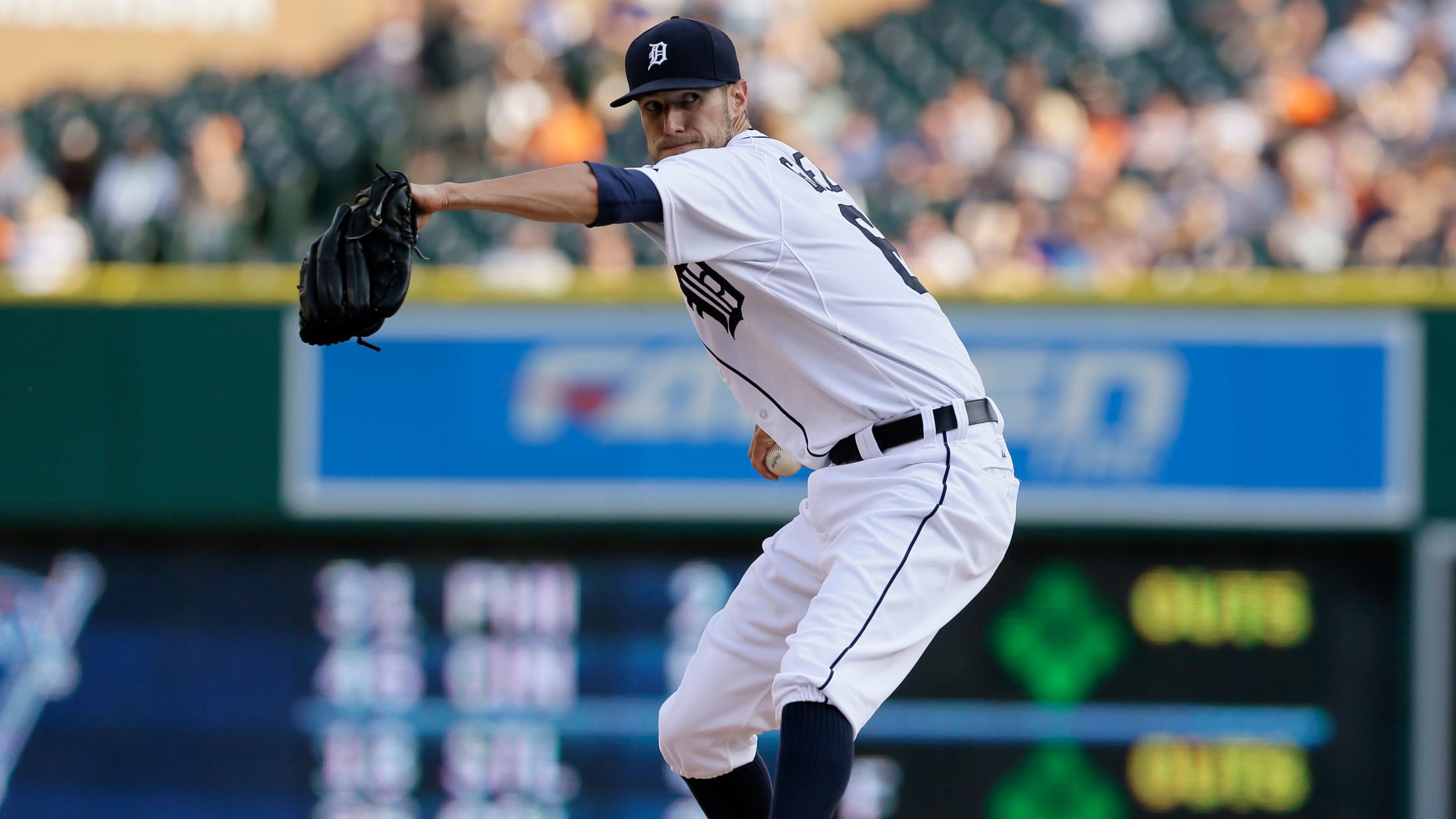 Shane Greene retired the final seven batters he faced and limited Atlanta to just three hits over five innings. (AP)
LAKE BUENA VISTA, Fla. -- It did not take long for the Tigers to further frustrate Bud Norris and provide Shane Greene a chance to comfortably navigate his way through the five solid innings he completed during Sunday afternoon's 8-2 win over the Braves at ESPN's Wide World of Sports
LAKE BUENA VISTA, Fla. -- It did not take long for the Tigers to further frustrate Bud Norris and provide Shane Greene a chance to comfortably navigate his way through the five solid innings he completed during Sunday afternoon's 8-2 win over the Braves at ESPN's Wide World of Sports complex.
Norris surrendered hits to six of the first seven batters he faced and then retired each of the next 11 batters he faced before encountering some more self-induced trouble in the fifth inning. The right-hander incurred most of his damage during Detroit's five-run first inning, which was highlighted by Tyler Collins' two-run triple.
"I had a good live fastball in the first inning, but I left a couple over the middle of the plate and they put some good swings on them," Norris said. "I talked to (catcher A.J. Pierzynski) after that half inning and got into a real rhythm there."
After being hit with a pitch to open the fifth inning, Ian Kinsler scored from first base on a throwing error that Norris committed after fielding Jose Iglesias' bunt single near the third-base line. Norris allowed six runs (five earned) and seven hits over 4 2/3 innings. He had allowed the Tigers six earned runs in just three innings on Tuesday. Iglesias went 3-for-4 and scored a run.
While Norris is projected to fill the second spot in the Braves' rotation, Greene is fighting for a job in the Tigers' rotation. But the Detroit right-hander enhanced his bid as he retired the final seven batters he faced and limited Atlanta to just three hits over five innings. Atlanta's only run during this span came courtesy of Michael Bourn's two-out triple in the second inning.
Jason Grilli provided the Braves an encouraging pitching development as he surrendered one hit during a scoreless sixth inning. The former Tigers reliever was making just his second appearance since rupturing his left Achilles tendon on July 11.
Cam Gibson, the son of Tigers icon Kirk Gibson, hit a two-run triple in the ninth inning.
Up next for the Tigers:Anibal Sanchez is scheduled to make his first start of the spring at 1:05 p.m. ET on Monday against the Phillies at Joker Marchant Stadium, and fans can listen to the action on Gameday Audio. The right-hander is recovering from triceps inflammation, and he likely won't throw much more than three innings or 45 pitches.
Up next for the Braves:Jeff Francoeur will attempt to strengthen his roster bid when Atlanta travels to Bradenton, Fla., to play the Pirates on Monday at 1:05 p.m. ET, and fans can listen via Gameday Audio. There is not a clear roster spot available, but the Braves might be willing to alter their plans to carry Francoeur, who would provide a right-handed bat off the bench. Rotation candidate Jhoulys Chacin will start for the Braves, who will also get another look at relievers Jim Johnson, Alex Torres and Carlos Torres.
Mark Bowman is a reporter for MLB.com.