Sunday's top prospect performers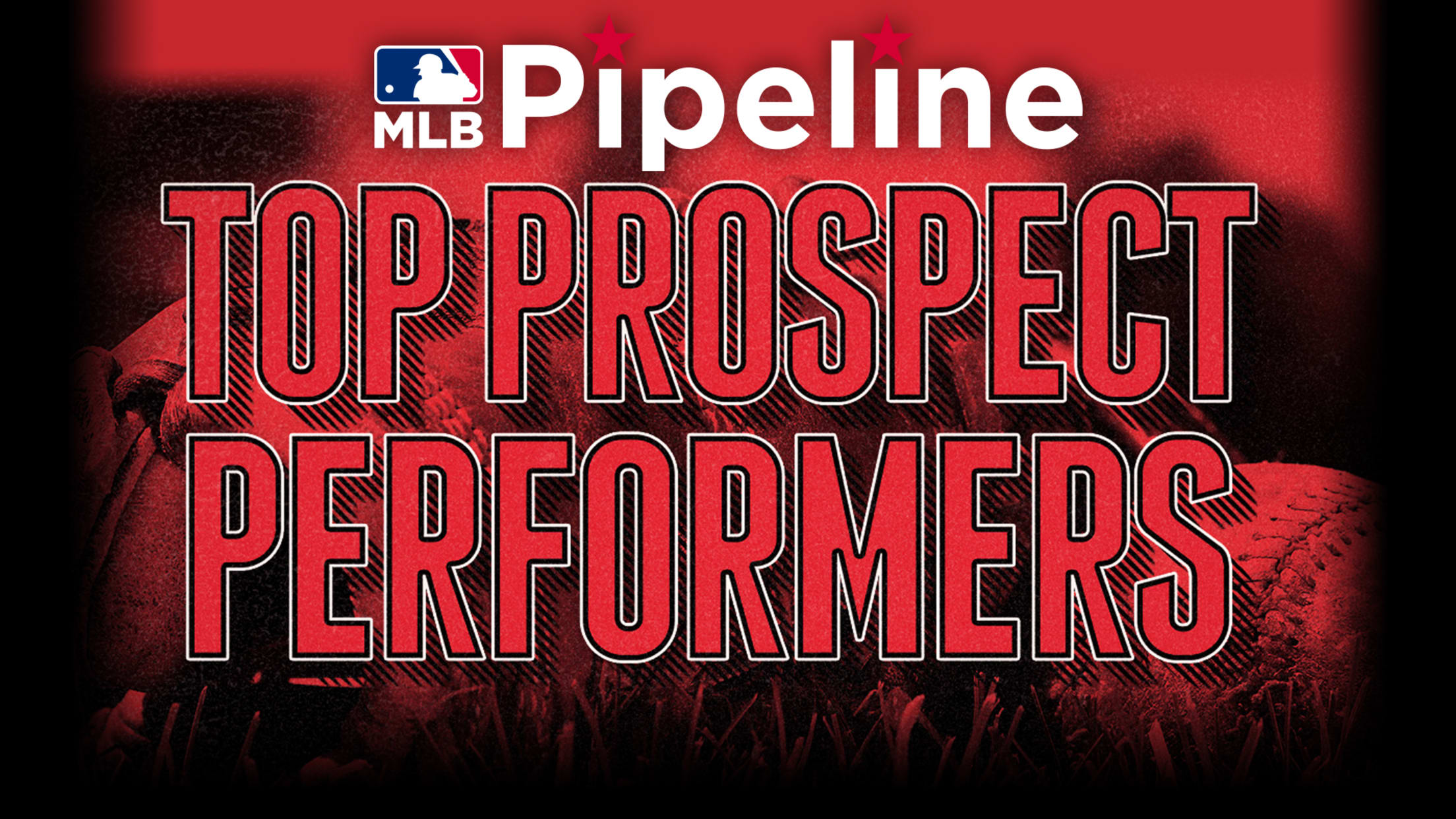 Here's a look at Sunday's top Minor League performers from each team's Top 30 Prospects list: AMERICAN LEAGUE EAST Blue Jays: Yennsy Diaz, RHP (No. 22) -- 6 IP, 2 H, 0 R, 2 BB, 7 K (Double-A New Hampshire) Taking over for Patrick Murphy on the mound in the
Here's a look at Sunday's top Minor League performers from each team's Top 30 Prospects list:
AMERICAN LEAGUE EAST
Blue Jays: Yennsy Diaz, RHP (No. 22) -- 6 IP, 2 H, 0 R, 2 BB, 7 K (Double-A New Hampshire)
Taking over for Patrick Murphy on the mound in the fourth inning, Diaz proceeded to spin six innings of two-hit ball, striking out seven, to earn the win for the Sea Dogs. The 22-year-old right-hander, who features a plus fastball and swing-and-miss slider, enjoyed his best month of the season in June, posting a 2.53 ERA across five starts, but was roughed up in his July opener before rebounding Sunday. Diaz's strikeout totals have regressed this season in Double-A, but he continues to be effective, inducing a lot of weak contact while working deep into starts. Blue Jays prospects stats »
Orioles: Ryan Mountcastle, 1B (No. 2, MLB No. 55) -- 2-for-5, 2B, RBI (Triple-A Norfolk)
Mountcastle's multihit performance was his second during his five-game hitting streak. The 22-year-old is batting .307 on the season, with 15 homers and 51 RBIs in 80 games. He's seen the bulk of his playing time at first base this season but also has added the outfield to his resume, making eight starts in left field. Orioles prospects stats »
Rays: Taylor Walls, SS (No. 19) -- 3-for-3, 3 R, 2B, 3B, BB (Double-A Montgomery)
Walls had a perfect day at the plate, notching three hits, including a double and a triple, while also reaching once via a walk in Montgomery's shutout of Tennessee. He came around to score three times, pacing the Biscuits' offense in a 5-0 win. Walls has done nothing but hit, get on base and swipe bags since the Rays selected him out of Florida State in the third round of the 2017 Draft. He's batting .279/.343/.413 with 20 steals across two levels this season, and sports a career line of .280/.368/.397 with 56 steals over 219 games. Rays prospects stats »
Red Sox: Marcus Wilson, OF (No. 21) -- 2-for-4, R, 2B, RBI (Class A Adv Salem)
Wilson hit a double and an RBI single before rain suspended Salem's matchup against Wilmington in the top of the eighth inning, tied 7-7. Acquired from Arizona on April 19 in the Blake Swihart trade, Wilson batted .161 with a .532 OPS over 19 games at Double-A Portland before moving down to Salem, where he's produced a vastly better batting line of .341/.416/.612 with seven homers in 40 games. Red Sox prospects stats »
Yankees: Albert Abreu, RHP (No. 3) -- 6 IP, 2 H, 0 R, 3 BB, 1 HBP, 6 K (Double-A Trenton); T.J. Sikkema, LHP -- 3 IP, 1 H, 0 R, 0 BB, 3 K (Class A Short Season Staten Island)
The good version of Albert Abreu showed up on Sunday, as the 23-year-old right-hander fired six scoreless frames of two-hit ball, striking out six in a win over Hartford. He still issued three walks and hit a batter, while throwing 57 of 92 pitches for strikes, but offset the free baserunners with strikeouts and weak contact. Overall, Abreu has registered a 3.82 ERA over 75 1/3 Double-A frames this season, striking out 70 with 46 walks. Down in the New York-Penn League, Sikkema faced two over the minimum with three strikeouts in three scoreless innings. It was the second career start for the 2019 Competitive Balance Round A pick, who's now fanned seven batters over six one-hit frames. Yankees prospects stats »
AMERICAN LEAGUE CENTRAL
Indians: Tyler Freeman, SS (No. 3, MLB No. 86) -- 2-for-4, R (Class A Adv Lynchburg)
Freeman is now batting .361 in the Carolina League after collecting multiple hits for the seventh time in his past 10 games. His hot start with Lynchburg follows an impressive first half in the Midwest League during which he slashed .292/.382/.424 with 22 extra-base hits and 11 steals in 61 games. Altogether, the 20-year-old shortstop, a Competitive Round Balance Round B pick in 2017, is a career .322/.392/.458 hitter in 184 games. Indians prospects stats »
Royals: Jeison Guzman, SS (No. 22) -- 2-for-4, HR, 4 RBI (Class A Lexington)
Guzman's first home run since June 20 was a second-inning grand slam that helped power Lexington past West Virginia, 6-5. The multihit performance, meanwhile, was his first in the past 11 games, a stretch during which he batted just .125, dropping his season average from .255 to .233. Royals prospects stats »
Tigers: Tarik Skubal, LHP (No. 17) -- 5 IP, 1 H, 1 R, (0 ER), 2 BB, 11 K (Double-A Erie)
Skubal matched his career high in strikeouts in his Double-A debut, taking a no-decision for Erie against Altoona. He retired the first eight batters of the game and didn't allow a hit until the fourth inning, when he was tagged for a run-scoring single after issuing a walk and committing a throwing error on a pickoff attempt. The 2018 ninth-round pick out of Seattle University previously struck out 11 batters on June 21 in one of his final starts for Class A Advanced Lakeland. The 22-year-old left-hander has been excellent in his first full-season campaign, pitching to a 2.43 ERA, 0.98 WHIP and 108/21 K/BB in 85 1/3 innings between levels. Tigers prospects stats »
Twins: Alex Kirilloff, OF (No. 2, MLB No. 13) -- 1-for-4, 2 R, HR, BB (Double-A Pensacola)
With a home run in his first at-bat on Sunday, Kirilloff has now gone deep twice in his past three games to increase his season total to four. The 21-year-old has been on a tear since returning from an IL stint in late June, hitting .321 with three homers and six doubles in 20 games. Kirilloff's slow start this season wasn't a huge surprise after he missed the first month of the season recovering from a wrist injury, and it's equally unsurprising that one of the best hitters in the Minor Leagues is beginning to heat up in earnest as he distances himself from the injury. Twins prospects stats »
White Sox: Steele Walker, OF (No. 10) -- 2-for-3, 2 R, HR, 2 RBI, 2 BB (Class A Adv Winston-Salem)
Walker's solo shot in the third inning was his sixth home run of the season, and he added an RBI single in the following frame in a game that saw him reach base four times for the Dash. The 2018 second-rounder had been scuffling a bit of late, going 2-for-14 over his past four games, but is having a strong first full season overall with a .296/.375/.468 line with 30 extra-base hits and 40 RBIs in 72 games across two levels. White Sox prospects stats »
AMERICAN LEAGUE WEST
A's: Brian Howard, RHP (No. 21) -- 6 IP, 6 H, 0 R, 0 BB, 5 K (Double-A Midland)
Howard has shown a knack for pitching deep into games during his career. He's completed at least six innings in five straight starts and 10 of his 18 turns this season en route to a Texas League-leading 104 2/3 innings pitched. What's more, the 6-foot-9 right-hander has allowed one earned run in his last 20 innings to lower his ERA to 2.75, which is the third-best mark in the league. A's prospects stats »
Angels: Jordyn Adams, OF (No. 5) -- 3-for-3, 3 R, 2B, 2 BB (Class A Burlington)
Adams, 19, was a catalyst for the Bees' offense on Sunday, reaching base five times out of the leadoff spot in Burlington's 5-3 win over Peoria. One of his three hits was a double, and he also reached twice via a walk. It's been a challenging first full season so far for the Angels' 2018 first-rounder, but all things considered he's held his own in the Midwest League, hitting .240/.326/.329 over 76 games. Angels prospects stats »
Astros: Brandon Bielak, RHP (No. 12) -- 6 IP, 4 H, 1 R, 1 BB, 8 K (Triple-A Round Rock)
After several rough outings following his promotion to Triple-A, Bielak has rebounded to allow five earned runs in 25 innings over his last four starts while allowing 15 hits and fanning 22. Selected by Houston in the 11th round of the 2017 Draft, Bielak operates with a four-pitch mix of average-or-better offerings and generally has good control, though he's struggled in that regard so far this season, issuing 33 walks in 72 2/3 frames across two levels. Astros prospects stats »
Mariners: Brayan Perez, LHP (No. 21) -- 5 IP, 3 H, 1 R, 0 BB, 7 K (AZL Mariners)
Perez has been sharp so far in his stateside debut, as Sunday's five-inning outing was his fifth in as many starts this season. The 18-year-old has given up just two earned runs in 20 innings across his last four starts after he was tagged for four runs in his season debut. Signed for $300,000 in July 2017, the 6-foot left-hander demonstrates good feel for throwing four pitches and has proved to be a strike-thrower early in his career. Mariners prospects stats »
Rangers: Sherten Apostel, 3B (No. 22) -- 2-for-5, HR, 2 RBI (Class A Hickory)
Apostel (6-foot-4, 200 pounds) is a big man with a lot of power, and those two things came together on Sunday as he blasted his 13th home run of the year in the Crawdads' win over Columbia. He hasn't shown the same plate discipline that he did in 2018, when he put together a .278/.420/.460 line with eight homers in 53 games across two levels, but the 20-year-old is hitting for more power while keeping his whiffs in check in his first full season. Rangers prospects stats »
NATIONAL LEAGUE EAST
Braves: Huascar Ynoa, RHP (No. 11) -- 7 IP, 2 H, 0 R, 0 BB, 4 K (Triple-A Gwinnett); Jasseel De La Cruz, RHP (No. 21) -- 6 IP, 4 H, 0 R, 2 BB, 10 K (Double-A Mississippi)
The pair of Braves right-handers dominated Sunday as they combined to give up just six hits while tossing 13 scoreless frames to earn the wins for their respective affiliates. Ynoa, 21, posted his first scoreless start at the Triple-A level, which is his third stop this season after stints with Class A Advanced Florida and the M-Braves. De La Cruz, who is also pitching at his third level already this season, racked up a career-high 10 strikeouts in six innings, throwing 66 of 99 pitches for strikes. The 22-year-old righty is enjoying a breakout campaign, as Sunday's outing gives him a 2.55 ERA with 95/35 K/BB and a .203 BAA in 95 1/3 innings on the season. Braves prospects stats »
Marlins: Joe Dunand, SS (No. 23) -- 2-for-4, 3 R, 3B, BB (Double-A Jacksonville)
Dunand reached base three times and came around to score on each occasion to match his season-high total in that category. The power that the former second-round pick (2017) showed last season -- when he hit 14 home runs and received a midseason promotion to Double-A -- hasn't been there for him in 2019, as he's gone deep only three times while slashing .238/.311/.322 over 84 games. Marlins prospects stats »
Mets: Mark Vientos, 3B (No. 4) -- 2-for-4, R, RBI, BB (Class A Columbia)
Folks were high on Vientos heading into this season after the 2018 second-rounder finished his pro debut on a tear in the Appalachian League, overcoming a slow start. Fast forward one year and it now looks as though slow starts might just be a thing with the 19-year-old third baseman, who's hitting .351/.422/.561 with two homers and 15 RBIs over his last 15 games after a .240/.286/.364 first half in the Midwest League. Mets prospects stats »
Phillies: There were no notable performances by Phillies prospects on Sunday.
Nationals: Telmito Agustin, OF (No. 10) -- 2-for-4, R, 2B (Class A Adv Potomac)
Agustin, 22, has taken a step back this year in his third straight season in the Carolina League, posting a .647 OPS in 75 games compared to .741 and .704 in the two previous years. But the 22-year-old's tools, including above-average speed and sneaky power potential from the left side, continue to make him an interesting prospect. Nationals prospects stats »
NATIONAL LEAGUE CENTRAL
Brewers: Tristen Lutz, OF (No. 4) -- 1-for-1, 2B, 2 RBI, 3 BB (Class A Adv Carolina)
Lutz had a rough first month of the season for a second straight year, batting just .182 with 30 strikeouts in 21 April games, but he's slowly turned it on as the season has unfolded and owns a .272 average with seven (of his nine) homers in 57 games since May 1. The 20-year-old outfielder has some swing-and-miss to his game and might not hit for much average, but there's a lot to like when projecting his blend of right-handed power and on-base skills at any outfield position. Brewers prospects stats »
Cubs: Trent Giambrone, INF (No. 20) -- 2-for-5, HR, 3 RBI (Triple-A Iowa)
With every home run Giambrone hits, he's adding to his career-high total. The 25-year-old infielder -- a 25th-round pick in 2016 out of Delta State -- has gone deep 19 times in 84 games this year after homering 17 times in 116 games during his breakout 2018 campaign. He's going to see time in the big leagues sooner or later; but with 19 homers and 13 steals, a 20/20 season is a possibility once again after coming up short (17/26) last year. Cubs prospects stats »
Cardinals: Randy Arozarena, OF (No. 14) -- 2-for-4, RBI (Triple-A Memphis)
Arozarena has collected multiple hits in 11 of 25 games since being promoted to Triple-A, slashing a ridiculous .388/.445/.561 with 38 hits in that span after a .309/.422/.515 performance in Double-A. The big change with the 24-year-old's game this year is his approach at the plate -- an area where he lacked in previous years. The tools and bat-to-ball skills have always been there, so the newfound plate discipline is a very positive development. Cardinals prospects stats »
Pirates: There were no notable performances by Pirates prospects on Sunday.
Reds: Jose Siri, OF (No. 9) -- 3-for-4, RBI, 2 SB (Double-A Chattanooga)
Siri has swiped at least 20 bases in four straight seasons after he reached the mark with a pair of steals Sunday. He also recorded three of the Lookouts' five hits, one of which was a third-inning single that plated a run. He promptly swiped both second and third base, making him 20 for 25 on the basepaths in 2019. Reds prospects stats »
NATIONAL LEAGUE WEST
D-backs: Corbin Carroll, OF -- 2-for-4, HR, 3 RBI, BB (AZL D-backs); Matt Peacock, RHP (No. 30) -- 7 IP, 3 H, 1 R, 1 BB, 8 K (Double-A Jackson)
Carroll, the D-backs' first-round pick from this year's Draft, finished his week with his first career home run -- a three-run shot in the first inning. Touted as one of the best overall hitters in his class, the 18-year-old is batting .308/.400/.487 through his first 11 pro games. Peacock tossed seven innings en route to a win for a second straight start and did so while setting a season high in strikeouts. He also recorded eight groundouts, which is the 25-year-old's jam. A year ago, logging 98 2/3 innings between two levels, Peacock posted the highest ground ball rate among all Minor League pitchers (min. 90 IP). Unsurprisingly, Peacock also does a good job keeping the ball in the park, having allowed 14 homers in 192 1/3 innings (0.7 HR/9) in his career. D-backs prospects stats »
Dodgers: Josiah Gray, RHP (No. 17) -- 7 IP, 6 H, 1 R, 1 BB, 6 K (Class A Adv Rancho Cucamonga)
That's now eight straight games in which Gray, who came over from the Reds in the offseason Yasiel Puig trade, has allowed two earned runs or fewer while completing at least five innings -- a stretch that began on May 29. After a brief stop in the Midwest League to open the season, the 21-year-old has moved up to the hitter-friendly California League and is dominating, going a 6-0 with a 2.39 ERA over 11 starts. He's compiled 99 strikeouts against 19 walks in 83 2/3 frames between the two levels. Dodgers prospects stats »
Giants: Seth Corry, LHP (No. 25) -- 5 IP, 2 H, 0 R, 0 BB, 7 K (Class A Augusta)
Corry has been really good lately because he hasn't issued many walks, something that's plagued him in 2019 ... and really in his career to date. He didn't issue a walk for the first time in 17 starts this season Sunday which follows another scoreless outing in which he issued a single free pass. Even with the control issues (43 BB), the 20-year-old lefty has been very good this season in the South Atlantic League, working to a 2.19 ERA with 98 strikeouts and a .177 opponents' average over 70 innings.
Giants prospects stats »
Padres: Hudson Potts, 3B (No. 10) -- 2-for-5, HR, 2 RBI (Double-A Amarillo)
Potts' home run Sunday, a go-ahead two-run shot in the seventh inning, was his first since he returned from an IL stint (and subsequent rehab assignment in the Arizona League) on June 30. Potts has been a slow start in previous years, so don't be surprised if he turns it on during the second half now that he's healthy. Padres prospects stats »
Rockies: Sam Hilliard, OF (No. 9) -- 2-for-3, HR (Triple-A Albuquerque)
At a hulking 6-foot-5, 238 pounds, Hilliard has massive raw power -- and he's going off in the Pacific Coast League this season. He's up to 24 home runs in 86 games for the 'Topes, good for a share of fourth place in the PCL. With 16 steals, he's a candidate for a 20/20 season, which would be his second after he achieved the feat back in 2017 (21 HR, 37 SB). Rockies prospects stats »