Turner, Glasnow among top prospect performers Wednesday
Nationals' No. 2 fills out stat sheet in win; top Pirates prospect unhittable once again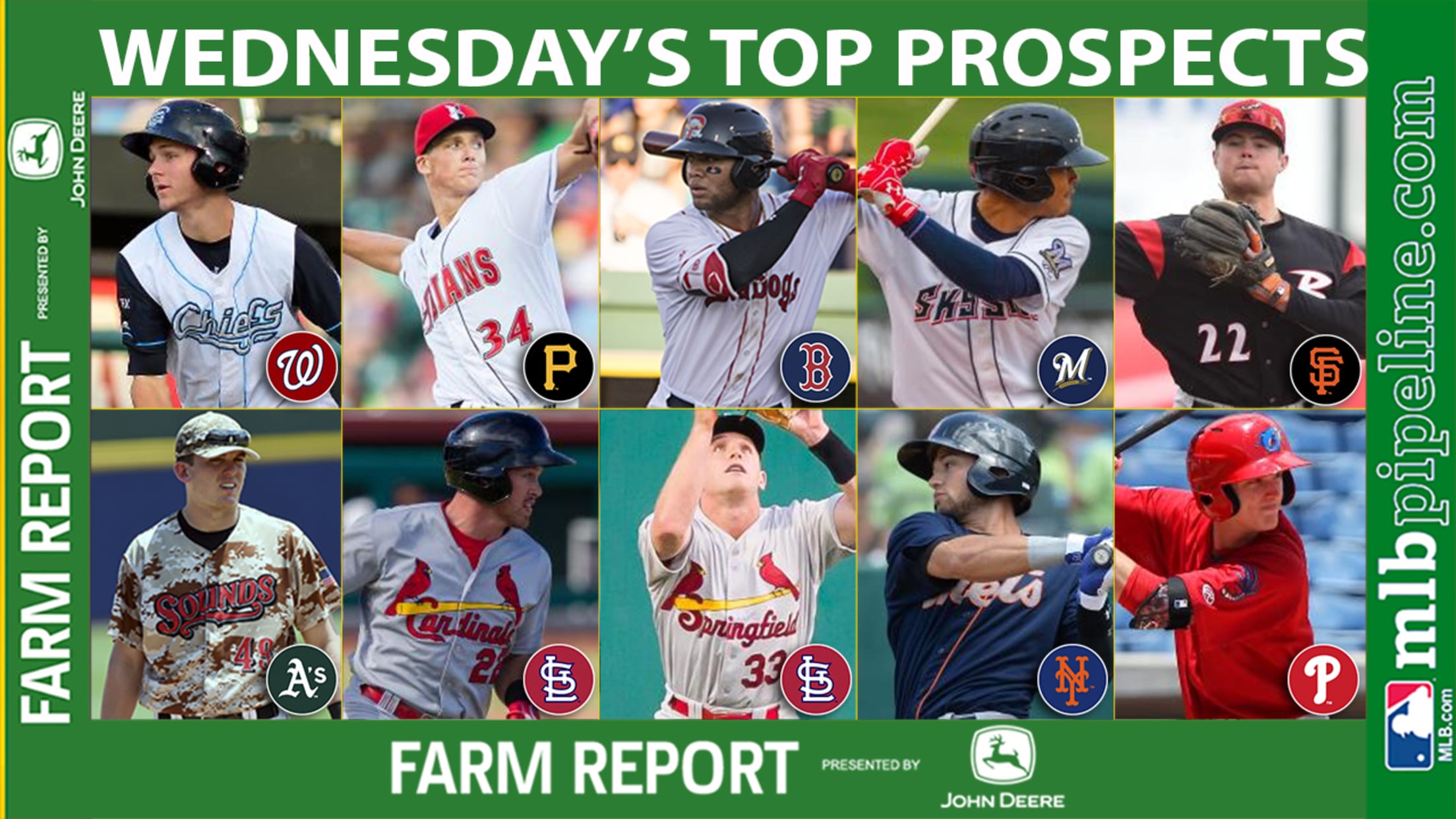 (Paul Sancya/AP)
Trea Turner can do it all, and he put the bulk of his skill set on display in Triple-A Syracuse's 6-4 win over Pawtucket on Wednesday. Turner, hitting .292 in 67 games, drew two walks and went 2-for-4 with a double, a triple and three RBIs.The Nationals' No. 2 prospect
Trea Turner can do it all, and he put the bulk of his skill set on display in Triple-A Syracuse's 6-4 win over Pawtucket on Wednesday. Turner, hitting .292 in 67 games, drew two walks and went 2-for-4 with a double, a triple and three RBIs.
The Nationals' No. 2 prospect (No. 9 overall) brought in a run when he drew a bases-loaded walk in the second inning, then later delivered the game's decisive blast, a two-run double in the top of the ninth.
MILB Video - Title: More information - Url: http://www.milb.com/r/video?content_id=846793183
Turner has performed well overall this year, but the 22-year-old is hitting just .229 in June, the lowest he's hit in any month of his professional career.
However, Turner may be starting to catch fire once again. The shortstop went 0-for-6 in a double header Tuesday, but prior to then he had five hits over his past 15 at-bats.
The rest of the best performances from top prospects Wednesday:
• Yoan Moncada (Red Sox No. 1) appears to be adjusting just fine to life at the Double-A level. The No. 5 overall prospect went 3-for-5 with a double and two RBIs in his second game with Portland. Moncada was promoted to Double-A after hitting .307 in 61 games with Class A Advanced Salem.
• For the second time in as many starts, Tyler Glasnow (Pirates' No. 1, No. 8 overall) left his start without allowing a hit. The right-hander struck out eight and fired seven no-hit innings for Triple-A Indianapolis, but he was pulled because he walked five and had thrown 102 pitches. Glasnow has not given up a hit over his last 13 innings and hasn't allowed an earned run in 21 consecutive frames.
MILB Video - Title: More information - Url: http://www.milb.com/r/video?content_id=846582483
• Orlando Arcia (Brewers' No. 1, No. 4 overall) went deep in both games of a doubleheader and now has six home runs for Triple-A Colorado Springs. The pair of homers, Arcia's first since May 23, were his only hits on the day as he went 2-for-8 with five RBIs.
MILB Video - Title: More information - Url: http://www.milb.com/r/video?content_id=846717783
• June has been good to Giants No. 1 prospect Christian Arroyo (No. 73 overall), who is hitting .324 for the month. The 21-year-old went 3-for-5 for Double-A Richmond, extending his hitting streak to six games.
• Athletics' No. 16 prospect Ryon Healy continues to rake. The 24-year-old had another multi-hit game, going 2-for-3 with a double to raise his average to .346 in his 33 games since being promoted to Triple-A Nashville.
• Charlie Tilson (Cardinals' No. 9) took full advantage of Triple-A Memphis' doubleheader, going 5-for-9 with a homer, five runs scored and two RBIs.
MILB Video - Title: Watch: Tilson homers - Url: http://www.milb.com/r/video?content_id=848101883
• Triples aren't typically a part of Harrison Bader's game, but that sure didn't stop the Cardinals' No. 10 prospect from racing to third Wednesday night for Double-A Springfield. Bader entered the game with two triples on the year and four in his career, but he went 3-for-5 with a pair of triples in the game.
MILB Video - Title: Watch: Bader drives in run - Url: http://www.milb.com/r/video?content_id=848105983
• L.J. Mazzilli (Mets' No. 24) stole his fifth base and notched his third three-hit game in a 3-for-5 performance for Double-A Bimghamton.
• Another three-hit game for Phillies' No. 14 prospect Carlos Tocci. The center fielder hit a pair of doubles and went 3-for-5 with a run and two RBIs for Clearwater, marking his third three-hit night in the past five contests.
• Ben Lively (Phillies' No. 30) is turning into an innings eater for Triple-A Lehigh Valley. The former fourth-round selection (2013) has completed seven innings in three consecutive starts. Lively led the IronPigs to a 2-1 win over Norfolk with seven innings of one-run ball. He struck out four and gave up just three hits and a walk.
• Myles Jaye has settled into a nice rhythm for Double-A Erie. The Tigers' No. 24 prospect gave up one run on three hits in seven innings, marking his fourth consecutive quality start. Jaye also lowered his ERA to 3.97, marking the first time he's had a sub-4.00 ERA since his first start on the year, April 8.
• Miguel Andujar (Yankees' No. 15) went 4-for-8 as Double-A Trenton split a doubleheader with Bowie. The 21-year-old got off to a slow start in the first game, but he collected a trio of hits in the second contest and is now hitting .310 seven games since being promoted to Double-A.