Astros trio visits kids at Urban Youth Academy
Rasmus, Kemp and Sipp give tips on field, emphasize education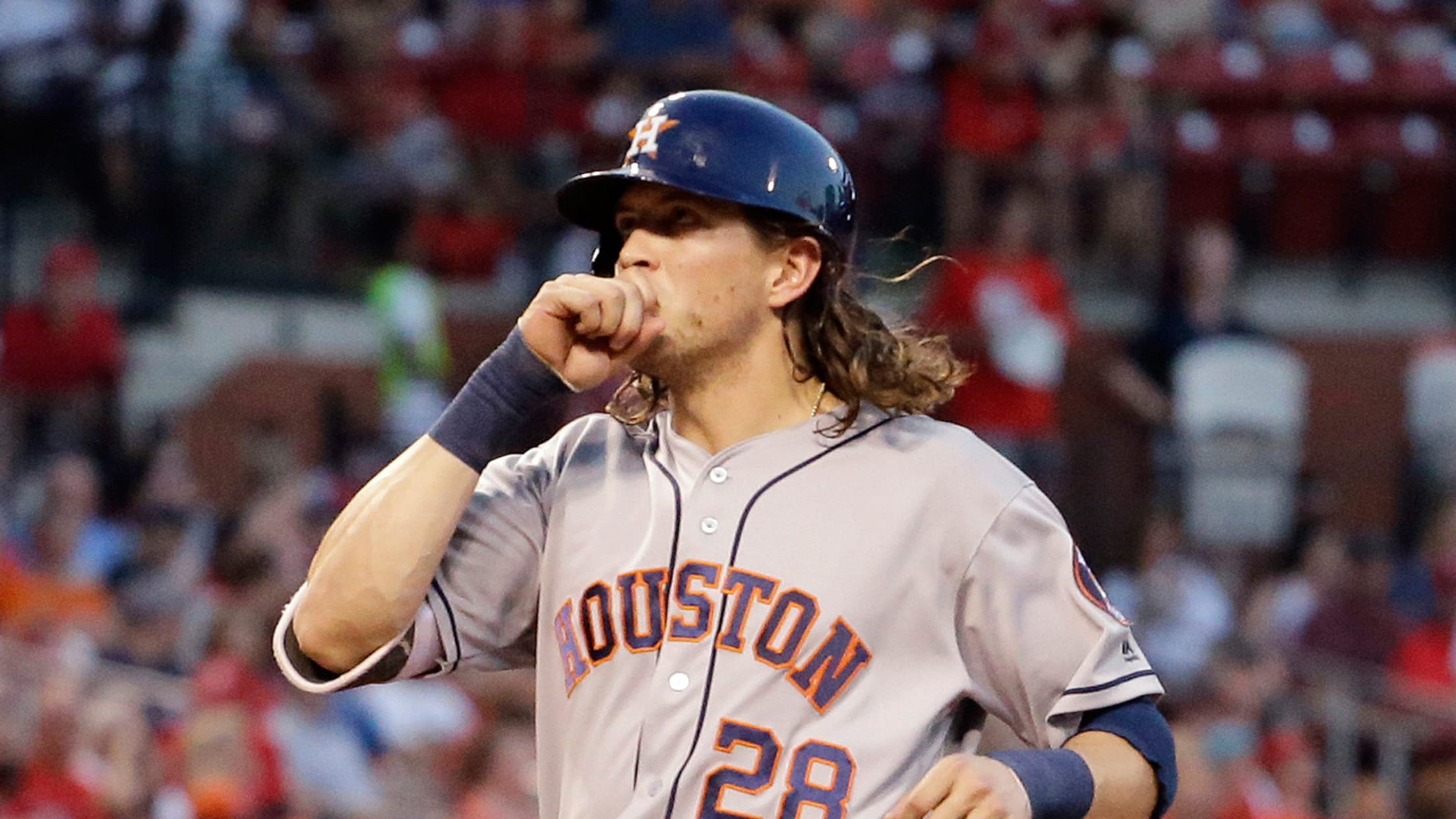 Along with Tony Kemp and Tony Sipp, Colby Rasmus spent time with children at the Astros Youth Academy on Friday. (Jeff Roberson/AP) (Jeff Roberson/AP)
HOUSTON -- Colby Rasmus, Tony Kemp and Tony Sipp, as well as Astros third-base coach Gary Pettis, made quite an impression Friday morning at the Astros Urban Youth Academy."They didn't know who we were at first, but then we put the jerseys on and they were like, 'Wow, those are
HOUSTON -- Colby Rasmus, Tony Kemp and Tony Sipp, as well as Astros third-base coach Gary Pettis, made quite an impression Friday morning at the Astros Urban Youth Academy.
"They didn't know who we were at first, but then we put the jerseys on and they were like, 'Wow, those are Major League players,'" Kemp said. "It's cool to see how happy they are and all the energy they have."
More than 140 campers were on hand as the Astros players spent a short period working with the participants in groups for on-field instruction, followed by a session where the players addressed the campers, emphasizing the importance of education.
The campers were excited about the players' presence, even though not everyone was familiar with Rasmus, Kemp and Sipp. That included 13-year-old Shaltiy-el Jackson, who has only been a member of the Astros Urban Youth Academy for five days.
"I didn't know who they were, but it means a lot because they're in the [Majors] and I'm just starting out," Jackson said.
• Astros Urban Youth Academy information
The Astros' trio came out on Friday and spent a little more than an hour with the campers.
"One thing that we do pride ourselves [on], we try to give back and try to motivate whatever way possible," Sipp said. "What they have out here with the Urban Youth Academy makes it easy, because they already have a structure and all we have to do is show up and donate our time. They already have a plan for the kids, which makes it easier for us to give back."
The kids, ages 7-17, were definitely excited being around the Major Leaguers, and they picked up on some pointers.
"Where else are you going to meet Colby Rasmus at? That's just awesome," said 11-year-old Braybron Williams. "It's really cool, because when we come out here a lot of kids don't know anything, but when we leave we're one of the best. They teach us how to get our form right. They teach us everything we need to know."
The Major Leaguers enjoyed the interaction with the kids as well.
"It was a pleasure today," Rasmus said. "I hoped we gave them the love and attention to maybe make them feel a little better in their day and maybe some tidbits to help them. I played [baseball] from the time I was little. Many times during the summer in the heat, and that's the only way to get good and learn the game and learn how to up your game.
"To be able to have players like us come out and hopefully to share some information that may be able to help them and feel good about what they're doing, it's just an awesome thing what the Astros do, and I'm just proud to be part of it."
Sipp said he wished he had something like the Youth Academy to attend when he was growing up in Mississippi.
"Today, I was a pitcher, let them hit me out of the park." Sipp said. "Just to bring fun and energy and give them something positive to do in the summer instead of having that idle time. It gives them a chance to be productive and it gives us a chance to be kids again. Which is fun for us."
Kemp, who grew up in Tennessee and played at Vanderbilt, delivered an impressive speech to the kids. He stressed the importance of having an education by demonstrating it's easier to stand on a piece of paper -- signifying a college degree -- than standing on a baseball or softball. Kemp put on the demonstration that showed the importance of school with the assistance of two volunteers among the campers.
Softball represented sports in life, and the book represented education. The camper standing on a book had a much easier go of it than the camper trying to balance on a softball.
"I wanted to say how much education is important as you grow up, because you're one injury away from needing your education," Kemp said. "Stay in school and always try hard in school."
Added Sipp: "I just wanted to give them something, some kind of goals that are attainable. To see us and what we've been through ... try to motivate them however we can."
The Astros Urban Youth Academy, which opened in 2010, is run by the Astros Foundation. It provides at no cost, baseball and softball instruction with a focus on serving inner-city youth. The Academy offers a variety of programs, not only for baseball and softball, but an educational component as well, including tutoring and SAT and ACT preparation.
"We're not trying to produce Major League players, but we want to create major league people," said Duane Stelly, assistant to Daryl Wade, the director of the Astros Urban Youth Academy. "We want to create those kids that become viable citizens in the community."