Gibson to start Grapefruit League opener
Righty has worked on new delivery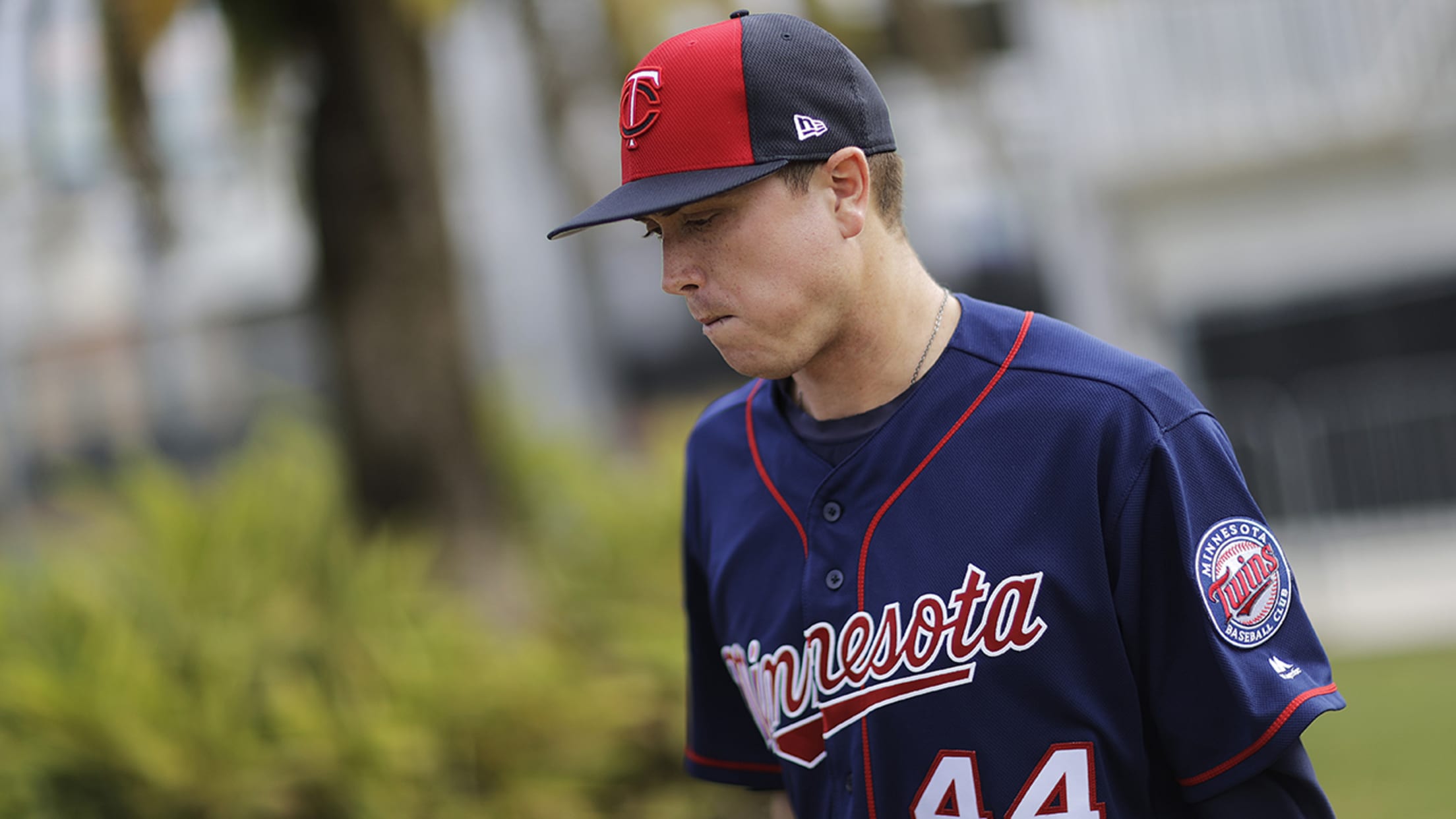 Kyle Gibson struck out two in 1 2/3 scoreless innings on Friday. (David Goldman/AP) (David Goldman/AP)
FORT MYERS, Fla. -- Right-hander Kyle Gibson will start the Grapefruit League opener for the Twins against the Rays at Hammond Stadium on Friday night, and fellow right-hander Phil Hughes will start the second game of the spring against the Red Sox at JetBlue Park on Saturday.Gibson, who spent the
FORT MYERS, Fla. -- Right-hander Kyle Gibson will start the Grapefruit League opener for the Twins against the Rays at Hammond Stadium on Friday night, and fellow right-hander Phil Hughes will start the second game of the spring against the Red Sox at JetBlue Park on Saturday.
Gibson, who spent the offseason re-working his throwing delivery, will be followed by relievers Brandon Kintzler, Taylor Rogers, Matt Belisle, Justin Haley, Player Page for Buddy Boshers, Nick Tepesch and Michael Tonkin. Haley, a Rule 5 Draft pick, will have a better chance to make the roster as a reliever.
Hughes will be followed by Tyler Duffey, Ryan Vogelsong, Adalberto Mejia, Thomas Pressly, Ryan O'Rourke, J.T. Chargois and Alex Wimmers. Of that group, Duffey, Vogelsong and Mejia are expected to be stretched out as starters this spring to compete for the final spot in the rotation along with other candidates such as Trevor May and Jose Berrios.
The first game will be a test for Gibson, who turned to unconventional methods to get ready for the season. Gibson began throwing with weighted balls and a large balloon-looking ball called a "connection ball" that rests on his shoulder as part of his warmup routine.
A look at @kgib44 and part of his new throwing program. #MNTwins pic.twitter.com/FhzIocDTc4

— Dustin Morse (@morsecode) February 19, 2017
Gibson, coming off a year in which he posted a 5.07 ERA, was looking for a way to relieve some of the pressure on his shoulder and his back as part of his delivery, as he received treatment on his back throughout last season.
At the advice of one of his coaches at the University of Missouri, Gibson reached out to Randy Sullivan, who runs the Florida Baseball Ranch in Plant City, which is located about two hours north of Fort Myers.
The training method seemed unorthodox, but Gibson was willing to give it a try and he believes it corrected his throwing motion, getting a more consistent release point and not allowing his arm to rebound as much after he throws.
"I'm hoping it helps me build a strong foundation to start the year," Gibson said. "My throwing program is a lot different. I'm trying to clean up my arm action to be a little more efficient and use my lower body a little more."
WORTH NOTING
• Closer Glen Perkins, coming off left labrum surgery, is scheduled to throw his third bullpen session of the spring on Wednesday. Left-hander Mason Melotakis remains slowed by an oblique strain and has yet to resume throwing after a setback last week.
• Twins manager Paul Molitor said Puerto Rico teammates Hector Santiago and Berrios will each make two starts before leaving for training in Arizona on March 6. The goal is to have them both up to 45 pitches by the time they leave camp.
• Haley faced a tough group in batting practice, throwing against Joe Mauer, Miguel Sano and Robbie Grossman, but fared well. Molitor watched him throw, and came away impressed by his delivery, which has some deception to it.
"You see the crossfire that he brings even just getting loose," Molitor said. "You want to see how it plays and what it looks like on hitters but there's stuff and there's funk."
• The Twins held their annual meeting with the Players Association with executive director Tony Clark on hand to speak with the players about any questions they have. Clark was joined by former Twins player and St. Paul native Dave Winfield, who spent much of the time talking with Byron Buxton.
Clark said the players mostly had questions about changes to the new Collective Bargaining Agreement, and that there are some rule changes being discussed with Major League Baseball, but it's likely too late to make any major changes before the season begins.