Dozier, Sano, Suzuki hit solo homers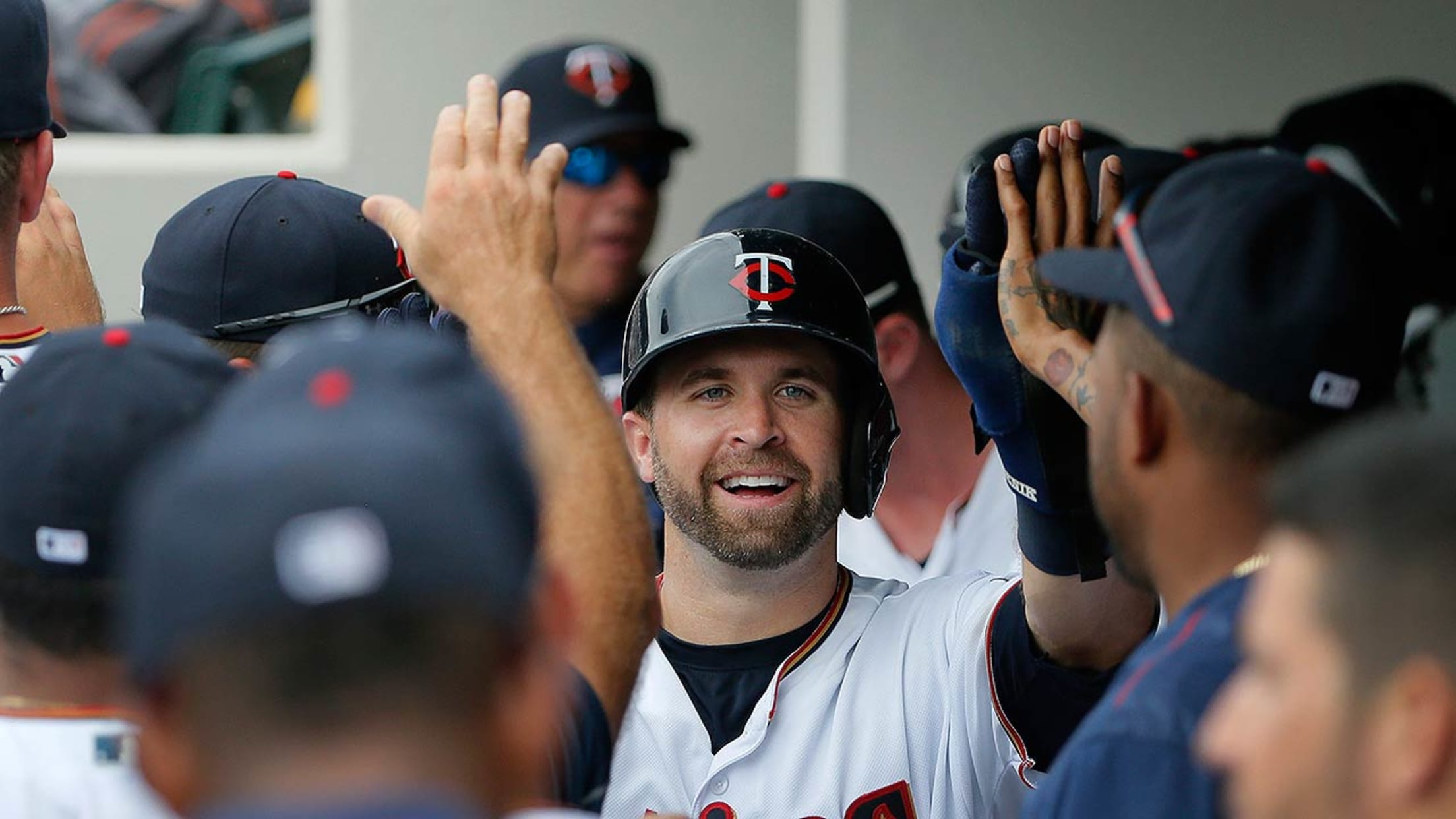 Brian Dozier swatted Joe Kelly's first offering over the left-field wall. (AP)
FORT MYERS, Fla. -- Brian Dozier, Miguel Sano and Kurt Suzuki each homered to help lift the Twins to a 6-2 win over the Red Sox in a rain-shortened game on Tuesday at Hammond Stadium.Dozier led off the first with a solo homer on the first pitch from Red Sox
FORT MYERS, Fla. -- Brian Dozier, Miguel Sano and Kurt Suzuki each homered to help lift the Twins to a 6-2 win over the Red Sox in a rain-shortened game on Tuesday at Hammond Stadium.
Dozier led off the first with a solo homer on the first pitch from Red Sox right-hander Joe Kelly before Sano launched a mammoth dinger that cleared the boardwalk area in left field two batters later. Suzuki later added a solo home run of his own in the fourth. Suzuki, who had five homers last season, is now tied for team lead with four homers this spring, while Dozier has three and Sano has two.
"We got off to a good start with Dozier and then Miguel hitting a high changeup," Twins manager Paul Molitor said. "[Sano] really has a good approach, and his strike-zone knowledge is impressive for how youthful he is."
Kelly mostly struggled, allowing four runs on eight hits and two walks over four innings, but he did strike out four. He finishes Grapefruit League play with a 2.63 ERA.
"Just a couple mistake pitches," said Kelly. "Obviously the leadoff homer. The first pitch of the game I threw a fastball down the middle and he jumped the gun. When we play him in the regular season and I match up, he's definitely not going to get that pitch. But the homer was a righty-righty changeup I just left up to Sano. And the pitch that Suzuki hit out was a pretty good fastball in. He was probably just sitting fastball cheating, put a good swing and hit a homer."
Red Sox manager John Farrell was impressed with Kelly's outing.
"He had great stuff today -- power to his fastball, he was down in the strike zone quite a bit," Farrell said. "Made some pitches up, out over the plate that, when you look at the first pitch of the game, Dozier rides one out of here. But power stuff. Not as efficient as the first two, three times out for him. Still, we got him to 90-plus pitches on a day when you're getting close to Opening Day and you want to get close to 100 pitches. We were able to do that today."
Left-hander Tommy Milone started for the Twins, going six innings, surrendering two runs on five hits and two walks with three strikeouts. Milone, who won the competition to be Minnesota's No. 4 starter, finishes the spring with a 2.57 ERA.
The Red Sox scored both of their runs against Milone in the third, when Mookie Betts and Brock Holt singled with one out. After a wild pitch from Milone, Chris Young brought home Betts with a sacrifice fly before Hanley Ramirez scored Holt on an RBI single to right.
Sano paced the offense for the Twins, going 3-for-4 with three RBIs. He had an RBI single in the fourth to score Dozier and added another RBI single in the sixth off Red Sox closer Craig Kimbrel to bring home Byron Buxton.
Twins closer Glen Perkins also saw action, throwing a scoreless seventh inning and getting helped by a double play.
The game was called with one out in the seventh with Junichi Tazawa on the mound for the Red Sox. Juan Centeno plated a run with an RBI groundout, and the game was called with Oswaldo Arcia at the plate.
Up next for the Red Sox: Ace David Price will make his final tune-up for Opening Day when he pitches a split-squad game in Bradenton, Fla., against the Pirates on Wednesday at 1:05 p.m. ET. Blake Swihart, Pablo Sandoval, Betts and Rusney Castillo will make the trip. Ramirez, Dustin Pedroia, Xander Bogaerts and David Ortiz will be among the regulars who travel to Port Charlotte to face the Rays at 1:05 p.m. John Farrell will manage in Port Charlotte, with bench coach Torey Lovullo going to Bradenton. Both games will air on MLB.TV.
Up next for the Twins: Right-hander Ervin Santana, Minnesota's Opening Day starter, is set to make his final tune-up of the spring on Wednesday, as he gets the start against the Blue Jays in a 12:05 p.m. CT game that will air on MLB.TV. Santana has been impressive this spring with a 1.13 ERA. Other pitchers scheduled to throw include Trevor May and Ryan Pressly.