Sunday's best: Garver hits three homers in win for Rochester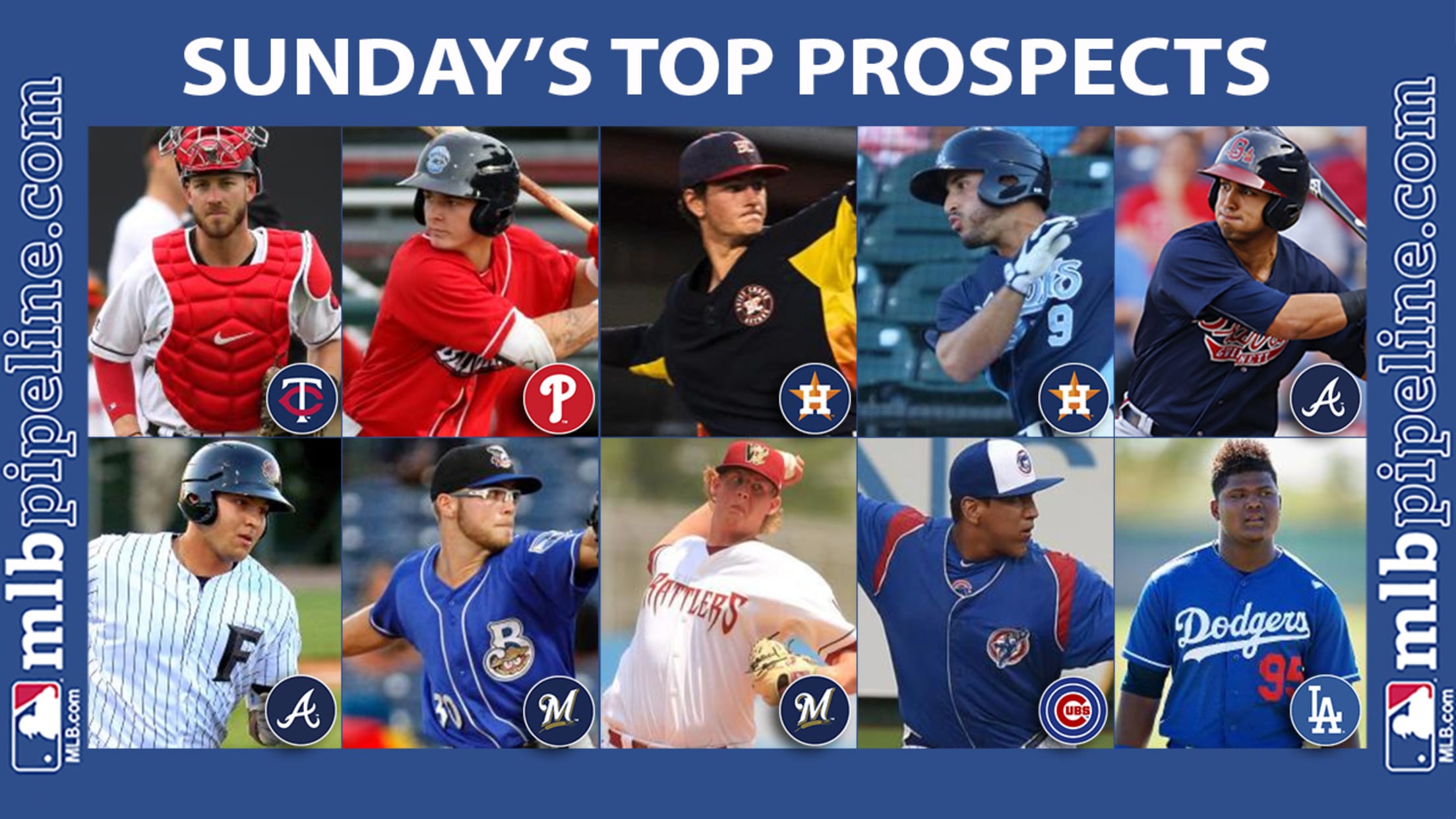 Mitch Garver isn't known for his power, but he certainly showed an ability to hit the ball out of the yard on Sunday as he led Triple-A Rochester to an 8-2 win over Syracuse.The Twins' No. 14 prospect belted a trio of homers, his second career three-homer game, and matched
Mitch Garver isn't known for his power, but he certainly showed an ability to hit the ball out of the yard on Sunday as he led Triple-A Rochester to an 8-2 win over Syracuse.
The Twins' No. 14 prospect belted a trio of homers, his second career three-homer game, and matched his season high with four RBIs in an impressive 3-for-5 day at the plate.
"It was something pretty special," Garver told MiLB.com. "I took my time a little bit that third time around. The crowd was cheering. I got back to the dugout, everybody was smiling. I could see the crowd was on their feet. That's a really special feeling."
Garver, who now has 12 homers through 59 games after hitting 12 in 117 games last season, has been on a power surge with four homers over the past three games and five in nine games this month.
MILB Video - Title: Watch: Garver belts 3 homers - Url: http://www.milb.com/r/video?content_id=1596250883
The 26-year-old grounded out in his first at-bat Sunday, but then began to steal the show. Garver his a two-run homer in the second and then solo blasts in the fourth and sixth innings.
"It felt good," Garver said. "It's nice to get the ball in the air. If you've ever been to Rochester, you know that the wind blows out on day games, so you always want to be playing in those games and if you can get the ball in the air with enough barrel, you always have a shot."
Other top prospect performances from Sunday's action:
• No. 14 overall prospect Mickey Moniak (Phillies' No. 2) hit his fourth homer of the season in Class A Lakewood's 4-0 win over Greensboro. After hitting .255 in June, Moniak appears to be heating up a bit in July as he is hitting .265 this month with hits in seven of nine games, including each of the past four.
• No. 71 overall prospect Forrest Whitley (Astros' No. 5) put together another strong start for Class A Advanced Buies Creek. In his Buies Creek debut, Whitley threw five no-hit innings and although he wasn't quite that dominant this time around, he did notch five strikeouts across five innings of one-run ball.
• Astros' No. 8 prospect Ramon Laureano's fifth straight multihit game was also his first career five-hit performance. Laureano found himself on base early and often in Double-A Corpus Christi's win over Arkansas. Laureano led off the game with a double and then collected a hit every other time he stepped to the plate, finishing 5-for-5 with three RBIs and two runs scored.
MILB Video - Title: Watch: Laureano triples in a run - Url: http://www.milb.com/r/video?content_id=1596223483
• Braves' No. 22 prospect Rio Ruiz collected four RBIs in his first two-homer game of the season for Triple-A Gwinnett. Ruiz has nine homers and 33 RBIs through 54 games this season after hitting a solo blast in the third and a three-run shot in the fifth.
MILB Video - Title: Watch: Ruiz goes yard twice - Url: http://www.milb.com/r/video?content_id=1596464283
• Braves' No. 23 prospect Alex Jackson tied his season high with four RBIs and hit two homers in Class A Advanced Florida's 9-8 loss to Charlotte. Jackson, who has a career-high 13 homers through 56 games after the second two-homer game of his career and the first since 2015.
• Brewers' No. 20 prospect Corbin Burnes held the opposition scoreless for the fourth time in his past five starts with Double-A Biloxi. Burnes gave up four hits and struck out six over seven scoreless innings, but was stuck with a no-decision as the game was tied 0-0 when he left. Burnes got off to a strong start this season, going 5-0 with a 1.05 ERA in 10 starts with Class A Advanced Carolina before he was promoted to Biloxi, where he has continued to thrive, posting a 1.06 ERA through seven starts.
• Brewers' No. 29 prospect Trey Supak turned in arguably his best start of the season for Class A Advanced Carolina. Supak, 21, threw 58 of his 93 pitches for strikes as he walked just one and gave up two hits in eight scoreless innings. The eight innings mark a career high for Supak, who has now held opponents scoreless in four of his 16 appearances this season.
MILB Video - Title: Watch: Supak gets through eight - Url: http://www.milb.com/r/video?content_id=1595169483
"With what I've been working on lately, it's been more about controlling the pitches and not worrying about velocity as much," Supak told MiLB.com. "I couldn't tell you what my velocity was today, but I wouldn't think it was as high as it was in the past. But I think locating my pitches has helped me to get a lot more 1-1 groundouts and 0-1 groundouts and more weak contact."
• Cubs' No. 17 prospect Isaac Paredes has three multihit efforts in his past five games after going 3-for-4 with Class A South Bend. Not only did Paredes collect three hits for the fifth time this season, he also drew a pair of walks, reaching base a total of five times.
• Dodgers' No. 11 prospect Starling Heredia doubled his season home run total with his first career two-homer game for Rookie-level Ogden. Heredia, who has four homers in 11 games this season, also added a double and finished 3-for-4 with a walk, two RBIs and a trio of runs scored.
MILB Video - Title: Watch: Heredia's second homer - Url: http://www.milb.com/r/video?content_id=1596103783
• Nationals' No. 9 prospectLuis Garcia collected a career-high five hits in a perfect day at the plate with the Rookie-level GCL Nationals. Garcia's career got off to a slow start as he was hitting .129 through eight games, but the 17-year-old is 7-for-10 over the past two games and has boosted his average to .268.
• Nationals' No. 12 prospect Drew Ward hit his seventh homer and drove in a trio of runs, but it wasn't enough as Double-A Harrisburg fell 7-4 to Erie. The three RBIs tied Ward's season high and marked the third game in which he's driven in three this season.
• Pirates' No. 5 prospect Cole Tucker put together his fourth straight multihit effort as he went 3-for-4 with an RBI for Class A Advanced Bradenton. Over the past four games, Tucker is 10-for-18 (.555) with three doubles and two RBIs.
• Rays' No. 11 prospect Garrett Whitley homered for the third time in four games and the second time in two days for Class A Bowling Green. Whitley finished 1-for-3 with three RBIs in the win, hitting a two-run homer in the first and drawing a bases-loaded walk in the second.
• Rockies' No. 11 prospectYency Almonte led Double-A Hartford to a 7-3 win over Binghamton with six solid innings. Almonte gave up just one unearned run, while striking out five and giving up five hits. The 23-year-old also lowered his ERA to 1.98 through 11 starts (57 2/3 innings).