Reed placed on DL; Busenitz recalled
Righty Santana to make Triple-A start Sunday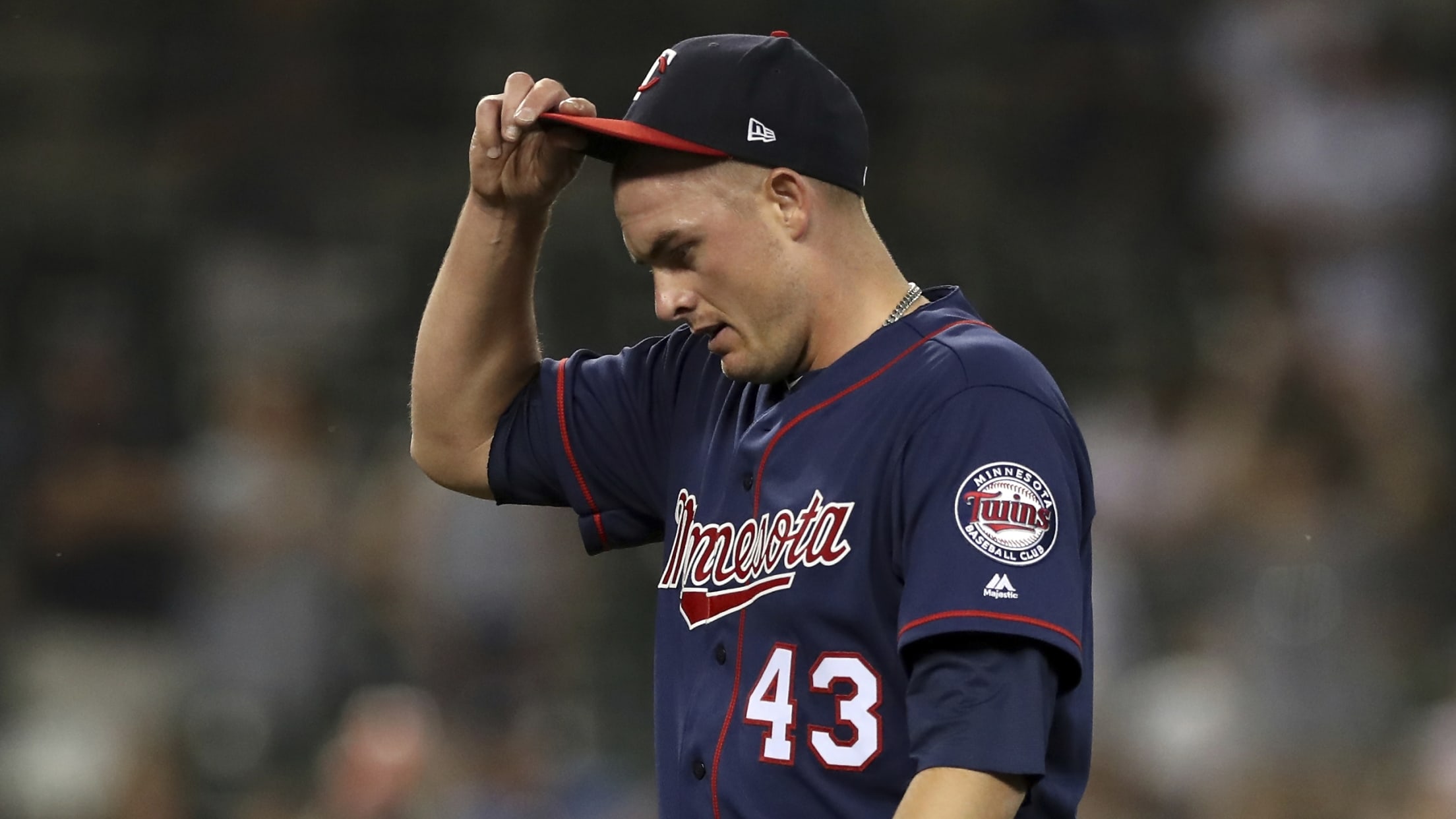 Minnesota Twins relief pitcher Addison Reed walks to the dugout after being removed during the eighth inning of the team's baseball game against the Detroit Tigers, Wednesday, June 13, 2018, in Detroit. (AP Photo/Carlos Osorio) (Carlos Osorio/AP)
MINNEAPOLIS -- The Twins placed reliever Addison Reed on the 10-day disabled list with right triceps tightness and recalled reliever Alan Busenitz from Triple-A Rochester before Wednesday's game against the Royals.Reed's injury isn't considered serious, as he's been dealing with tightness in his triceps area in recent weeks, but it
MINNEAPOLIS -- The Twins placed reliever Addison Reed on the 10-day disabled list with right triceps tightness and recalled reliever Alan Busenitz from Triple-A Rochester before Wednesday's game against the Royals.
Reed's injury isn't considered serious, as he's been dealing with tightness in his triceps area in recent weeks, but it worsened recently. Reed gave up three runs, including a two-run homer, in his one inning against the Royals on Tuesday. He has a 4.83 ERA with eight homers allowed in 41 innings and is on the DL for the first time in his eight-year career.
"It hasn't been significant," Twins manager Paul Molitor said. "Just wear and tear of a season and a career. Hasn't complained. He's been fine -- he's very prideful of the fact that he wants to be a guy that can go out there, even if things are maybe not perfect. We just looked at that little tenderness that he's been experiencing, and thought it was a good chance to take advantage of the [All-Star] break, as well as just make sure that that's all he's got going on."
Reed has also been dealing with lower fastball velocity this season, as it has averaged 91.2 mph, which is lower than his mark last season (92.3 mph) and his career mark (92.7 mph). His average slider velocity is also down roughly 1 mph as well.
"You pay attention to [velocity] as one of the factors," Molitor said. "He's been on a little bit of a downtrend over the last couple years. To feel healthy enough to throw, but it's not coming out quite what you're accustomed to, it's one of those things where you want to make sure you do what you can to try to get some of that back."
Injury notes
• The reports were positive on right-hander Ervin Santana's rehab outing with Double-A Chattanooga on Tuesday. Santana allowed two runs on two hits with six strikeouts over five innings. He'll move up to Triple-A Rochester for a start on Sunday. He could rejoin the Twins shortly after the All-Star break.
"Good feedback," Molitor said. "Probably the most encouraging outing that we've seen here in his three starts since ramping back up. The fact that he got through five innings in less than 70 pitches is encouraging. Velocity up just a hair, which is good, and I think the effectiveness of his off-speed pitches were probably one of the strengths of the performance."
• Sunday's starter remains to be determined, as Tuesday's starter Aaron Slegers remains on the roster, but could be used in relief prior to Sunday. Santana, though, isn't an option to start on Sunday, according to Molitor.
"It's kind of up in the air," Molitor said. "Slegers is still here. We'll see how the next couple days go as far as how we use him, potentially using him in the 'pen or bringing him back to start Sunday. We haven't decided."
• Infielder Ehire Adrianza is on track to be activated from the 10-day DL on Thursday. He's been out since July 2 with a left hamstring strain.