Seeking spot, May mindful of what to work on
Twins right-hander implementing offspeed pitches to his repertoire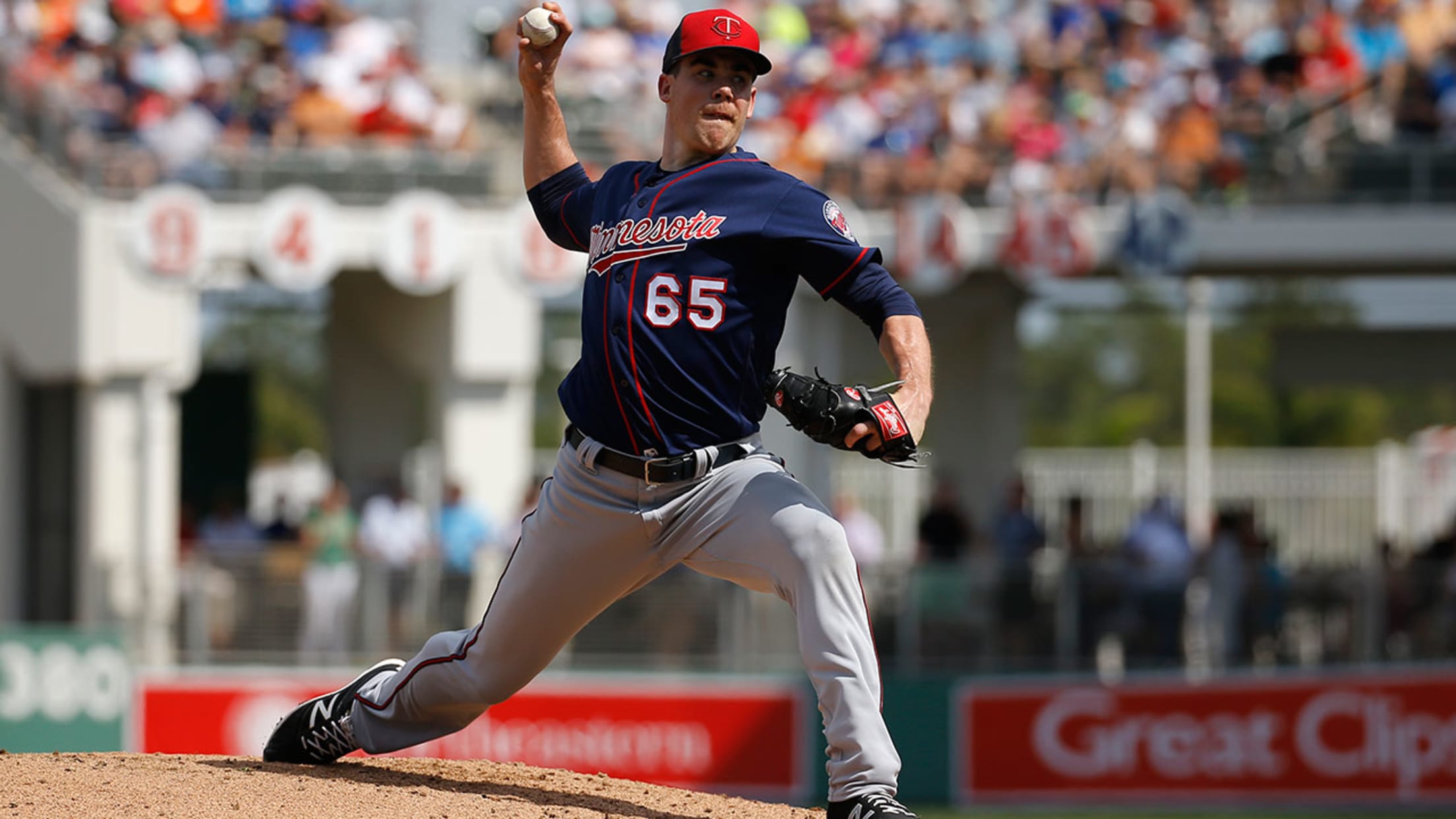 Trevor May threw 2 2/3 innings on Saturday against the Orioles, allowing three earned runs in his third Spring Training start. (AP)
SARASOTA, Fla. -- Competing for a spot in the Minnesota starting rotation, Saturday was not the kind of day, from a statistics perspective, Trevor May had in mind.The right-handed pitcher was roughed up by the Orioles, surrendering four runs -- three earned -- on four hits and a hit batter
SARASOTA, Fla. -- Competing for a spot in the Minnesota starting rotation, Saturday was not the kind of day, from a statistics perspective, Trevor May had in mind.
The right-handed pitcher was roughed up by the Orioles, surrendering four runs -- three earned -- on four hits and a hit batter in 2 2/3 innings of work. He also struck out three in the Twins' 8-1 loss.
• Twins don't want Orioles to get another peek at Hughes
"I'm definitely aware of it," May said about competing for a rotation spot.
"It wasn't the strongest numbers-wise, but as far as using all my pitches and trying to battle, I felt like I had some battles there that I needed," May added. "You want to avoid those crooked innings, but feeling-wise and endurance-wise, I feel like I could have kept going."
Manny Machado doubled with one out in the first before Adam Jones was hit by a pitch and Chris Davis singled to load the bases. With Mark Trumbo batting, a wild pitch from May allowed Machado to score and give the Orioles a 1-0 lead.
"That was honestly the worse changeup. I can honestly say I have never thrown a changeup that bad," May joked. "It was just claw, straight into the ground."
Trumbo proceeded to single, plating two more runs.
May worked in his curveball, changeup and slider in more often than normal. He said part of that was the trouble he had using his fastball and part of it was by design.
"I've always known I have a good one, but I don't feel like I've shown that consistently at the big league level," May said. "But that's making my changeup that much better. I'm starting to see more foul off and swing-throughs. The curveball became more of a first-pitch-of-the-line factor, and it's better."
The goal for May next time out: pitch deeper into the game. He thinks that's the best way for him to earn a spot in the rotation.
"We can talk about pitch counts and things happen, but my job is to go out there and eat innings," May said. "As far as that goes, I didn't get the job done. I'm just trying to be a little more economical with the pitches and get deeper. That would help my case a little bit."
Greg Zeck is a contributor to MLB.com.