Anderson burned by long ball again in loss
Rox mount rally in 9th, but can't overcome early deficit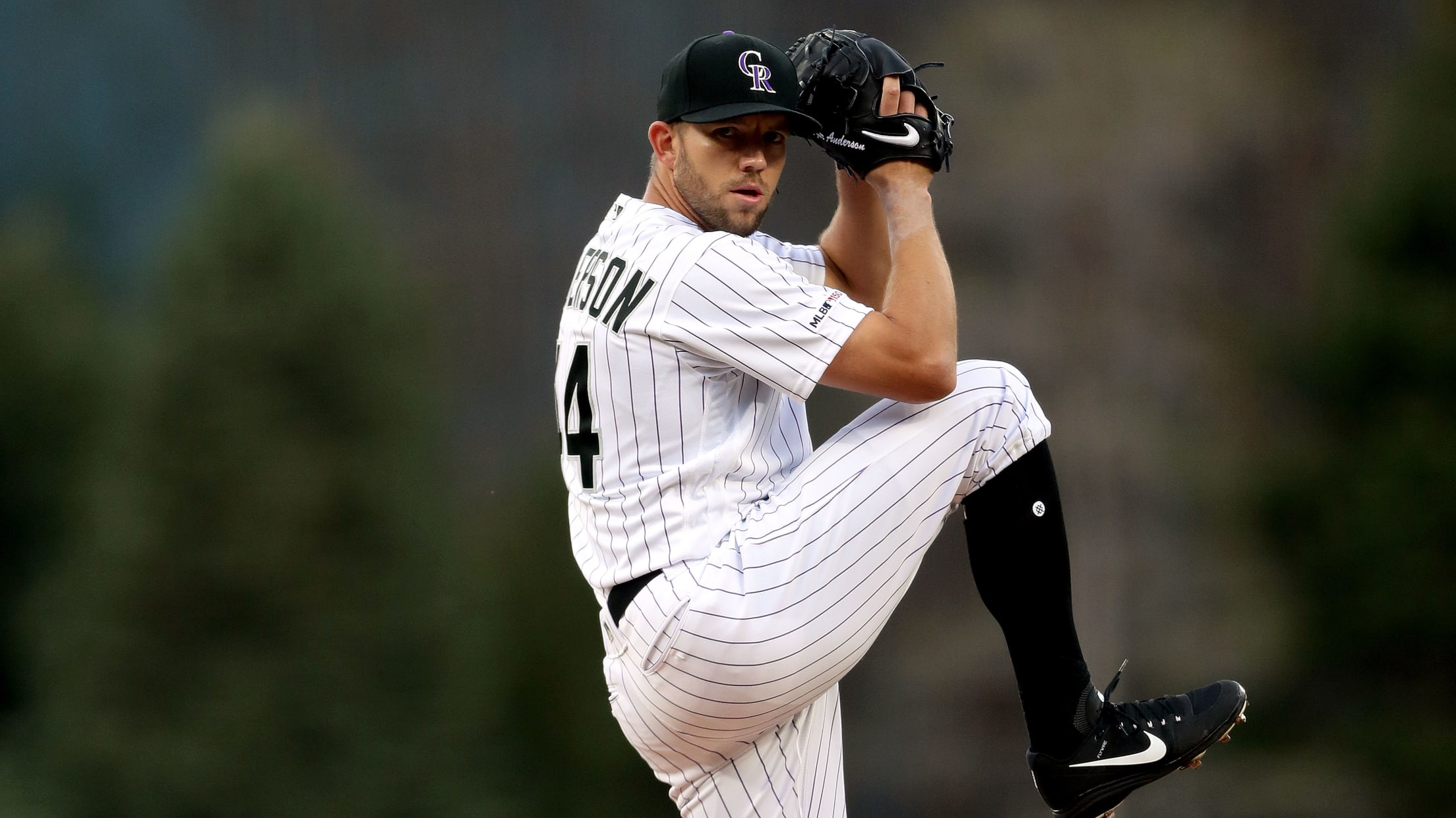 DENVER -- Balls were jumping out of Coors Field during batting practice. Given Rockies lefty Tyler Anderson's difficult season, six home runs in his previous three starts, the air was ominous. Now, so are the questions. Leaving offspeed pitches and less-than-scintillating fastballs over juicy parts of the plate, Anderson gave
DENVER -- Balls were jumping out of Coors Field during batting practice. Given Rockies lefty Tyler Anderson's difficult season, six home runs in his previous three starts, the air was ominous.
Now, so are the questions.
Leaving offspeed pitches and less-than-scintillating fastballs over juicy parts of the plate, Anderson gave up two home runs and five extra-base hits total in four innings of a 10-9 loss to the D-backs to open a nine-game, 10-day homestand.
Charlie Blackmon's two-run homer keyed a three-run bottom of the ninth, but former Rockies All-Star closer Greg Holland struck out Ian Desmond and Chris Iannetta with the winning run on second to earn his eighth save.
With Anderson, the legitimate question is what his immediate future holds. Anderson made his first two starts trying to pitch through left knee inflammation, then he took a 16-day break. In his three starts since, he hasn't made it as far as five innings.
In fact, his season has made dubious history. He is the first since earned runs began being recorded in 1913 to give up five or more earned runs while pitching five or fewer innings in each of his first five starts of a season.
"It was a little bit of a struggle for 'Andy,'" manager Bud Black said. "Just couldn't seem to establish anything. Just couldn't seem to get any momentum. So we have some things to work on."
Anderson's struggles are occurring at a time when the Rockies need consistency. After a 3-12 start, they have won 12 of their last 18. Anderson has a Minor League option, but Black or no one from the organization has talked of using it. So Anderson will continue to work through his frustration.
"I feel like every single time I get on the mound, I'm going to have a good outing," Anderson said. "I go back and look at what went wrong, what went well, and adjust from there. But I have no doubt in my mind the next one will be a good one."
After a second-inning leadoff walk to David Peralta, Anderson gave up consecutive doubles past diving third baseman Nolan Arenado on offspeed pitches to Christian Walker (a 78.4 mph changeup that was in but not enough, and not down) and Wilmer Flores (an 80.6 mph changeup, smack in the middle). However, Black felt the hitters were "out front, well-placed by Nolan."
In the third, another changeup didn't drop low enough, and Adam Jones socked it for a leadoff double, then Ketel Marte turned an 89.7 mph fastball into the first of his two homers and a 4-0 lead.
Anderson's most damaging action came in the fifth, after the Rockies tied it in the bottom of the fourth with three hits and two D-backs errors. Jones sent a 2-1 cutter that came nowhere close to his hands for another homer, and Marte's single chased him.
Anderson wondered how Jones and Marte were so pinpoint in anticipating his pitches.
"We got ahead with the 0-0 curveball (to Jones), then two changeups that he took immediately, then a cutter down and in that was in the bottom of the zone and in, in there, and he seemed like he was ready for it," Anderson said. "Then we get to Marte, and we throw him a 1-1 changeup. Same thing.
"He was on time on the curveball. He took the curveball on time for the take on the fastball. Usually, if someone's thinking early on the curveball and they're on time on the fastball, you think it's a good time for a changeup. But somehow he was on that one, too."
Watch for flying baseballs
Balls continued to fly even after Anderson left. Eduardo Escobar greeted Anderson's replacement, Bryan Shaw, with a homer to center.
The Rockies' Ryan McMahon cut the deficit to 7-6 with a pinch-hit, two-run, left-on-left homer off T.J. McFarland in the sixth, but the D-backs added two more runs on Marte's shot off Seunghwan Oh in the seventh.
"I think it was taking off pretty good today," said McMahon, who singled ahead of Blackmon's homer. "It was kind of a grinder. They were swinging it well. We were swinging it well."
But Arenado, who went 3-for-5, noted that, while the ball was carrying, there was an overriding reason: "Guys were hitting the ball hard. Marte had a big game today and was hitting the ball hard. I mean, those balls were hit."