Duffey solid as Twins slug three homers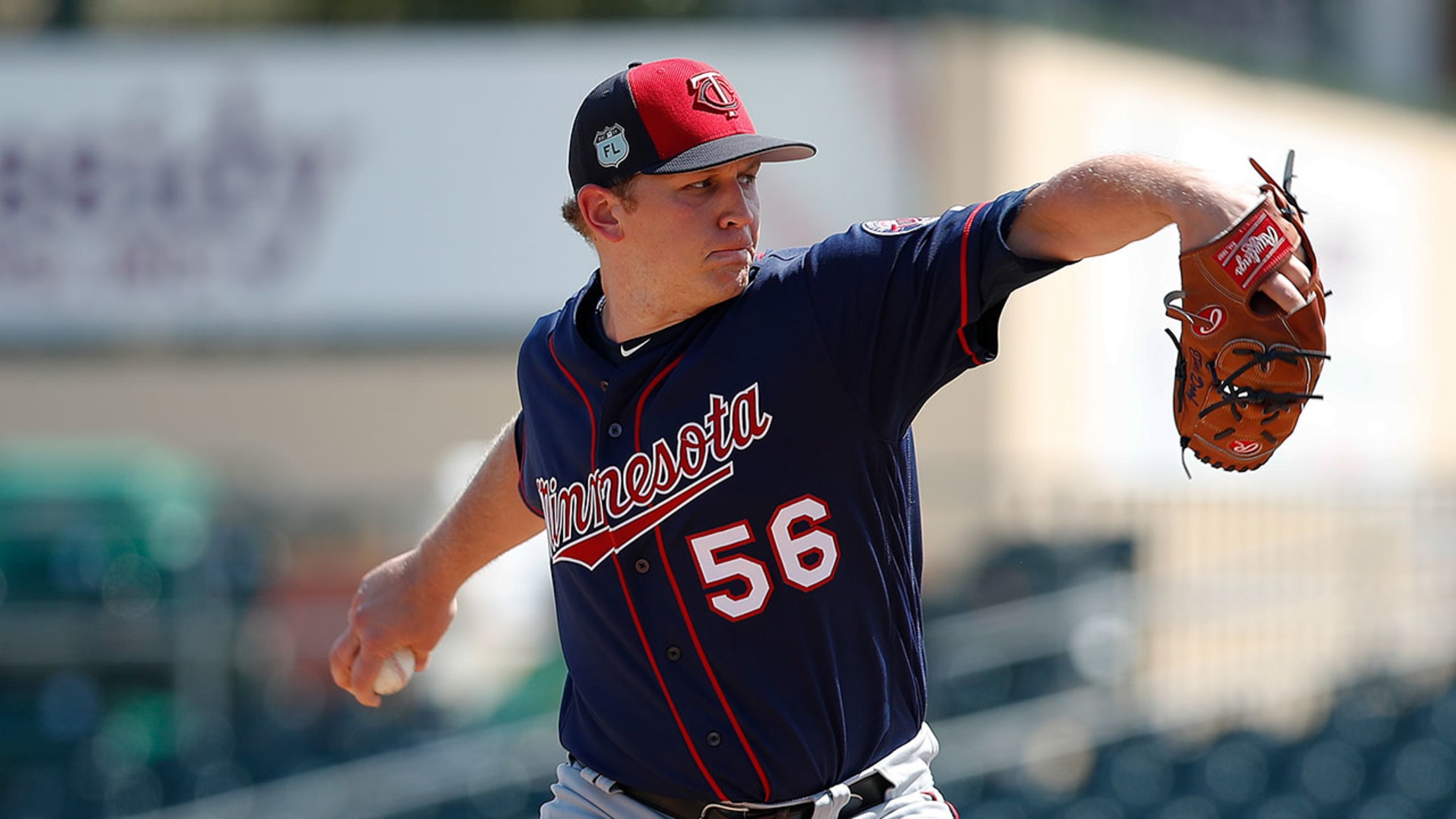 Tyler Duffey gave up one run on three hits with a pair of strikeouts in three innings. (AP)
JUPITER, Fla. -- The Twins pounded out three home runs and capitalized on free passes on Friday as they routed the Marlins, 8-2, to win their seventh straight game, including two against World Baseball Classic squads.John Ryan Murphy and ByungHo Park each delivered solo shots, and Dan Rohlfing blasted a
JUPITER, Fla. -- The Twins pounded out three home runs and capitalized on free passes on Friday as they routed the Marlins, 8-2, to win their seventh straight game, including two against World Baseball Classic squads.
John Ryan Murphy and ByungHo Park each delivered solo shots, and Dan Rohlfing blasted a three-run homer in the ninth inning.
In the seventh inning, the Twins padded their lead by cashing in on a string of walks by Miami's bullpen. Kyle Barraclough walked four and hit a batter. And in the eighth inning off A.J. Ramos, Eduardo Escobar delivered an RBI single.
"We know what [Barraclough] is capable of, and we've seen it before," Marlins manager Don Mattingly said of the wild seventh. "You still don't necessarily like seeing it, but I think the fact we have been through this -- we know Claw kind of bounces back. We've got to keep working and keep moving towards the season."
Minnesota right-hander Tyler Duffey gave up one run on three hits with a pair of strikeouts in three innings.
Duffey didn't walk a batter, and of his 41 pitches, 28 were strikes. The right-hander exited with a 2-1 lead, courtesy of Park's two-out home run to right-center on a 3-1 pitch in the third inning off Wei-Yin Chen.
Chen, who gave up two homers in three innings, received a scare in the second inning when he was struck on the right thigh by a comeback grounder off the bat of Jorge Polanco. But the Miami left-hander was fine, as he deflected the ball first with his glove. He was more upset by missed locations on the two home runs.
"Those were mistakes," Chen said through his interpreter. "The first one, I missed my spot. The second one, I fell behind, 3-0, in the count. I was in between, trying to get the strike back, or not wanting to walk the guy. I was caught in between, and I threw a pitch he could hit."
The Marlins struck for a run in the first inning on Justin Bour's RBI grounder to short, which scored Ichiro Suzuki, who singled and went to third on J.T. Realmuto's ground-rule double.
Brian Anderson hit a solo homer in the bottom of the ninth for the Marlins.
It was a family reunion of sorts for the Gordon brothers. Marlins starting second baseman and older brother Dee Gordon and Twins shortstop and little, yet taller, brother Nick Gordon, who pinch-hit in the ninth inning, sat on opposite sides of the field.
"It was great to see him out there," the younger Gordon brother said. "It was really exciting for me."
Twins Up Next: The Twins host the Red Sox at 1:05 p.m. ET Saturday at Hammond Stadium, where the Twins are 6-2 in Grapefruit League play. Right-hander Kyle Gibson gets the start for the Twins, who will also send right-handers Matt Belisle and Thomas Pressly to the mound along with lefties Ryan O'Rourke and Player Page for Buddy Boshers. The game can be seen on MLB.TV.
Marlins Up Next: The Marlins are taking on the Astros on Saturday at 1:05 p.m. ET at The Ballpark of the Palm Beaches, and it will mark the first time Realmuto is scheduled to start at first base. Realmuto, the regular catcher, is projected to occasionally play at first. Right-hander Scott Copeland, expected to open the year at Triple-A New Orleans, will make the start. Houston is going with right-hander Mike Fiers.
Watch every out-of-market regular-season game live on MLB.TV.
Joe Frisaro has covered the Marlins for MLB.com since 2002. Follow him on Twitter @JoeFrisaro and listen to his podcast.
Glenn Sattell is a contributor to MLB.com.