Ross happy with first Triple-A rehab outing
Rangers righty delivers five scoreless, with fastball at 90-92 mph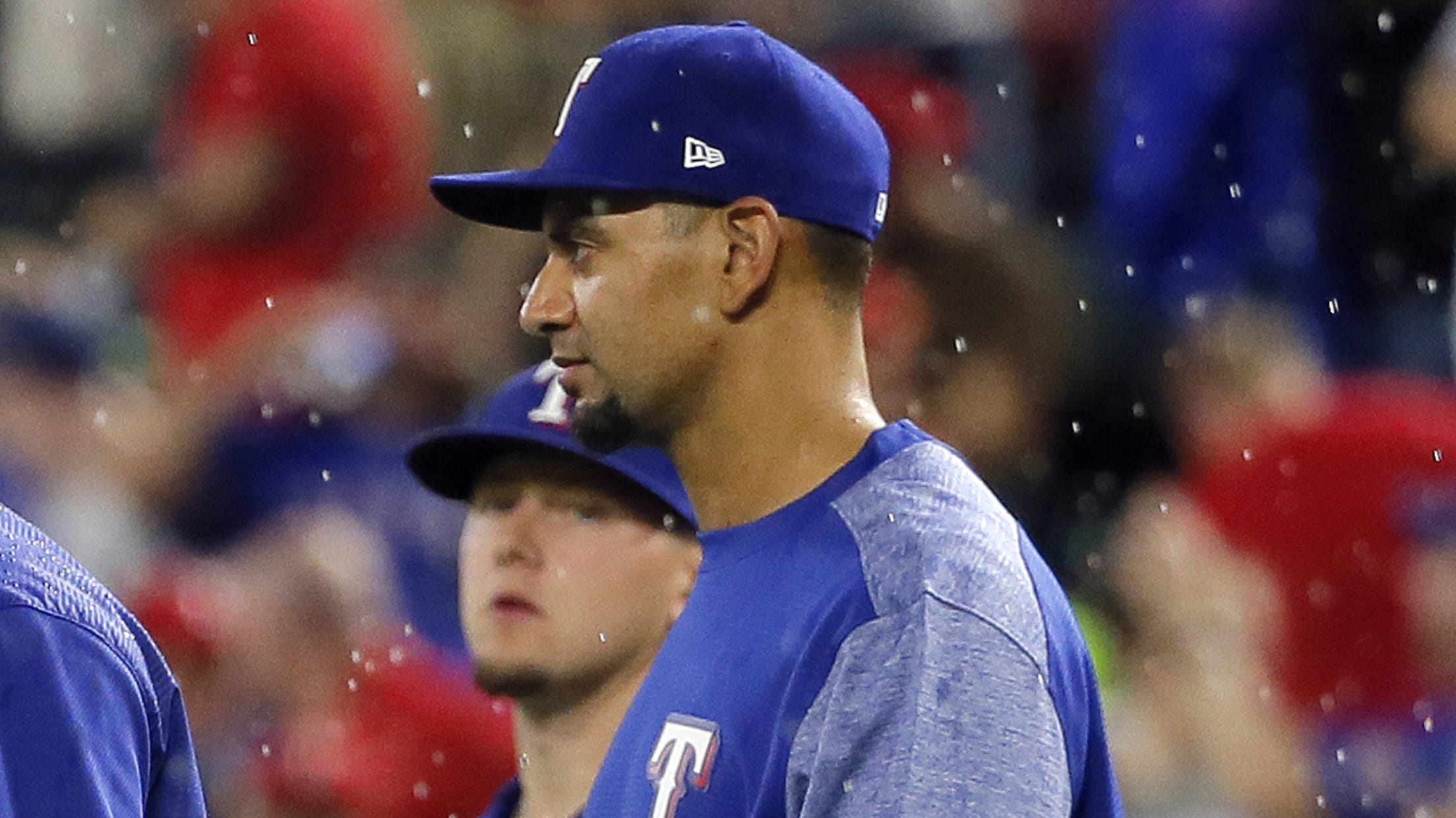 "It felt like it's just been a while. A little rusty, but I felt good out there," Tyson Ross said. (AP) (Tony Gutierrez/AP)
ROUND ROCK, Texas -- The road back for Rangers right-hander Tyson Ross has been a long, grueling one. His journey back from multiple shoulder injuries, namely from thoracic outlet syndrome surgery in October, has been arduous, but he's on the home stretch.Ross began his rehab assignment Tuesday in a start
ROUND ROCK, Texas -- The road back for Rangers right-hander Tyson Ross has been a long, grueling one. His journey back from multiple shoulder injuries, namely from thoracic outlet syndrome surgery in October, has been arduous, but he's on the home stretch.
Ross began his rehab assignment Tuesday in a start for the Round Rock Express, the Rangers' Triple-A affiliate. He was given a pitch count of 75 or five innings, and he nearly ended up nailing that limit on the dot. Ross threw 73 pitches -- 44 for strikes -- in five scoreless innings in the Express' 14-3 win over the Las Vegas 51s.
"It felt like it's just been a while. A little rusty, but I felt good out there," Ross said. "I was able to get in a rhythm early and execute some pitches. It's been a long time since the last time I was in the Major Leagues, but it's just baseball. You go out there, the mound's still 60 feet, six inches away, and you just go have fun. I was feeling good, and tonight was a nice, positive outing."
Ross' fastball sat 90-92 mph, and his slider worked in the 83-85 mph range. He struck out five, walking one and surrendering a pair of hits. Ross breezed through his first two innings, where he recorded four of his strikeouts.
He worked around a leadoff walk in the third with a timely double-play grounder, and the only other blemish on Ross' night was a leadoff single to begin his final inning, but he induced another double play to erase it. Ross threw about as good an outing as someone that hasn't pitched in a Major League game in over a year could ask for, but he isn't getting complacent.
"Pitching's never a finished product, so you're always working to get better. I'm sure I can do some things better next time out and the time after that, and that's how the season goes," Ross said. "I was happy with the way the ball came out tonight, and I'm looking forward to improving and getting better next time."
Ross will throw another rehab start with Round Rock, likely Monday. He'll be limited to six innings or 90 pitches, and the Rangers will evaluate him then to determine if he'll need another start in the Minors or if he'll be ready to join the team.
And when he does get called up, he'll be there to join the rotation, not as a spot arm out of the bullpen.
"If he is where he needs to be, that's why we signed him," Rangers general manager Jon Daniels said before the Rangers' 11-6 loss to the Red Sox in Boston on Tuesday.
Ross, who hasn't pitched in the Majors since making an Opening Day start for the Padres in 2016, said he's willing to go wherever he's needed.
"I'm just happy the guys have been playing well recently," Ross said. "They're playing some good baseball, and hopefully when I'm ready and [Cole Hamels] is ready, they'll find a spot for us and we can help contribute and continue playing some good baseball down the stretch. I'm just looking forward to joining those guys at some point and pitching in my part."
Sam Butler is a reporter for MLB.com based in Arlington.