Injured duo Braun, Villar to start rehab games
Pair could join Brewers next Tuesday on road vs. Reds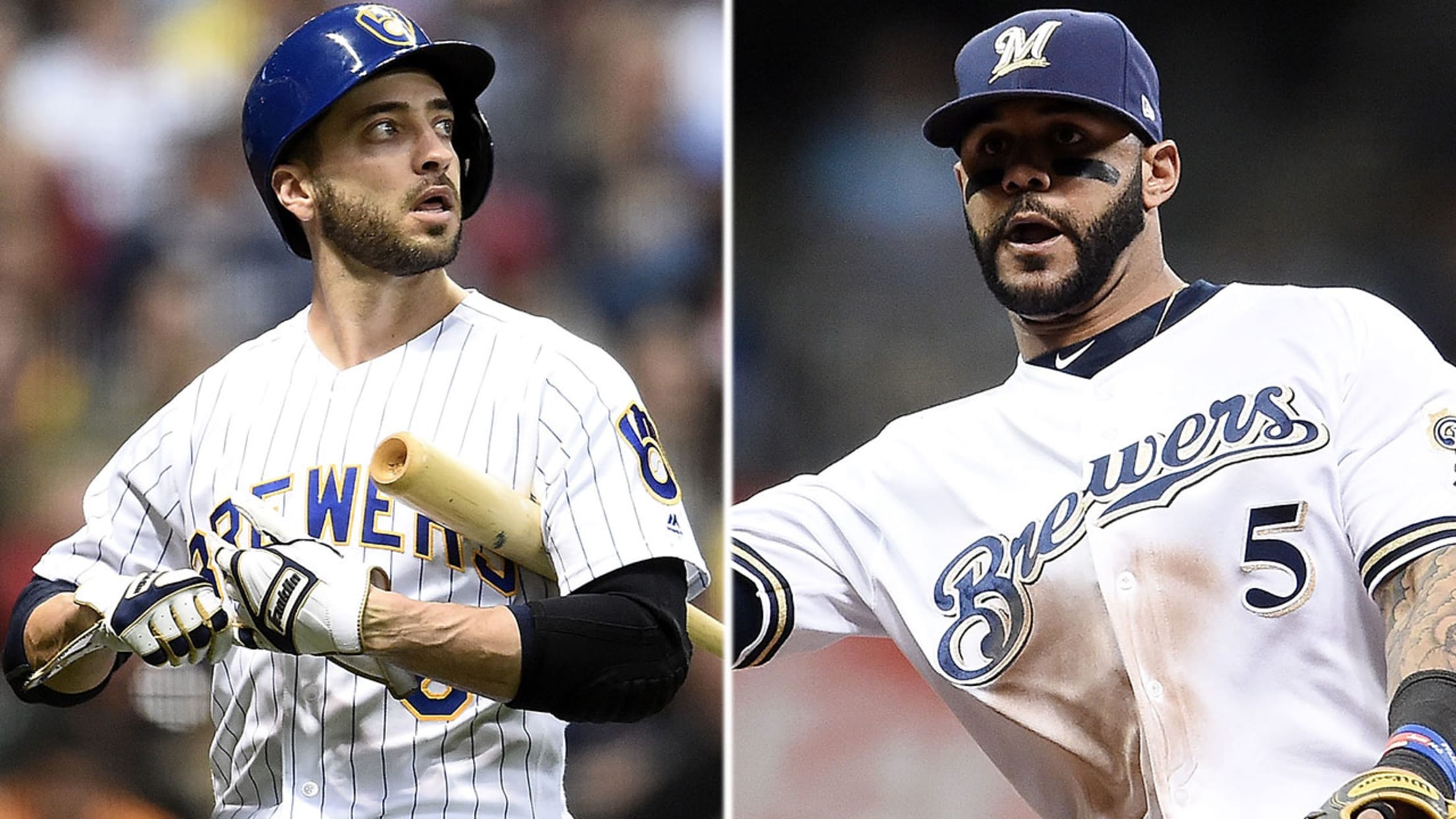 Ryan Braun and Jonathan Villar will play with Class A Wisconsin this weekend and hopefully rejoin the Brewers after that. (AP)
MILWAUKEE -- Ryan Braun is ready to make another attempt at escaping the 10-day disabled list.Braun, who has been bothered by a strained left calf since the start of May, is scheduled to report to Class A Wisconsin on Thursday along with second baseman Jonathan Villar (lower back) to begin
MILWAUKEE -- Ryan Braun is ready to make another attempt at escaping the 10-day disabled list.
Braun, who has been bothered by a strained left calf since the start of May, is scheduled to report to Class A Wisconsin on Thursday along with second baseman Jonathan Villar (lower back) to begin a Minor League rehab assignment, weather permitting. If those games go well, Braun and Villar could rejoin the Brewers as soon as Tuesday in Cincinnati.
"Most likely, it'll be through the weekend for both of them. That is kind of the tentative plan," Brewers manager Craig Counsell said. "We have to see how it goes for both of them. There are some weather concerns, too, we're dealing with."
Tentatively, Braun said he will play five innings Thursday and seven innings Friday before taking Saturday off. He will then play nine innings on Sunday before Braun and the Brewers re-evaluate how he feels.
Asked whether his calf was ready for games, Braun said, "We'll find out."
The Timber Rattlers return from their All-Star break to host Kane County in a four-game series beginning Thursday night. They play home games about 90 minutes north of Miller Park.
Suter back with Brewers
Well-traveled left-hander Brent Suter rejoined the Brewers for the fifth time in less than three months on Wednesday, when the Brewers placed struggling reliever Wily Peralta on the 10-day disabled list with a right calf strain. It was the first mention from the Brewers that Peralta, who has a 10.54 ERA in nine appearances since being bumped to the bullpen, has a physical issue.
Of Suter compiling more frequent flier miles, Counsell joked, "He's on a biological clock. It's like the geese migrating."
Counsell and general manager David Stearns each raved about the way Suter has handled his disjointed season, which includes 10 appearances (eight starts) with a 4.42 ERA for Triple-A Colorado Springs and six appearances (one start) for the Brewers with a 5.25 ERA.
Suter most recently pitched in the big leagues on June 13, when he was called up to serve as the 26th man for a doubleheader in St. Louis and was forced into an emergency start in Game 1 when Brandon Woodruff strained his hamstring warming up. Suter pitched admirably, holding St. Louis scoreless until a three-run fifth inning.
"It's a little bit of a credit to him that we're counting on him," Counsell said. "His versatility as a pitcher, you don't always use that word with a pitcher, but he's been versatile and that's valuable."
Triple-A team on the move
The Elmore Sports group announced plans to move its Triple-A franchise from Colorado Springs to San Antonio for the 2019 season, news that likely will have a domino effect for two Milwaukee affiliates.
The Brewers would love to make that move to Texas, but it's unlikely to happen. It is widely believed in the industry that San Antonio will wind up with the Rangers, who are expected to be bumped from their current home in Round Rock, Texas. so that Nolan Ryan-owned team can align with the Astros. The Astros' current Triple-A affiliate is in Fresno, Calif.
A lot can change before the next wave of player development contracts are finalized in September 2018, but Fresno now appears the Brewers' likeliest next Triple-A affiliate.
"I've certainly heard certain things, probably the same things you guys have heard and what's been reported," Stearns said. "But things change. A year ago at this time, we had no idea we were going to be in [Class A Advanced] Carolina, for example. We're still a year and a half away."
Meanwhile, the Elmore Group announced it would move its rookie-level Pioneer League affiliate in Helena, Mont. to Colorado Springs for 2019. That's a Brewers affiliate, too.
If the Brewers wind up with a Triple-A team in Fresno and an advanced rookie team in Colorado Springs, it could be considered an upgrade on both fronts. Fresno is a comparable facility without the altitude and weather issues that hinder pitching development in Colorado Springs. And by the time the Pioneer League begins play in mid-June, many of the weather issues that contribute to those tough conditions have abated. Travel for a Colorado Springs-based Pioneer League team, however, would be extremely challenging since clubs travel by bus.
The Brewers remain in active talks to buy the Carolina affiliate, Stearns said, and are open to purchasing other clubs to avoid future shuffling.
"We're looking at all possibilities from an affiliate purchase standpoint, and if something comes available that from a baseball perspective we think is beneficial, we'll certainly bring it to [Brewers owner Mark Attanasio's] attention," Stearns said. "Mark has been very supportive in these kinds of endeavors."